Become a Pastor - Get Ordained Online For Free
The Universal Life Church has made it simple for anyone interested in becoming a pastor to become ordained online at no cost. As a non-denominational church, our quick ordination process provides individuals of all faiths the freedom to follow their calling. Upon receiving their ordination credentials, our ministers can begin legally officiating sacred ceremonies for family, friends, and their community. Whether it be a marriage, baptism, funeral, or other ritual, ULC ministers have the ability to perform any spiritual ceremony.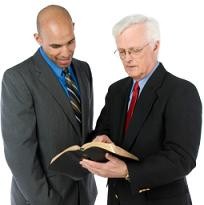 Before the advent of the internet and technology, when a person felt a calling to pursue a spiritual role in the church they often found the path to ordination both lengthy and difficult, with formal study at a seminary frequently required. Those special individuals who decided they wanted to become a pastor and dedicate their lives to helping others first had to go through the complex process of getting ordained.
The Universal Life Church Monastery removes those historical barriers to becoming a pastor. In order to ensure that ministers have everything they need to successfully carry out their duties, the ULC proudly provides ministerial supplies, education, training, fellowship, and outreach opportunities -- all online!
An aspiring pastor can get ordained online for a specific purpose, such as to perform a wedding or some other special service. However, they may also wish to get more deeply involved and dedicate their lives to a spiritual journey. Some might even want to become a preacher, launching their own ministry to serve as a positive influence and a source of hope and inspiration to others. With the ULC, becoming a preacher has never been easier!
But the life of a Universal Life Church minister, pastor, priest, or rabbi is not without its challenges. The journey is not for everyone. If you're considering a future as God's servant in a congregation, there are a few questions you ought to ask yourself before taking the plunge into ministerial life.
---
Popular Books to Help you Become a Pastor
---
Are You Ready to Become a Pastor?
The most important question to ask is "Why do you want to go into the ministry?" Answering this question will help you to define your mission and guide your spiritual journey after becoming a pastor. Perhaps you're having trouble identifying clear goals for your work -- that's okay! Many people do not discover their true purpose until they've already begun the journey.
Over time, some ULC pastors realize that their passions reside in other areas, professions, or pursuits. This is only natural -- not everyone is cut out for full-time ministerial work. Remember, though, becoming a pastor through the ULC means you are ordained for life. You can return to your ministry at any point, if you feel so obliged. You can also continue performing ceremonies in your free time.
---
---
Another question you might want to ask yourself is "How do I know If I'm ready to serve a higher purpose?" There are several signs that could hint at your possessing a nature that is inherently gifted and compatible with the ministry, such as a constant thirst for knowledge of the gospel, with deep appreciation and enjoyment of the scriptures, and an urge to communicate God's message to others.
Other sources of confirmation include the witness of others who know best your strengths and weaknesses, which might include being a good listener, demonstrating concern for fellow mankind, being humble and respectful, or possessing the ability to encourage or counsel others and make wise and effective decisions.
If your friends, family, and neighbors have been telling you that with your natural abilities and character you would make a great pastor, then you should listen to them! Don't worry if your oratory skills are underdeveloped; becoming a preacher takes time. Although it's great to be able to communicate effectively from the start, it is much more important that a pastor truly cares about his/her work.
---
Pastor Training - Learn How to Lead Your Congregation
If you decide you want to do more than just get ordained online to perform a wedding occasionally, and would like to someday be the pastor of a brick-and-mortar church, then it would be wise to also take the time to acquire more extensive in-depth training to ensure you are adequately prepared. The Universal Life Church offers many services to help you do exactly this. If you're looking for a good place to start, consider reading the following articles:
Becoming a pastor and starting your own ministry can be a rather grueling process, but it can also be incredibly rewarding. We wish you the best of luck in your endeavors, and are here to offer assistant should you require it. The ULC offers a wide variety of resources to its ministers, so don't hesitate to utilize them!