Become a Pastor - Get Ordained Online For Free
The nondenominational Universal Life Church has made it simple for those aspiring to become pastors to become ordained online at no cost, allowing individuals of all faiths interested in the ministry the freedom to follow their calling, as well as gain the credentials to legally officiate sacred ceremonies for family, friends, and their community including marriages, baptisms, funerals, and other rituals.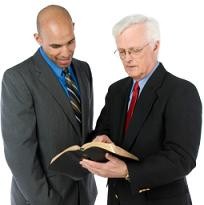 Before the advent of the internet and technology, when a person felt called by God with a passionate desire to pursue a spiritual role in the church, and decided they wanted to become a pastor and dedicate their lives to helping others in the flock, the path leading to ordination was often lengthy and difficult with formal study at a seminary frequently required.
Today, the Universal Life Church Monastery has removed many of the barriers for those who desire to become a pastor capable of ministering to others by offering everything online a teacher and preacher needs to successfully carry out his or her duties, including education and training, fellowship, and outreach opportunities.
An aspiring pastor can get ordained online to perform a wedding and other special services only when needed, but they also may wish to get more involved and dedicate their lives to the church, even launching their own ministry to serve as a positive influence and a source of hope and inspiration to others by sharing the promise found in God's word.
But the life of a Universal Life Church minister, pastor, priest, or rabbi is not without its challenges and not for everyone, so if you're considering a future as God's servant in a congregation, there are a few questions you probably should ask yourself first before deciding if you're well-suited for the commitment, which can require a substantial investment of your time and energy.
---
Popular Books to Help you Become a Pastor
---
Are You Ready to Become a Pastor?
The most important question to answer is "Why do you want to go into the ministry?" If you do not feel passionately that it is your mission and absolutely compelled out of love for humankind and God to reach out to your neighbors with empathy to share the good news found in the gospel, then its probably not for you.
In other words, if there is any other pursuit you have been considering as a profession, you have any doubts, or you don't feel intensely and relentlessly called to serve in the ministry, you are likely better off following your instinct than attempting to take on the great responsibilities that can come with ordination and leading a flock of worshipers, which many have discovered can be stressful, frustrating, and exhausting.
If this perspective hasn't damped your spirit, then you just might be resilient enough to handle the duties that come with being a pastor.
---
---
Another question you might want to ask yourself is "How do I know If I'm Cut Out to Serve a Higher Purpose?" There are several signs that could hint at your possessing a nature that is inherently gifted and compatible with the ministry, such as a constant thirst for knowledge of the gospel, with deep appreciation and enjoyment of the scriptures, and an urge to communicate God's message to others.
Other sources of confirmation include the witness of others who know best your strengths and weaknesses, which might include being a good listener, demonstrating concern for fellow mankind, being humble and respectful, or possessing the ability to encourage or counsel others and make wise and effective decisions.
If your friends, family, and neighbors have been telling you that with your natural abilities and character you would make a great pastor, then maybe you should start listening to them. Don't worry about your skill at speaking, teaching, or preaching. Although you clearly must be able to communicate effectively, it is much more important that a pastor truly care deeply about God and the sheep entrusted to his care.
Additionally if you are already married, you must consider your spouse's opinion, how your decision could impact them, and whether or not they will support you. Conflict at home would make it nearly impossible to perform your duties as a pastor, including being able to assist and guide others within the congregation.
---
Pastor Training - Learn How to Lead Your Congregation
If you decide you want to do more than just get ordained online to perform a wedding occasionally, and would like to someday be the pastor of a brick-and-mortar church, then it would be wise to also take the time to acquire more extensive in-depth training to ensure you are adequately prepared. The Universal Life Church Monastery offers many services to help you do exactly this. If you're looking for a good place to start, consider reading the following articles:
If you've made it this far, all that will remain once you have studied sufficiently to be intimately familiar with church doctrines, is to apply to churches of interest that are seeking pastors. From there, you can expect multiple interviews, questionnaires, and invitations to visit before deliberation to determine if you are a good fit for the congregation.
Although getting to this destination can be a rather grueling process, it can also be incredibly rewarding.