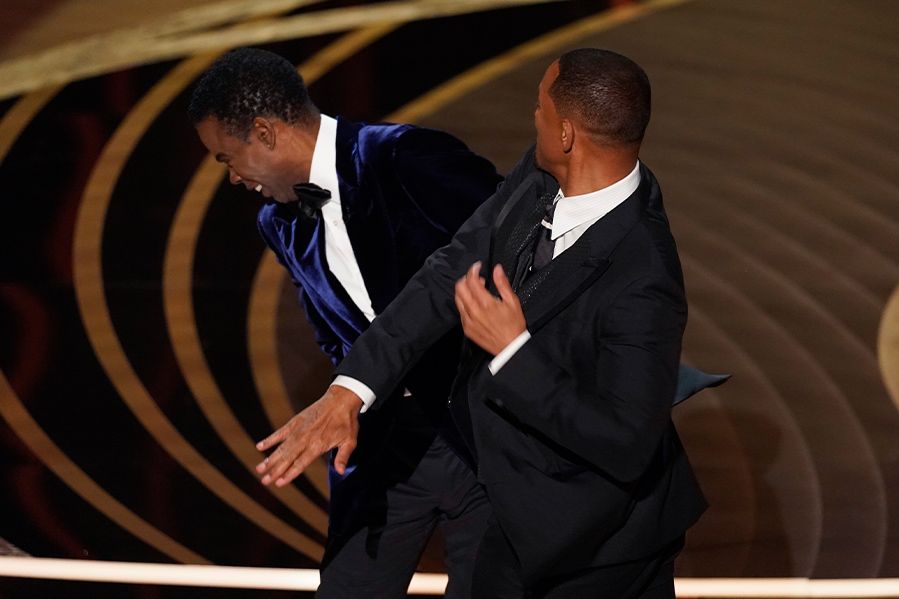 The following guest sermon was submitted by ULC minister Richard Becerra. All ULC Ministers are invited to contribute their own sermons for consideration/publication. To submit a sermon, please email it to sermons@ulc.org.
---
It's being called the slap heard 'round the world. Like the rest of the planet, I was stunned to see actor Will Smith storm the Oscar stage and smack comedian Chris Rock after a cruel joke at Smith's wife's expense.
But I was possibly even more stunned when Smith took to the stage just minutes later for his Best Actor acceptance speech and invoked his faith in Jesus Christ in defense and called himself a "vessel of love." For this, he received a standing ovation.
Will Smith single-handedly stole the show, but since when is justifying violence with faith worthy of applause?
Between a Rock and a Hard Palm
I initially assumed that the slap was a scripted stunt to shore up declining Oscar ratings. But it quickly became apparent on social media that this was the real deal. 
For anyone who missed the "slap heard 'round the world," here's what happened:
Chris Rock was on stage to present an award and made a tasteless joke about Jada Pinkett Smith's shaved head. "Jada, I love ya - G.I. Jane 2, can't wait to see it," he quipped. Pinkett Smith suffers from alopecia, which causes hair loss, but it is unclear if Rock knew that at the time. Will Smith then stormed the stage and slapped Chris Rock across the face.
While the American broadcast went silent shortly after, international broadcasts were uncensored and widely and instantly available online. That footage reveals the incident was in fact not a ratings grab.
"Will Smith just slapped the sh– out of me," a flabbergasted Rock said, as Will Smith cursed at him after returning to his seat.  "Keep your wife's name out of your f—ing mouth," Smith yelled in response.
WARNING: EXPLICIT LANGUAGE
Talk about awkward, but as the expression says, the show must go on. Shortly thereafter, Will Smith actually won the Best Actor award, which he was… present to accept? Usually, when people assault others they are removed from the premises, but apparently not in Hollywood. What followed was a shameful attempt to hide behind one's faith in order to justify using violence. 
And the Best Punch Award Goes To…
"In this time in my life, in this moment, I am overwhelmed by what God is calling on me to do and be in this world," Smith's acceptance speech began. "I'm being called on in my life to love people and to protect people and to be a river to my people."
Smith tried to draw a comparison between his character in the film King Richard to his behavior moments before, arguing that "I look like the crazy father, just like they said about Richard Williams. But love will make you do crazy things." 
"I want to be a vessel for love," he claimed, shortly after hitting another man over a joke.
Smith also apologized to the Academy and his fellow nominees, but, notably, not to Chris Rock.
As a Christian, Smith's frankly strange defense – that the attack was somehow justified because his faith in God compels him to protect his family – doesn't sit right with me. I don't think a vessel of love would slug another man in the face.
Rock's joke was undoubtedly in poor taste, but is this seriously how we're resolving personal disputes? And what message does it send to children that Smith was present to receive his award moments later, and was given five uninterrupted minutes to pat himself on the back, during which he not only invoked his faith to defend his reprehensible actions but also managed to apologize to everyone except the person he'd actually harmed. 
Ironically, it was the man who sparked the controversy that I believe left the most lasting message. Chris Rock was struck violently in the face, but instead of retaliating, he stood his ground peacefully. Holding the microphone, he also could have another comment about Will Smith or his wife – and some think he would have been justified in doing so. But he refrained. Chris Rock quite literally turned the other cheek, and allowed the show to go on. 
Do two wrongs make a right? I would argue they certainly do not. Chris Rock understands that – why can't Will Smith?
The failure may cost him: the Academy of Motion Picture Arts and Sciences announced it was considering consequences for Will Smith, including revoking his Best Actor award. 
[UPDATE]: Will Smith has issued an apology, this time including Chris Rock: