Hark the herald angels sing

"Glory to the newborn King!

Peace on earth and mercy mild

God and sinners reconciled"

Joyful, all ye nations rise

Join the triumph of the skies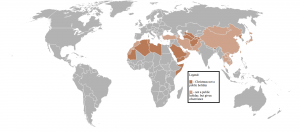 These familiar words from Hark the Herald Angels Sing, a popular Christmas carol, point us in the right direction to finding the true meaning of Christmas. The angels are heralding the birth of Jesus, who according to Christian theology is the one who would bring salvation to humankind. The last two lines of the stanza call on the nations of the world to rise in triumphant exultation. This is fitting, especially in today's world, since Christmas is a major holiday not just in the US, but in many nations across the world.
Since Christmas is celebrated in so many different parts of the world, it has has been shaped by a variety of influences. Many of the popular customs we associate with Christmas originally came from pre-Christian festivals like Winter Solstice and Yule, which were originally celebrated by pagan populations. As it is now, Christmas is a religious and cultural holiday commemorating the birth of Jesus Christ. The exact date of Jesus's birth is unknown, but December 25th has become the traditional day to celebrate.
Christmas is associated with gift-giving, decorations, music and carols, and other cultural traditions. Often these things take the center stage as retailers and businesses look to capitalize on the holiday spirit. This is not wrong in itself; Christmas is a peak selling season and important for the economy. However, Christmas isn't really about shopping for presents or surrounding ourselves with decorations and delicacies. It's true meaning is found elsewhere.
The real Christmas story is God becoming a human in the person of Jesus Christ. Why did God do this? John 3:16 says, "For God so loved the world that he gave his one and only Son, that whoever believes in him shall not perish but have eternal life. For God did not send his Son into the world to condemn the world, but to save the world through him."
The birth of Jesus (celebrated at Christmas) was necessary because we needed a Savior. A Savior was necessary because sin needed to be punished, or else God would not be a just God. He sent His son to take that punishment in our stead because He loves us (1 John 4:8). We celebrate Christmas out of gratitude for what God did for us. We remember His birth by giving gifts, worshiping him, and showing love to each other, especially to the poor and less fortunate. In this we find the true meaning of Christmas.
The true meaning of Christmas is love. God loved us and therefore provided a way for us to spend eternity with him. He gave His only Son to take the punishment for our sins. That price was paid in full, freeing us from condemnation if we accept His gift of love.
Love is the heart and center of Christianity. If one were to boil Christianity down to one word, that word would be love. Jesus told us this in Mark 12:29-31: "'The Lord our God, the Lord is one. Love the Lord your God will all your heart and with all your soul and with all your mind and with all your strength. The second [commandment] is this: love your neighbor as yourself. There is no greater commandment than these.'" This is repeated in Romans 13:8-10, and continually throughout the bible.
The spirit and essence of Christian belief is love. God is love. Jesus is love. Christmas is about love. Christians are not always a good example of love, which makes it important that non-Christians remember there is a difference between the spirit of Christian belief, and how that belief is exemplified through men and women, who are ever and always a poor example.
If you don't believe in God or in Jesus, this does not mean that you can't embrace love as the true meaning of Christmas. Take this Christmas season as a time to show love to your friends, family, and to strangers you may encounter. Whether it's a gift, a kind word, an encouraging pat on the back, or a donation to charity, do your best to be a beacon of love in this world, because the world needs it. We here at the Monastery will do the same. By doing these things, we will embody the true meaning of Christmas.
From all of us here at the ULC Monastery, we wish you a Merry Christmas and Happy Holidays.