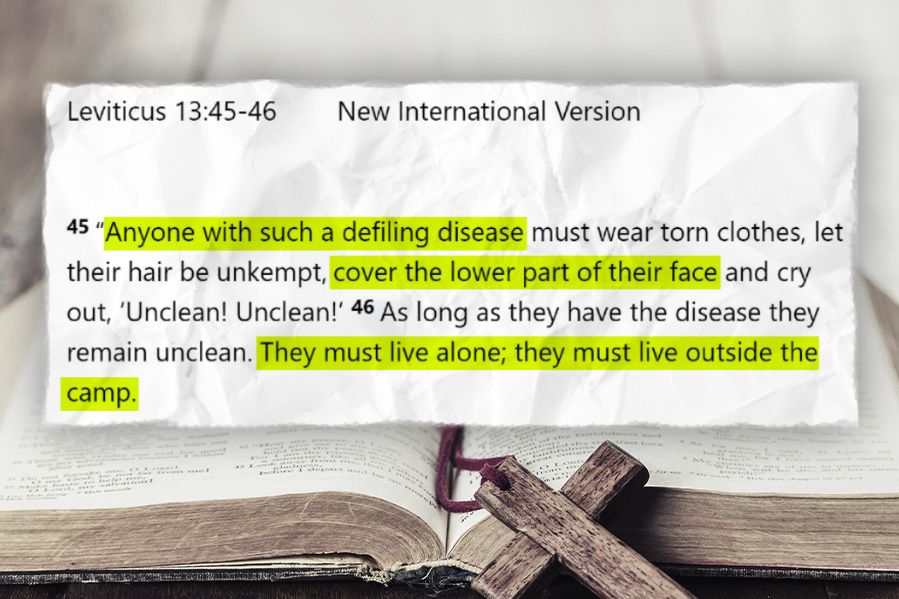 The following sermon was submitted by ULC minister April Harrison. All ULC Ministers are invited to contribute their own sermons for consideration/publication. To submit a sermon, please email it to sermons@ulc.org.
---
We're into month 18 of the pandemic, and there's no sign this thing is going away soon. Public health officials have recommended that everyone continue to wear masks and social distance, which hopefully could help things get better. 
But those are also controversial policies that not everyone supports. Perhaps another authority could weigh in and offer some perspective? What does the Bible have to say about masks and social distancing?
A recent ULC Facebook post caught my eye. It cited Leviticus 13:45-46, which appears to show that those very measures were actually recommended thousands of years ago.
The passage reads:
Anyone with such a defiling disease must wear torn clothes, let their hair be unkempt, cover the lower part of their face and cry out, 'Unclean! Unclean!' 46 As long as they have the disease they remain unclean. They must live alone; they must live outside the camp.
Fighting Disease, Biblically
Where did this verse come from? What was the context? I was curious, so looked into the backstory a bit.
The passage in question is not about illness in general, but instead talking specifically about "defiling skin diseases," which most experts believe is a reference to leprosy. Many lines are devoted to explaining what measures should be taken when someone is believed to have such a disease to prevent them from spreading it to others. 
For example, all skin rashes were required to be inspected by a priest, after which the patient would have to isolate for 7 days. Once those 7 days were up, if the rash had cleared, the person was allowed to return to normal life. If it hadn't, they would be diagnosed with a defiling skin disease and cast out of the community. Harsh stuff!
But it also got me thinking about the measures being taken right now to combat a different disease. 
COVID and the Church
There's no avoiding the fact that COVID-19 and its associated restrictions have been controversial – particularly within religious communities. A church (or mosque, or synagogue, etc.) is inherently a communal place, where people gather to meet, talk, worship, and, well, build community.
That reality has led some churches and religious leaders to push back against, or outright defy, public health recommendations to combat the virus, such as masking and distancing. 
But perhaps the Bible ought to be consulted more carefully here. As churches continue to navigate a difficult period, should the wisdom of this holy book hold some weight? 
Critics have pointed out that the passage in question comes from the Old Testament, which contains many lessons that are viewed as outdated or overly harsh in our modern era. But just because the Old Testament is extreme at times, or overly prescriptive about certain diseases, does that mean we should ignore this powerful accumulation of knowledge?
What if Leviticus 13:45-46 represents a solution from above for how to defeat this terrible virus? If so, we would do well to heed its direction.