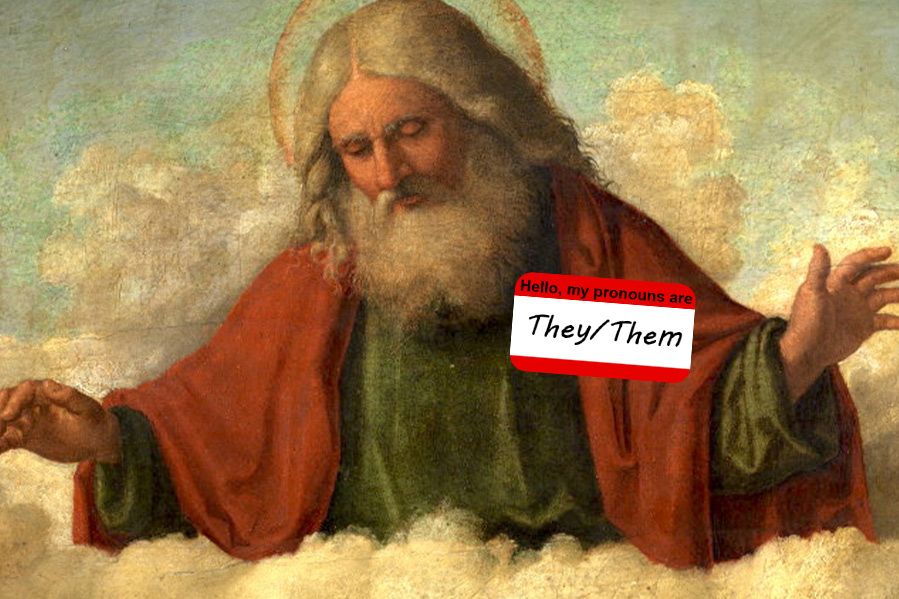 The following sermon was submitted by ULC minister Genevieve Reed. All ULC Ministers are invited to contribute their own sermons for consideration/publication. To submit a sermon, please email it to sermons@ulc.org.
---
For thousands of years, Christians have talked about God almost exclusively in a masculine sense. 'Holy Father', 'King of Kings', 'He is Risen', and so on. From Michelangelo's The Creation of Adam to Morgan Freeman in Bruce Almighty, nearly every single depiction of God in popular media of the last two thousand years has unequivocally interpreted God as a man.
In many ways, that makes sense. The world of the past was very patriarchal, after all. And up until a few hundred years ago, depicting God as anything but a bearded, masculine man might've gotten you burned at the stake. 
But the world of 2021 is much different than the world of 1621. I propose that now is the time to change God's pronouns to the gender-neutral They/Them – and here's why.
They Are Risen
For one, it's just good theology. It's clear that we've been misgendering God from the very beginning. Indeed, most Christians understand God to be a spirit, an entity, and not an actual person. When we say 'He', we know that God's not literally a biological male, "they" are a divine being whose mysterious machinations are beyond our earthly understanding. We just say 'He' simply because we always have, not because there's any theological basis for God to be a man.
The fact of the matter is, God exists beyond gender and language. There is simply no way to properly categorize Them in mere words.
Even global church leaders agree that God is nonbinary. The Catholic Church's 1992 Catechism states that God "is neither man nor woman: he is God," and the Church of England stated in 1562 that God is "without body, parts, or passions."
"'All human language about God is inadequate and to some degree metaphorical," said Justin Welby, the Archbishop of Canterbury. "God is not a father in exactly the same way as a human being is a father. God is not male or female. God is not definable."
The Proof is in the Patriarchy
It's all rooted in outdated gendered language. Let's be honest, language shapes the way we think and view the world. And obviously, the world of the past was hugely patriarchal, so our language naturally reflected that reality.
In the last 50 or so years, we have made significant steps towards gender equality. But much of that gendered language still permeates our daily lexicon, serving to enforce the patriarchy: 'Mankind,' 'you guys,' 'man-made,' the list goes on.
If we continue to view God as a man, then men are the ones made in His image. Women, it is implied, are different and perhaps inferior. As Mary Daly said, "if God is male, then the male is God."
In a world where 'he' is the default pronoun, women will always be marginalized. We have the power to change that. 
And what better place to start than with the holy They above?