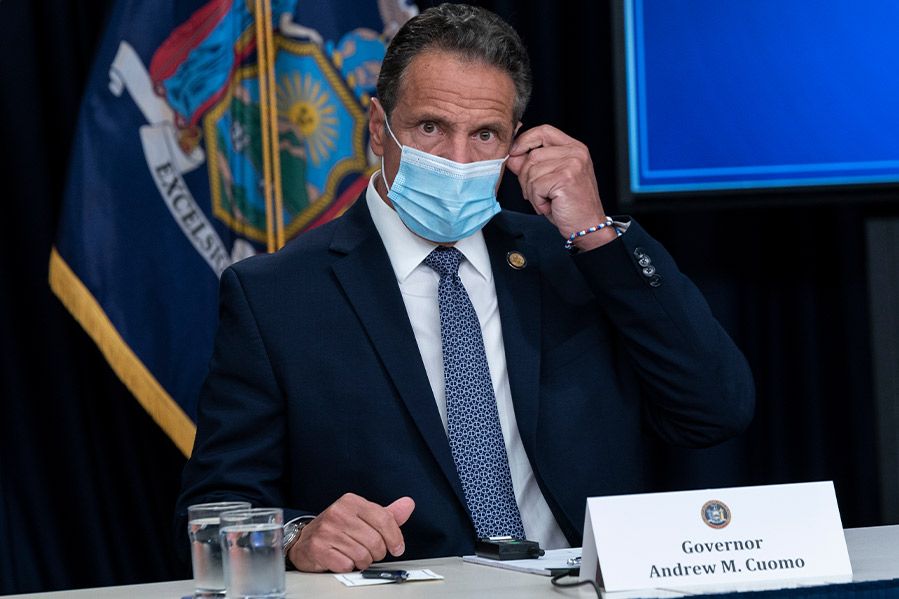 Hundreds have taken to the streets of Brooklyn in protest of New York Governor Andrew Cuomo's lockdown of a number of communities to contain the spread of coronavirus.
The nine New York City neighborhoods hit with tighter restrictions all include a sizable Orthodox Jewish population, and the crackdown comes smack-dab in the middle of the Jewish holiday of Sukkot.
Religious Discrimination or Common Sense?
Many Orthodox Jews felt singled out by the measures, which specifically restrict faith gatherings. And neighborhoods in Brooklyn and Queens with high Orthodox populations were on the receiving end of the restrictions.
The reasoning behind this decision: the areas targeted represent 7% of NYC's population but 20% of new COVID cases.
"This is about mass gatherings. And one of the prime places of mass gatherings are houses of worship," Governor Andrew Cuomo said. "I understand it's a sensitive topic but that is the truth, period."
Governor Cuomo's press conference went as far as to show a slideshow of a number of Orthodox events, including mass gatherings at houses of worship, as proof that the drastic measures are needed.
Naturally, that didn't go over too well.
Masks Burned as Protests Erupt
Cuomo met with Orthodox leaders in those communities in a bid to gather support and compliance, but that appears to have been all for naught. On October 6th, impromptu protests burst out in New York's Borough Park neighborhood.
Chants of "Jewish Lives Matter" and "Donald Trump" were heard from protesters, who numbered in the hundreds. Eventually, a bonfire of masks was created in the middle of the street.
Although the protests have been mostly peaceful, one journalist was attacked and called a "moyser", the Yiddish word for "snitch", and had his face spit on.
The street protests, which include mask burning, chanting, and even dancing, have gone on for a number of days.
Cuomo, Protesters Play the Blame Game
Gov. Cuomo puts the blame for the lockdown squarely on the communities on the receiving end of them, saying that if they'd been following the rules to begin with, they wouldn't be targeted for a shutdown. 
"To the extent there are communities that are upset, that's because they haven't been following the original rules," Cuomo said at the original press conference announcing the crackdown. 
Even with the protests in full swing, some are making a concerted effort to abide by social distancing guidelines and set an example, and a number of community members handed out masks each evening.
Still, anger over the lockdown was compounded as it came in the middle of the Jewish harvest holiday of Sukkot, bringing community frustrations to a boiling point.
In the midst of all this, a controversial former city council candidate named Heshy Tischler has emerged as the de facto protest leader. "I don't understand, why only the Jews?" he said in a recent interview, pointing to Orthodox sentiment that they're being targeted unfairly.
He's gone so far as to suggest that the figures used by Cuomo to inform which neighborhoods to lock down were falsified, calling the tests "not real." And he's even expressed mask skepticism, pointing to President Trump's numerous maskless appearances as proof that he doesn't need one.
Where do you stand? Was the Jewish community unfairly targeted? Does religious freedom still apply during a pandemic?