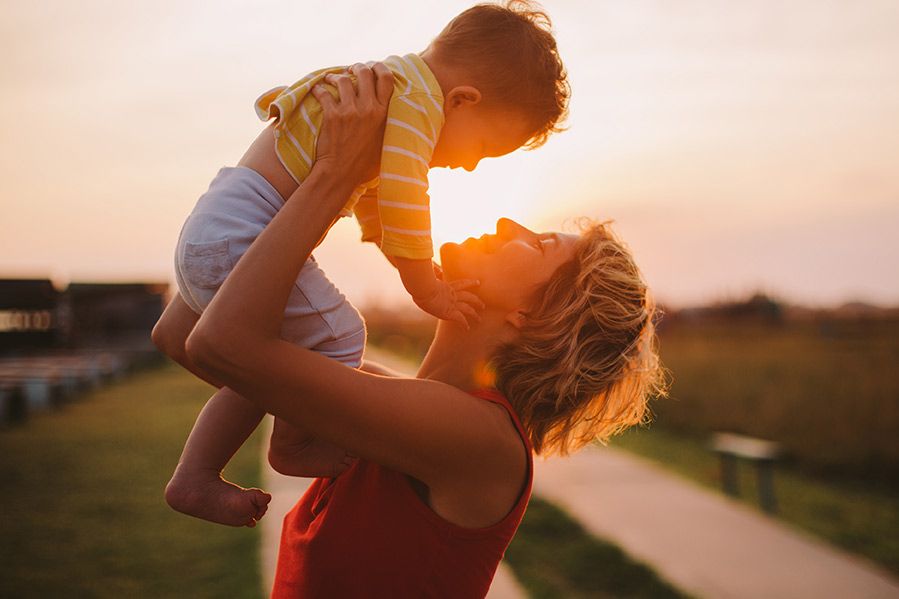 Dear Father, we approach your throne on behalf of the mothers whom you have entrusted with the care of your most precious little ones. We thank you for creating each mom with a unique combination of gifts and talents. We thank you for the sacrifice of self each mom gives for her children. For the late nights spent rocking a colicky infant. For the hands calloused from washing, wiping, scrubbing, mixing, backing, stirring, hugging, patting, disciplining, holding, writing, erasing, painting, and pouring.
We thank you for the gift of time moms give for their kids, whether it's stay-at-home moms, working moms, and moms who have some combination of the two. We thank you for the flexibility of moms, for their tirelessness, their perseverance, and their devotion.
Most of all, Lord, may we love and cherish the special women who birthed us, nurtured us, and prayed for our well-being. May our hearts overflow with gratitude to you, who formed and knitted each of us in a mother's womb.  
AMEN
A Mother's Love
Our mothers bring us into the world.
-They nurture us.
-They provide for us.
-They raised us up
Mother's have a remarkable ability to change the world through their children.
Mothers do influence their sons and daughters! One of life's greatest blessings is to have a mother with a strong faith. And, thus, one of the greatest gifts you can give your children is a strong faith.
In 1950, only 12 percent of women with preschool children worked outside the home. "Leave it to Beaver" was not an untypical home situation! By 1985, over 50 percent of mothers with children five and under were working. Young mothers also return to work sooner after the birth of their babies than ever before. In 1976, 31 percent of mothers were back on the job before their child's first birthday. By 1987, that figure had jumped to over 50 percent.
There are legitimate cases of economic hardship where the mother's job is a necessity (as with single moms.) But I question whether trading a mother at home for increased income really provides a better lifestyle. Most kids would vote for less junk and a mom at home.
A Sincere Faith
Just like Moses and Timothy, I was raised by God-fearing women, first by my birth mother and, after her death, by my aunt and grandmother. For those of you that don't know my history, my father died when I was 5 and my mother died when I was 7. My mother was diagnosed with Hodgkin's leukemia shortly after I was born. Because she was under doctor care a lot, I spent time with my god-mother, Ramona, and time with Mrs. Homan, Mrs. Hankins and also an African-American lady whose name I do not remember.
The neighborhood mothers were Mrs. Smith, Mrs. Neid, Mrs. Meyers and Mrs. Welsh.
I was also raised by many 'mothers' in the First Baptist Church and then the First United Presbyterian Church. Some of these 'mothers' were Mrs. Ury, Mrs. Bender, Mrs. Wesslund, Mrs. Hutchens, Mrs. Mattke, to name a few. Almost all of them led me down the path of Jesus Christ, instructing me in salvation through faith in Christ Jesus.
One prime quality which godly mothers need is sincere faith. The word "sincere" means, literally, "not hypocritical." It is possible to have a hypocritical, not genuine form of faith. Phony faith is the mask that is put on in front of church members or out in public, but it's set aside in the home. 
Having a sincere faith doesn't imply perfection. But it does imply reality with God. Such faith dwells in these women; it was at home in them, a comfortable, everyday sort of thing. Sincere faith means that you have sincerely believed in Jesus Christ as your Savior and Lord. It means that you walk in reality with Christ each day, spending time in His Word and in prayer. It means that you confront yourself with Scripture and judge your sin on the thought level. 
It means that when you do sin against a family member, you ask their forgiveness and seek to work on your weak areas. It means that you develop godly character qualities and attitudes of submission, thankfulness, and joy in the Lord. Your kids will realize that, while mom isn't perfect, she does walk with God. Not only are godly mothers, women of sincere faith, but also they seek to hand off that faith to their children. Hypocritical faith can't be handed off. If you're a phony, your kids won't want anything to do with your version of Christianity. But genuine faith is contagious. Timothy's faith could be traced back through his mother to his grandmother. He could see the Lord in them, and it attracted him to the Lord.
Let Us Pray
I thank you, dear Lord, for my mother. I thank You that she gave me life and nurtured me for those few years. I thank You for all of the 'mothers' that I have been blessed with, especially those that gave me my faith, helping me to know You and to know Jesus and his teachings. May each mother in this room be granted a special blessing, and may all of the work of her hands not be forgotten in Your sight. Let her example to her children be a guiding force in their lives, and may wisdom be passed down to the next generation of mothers. Amen