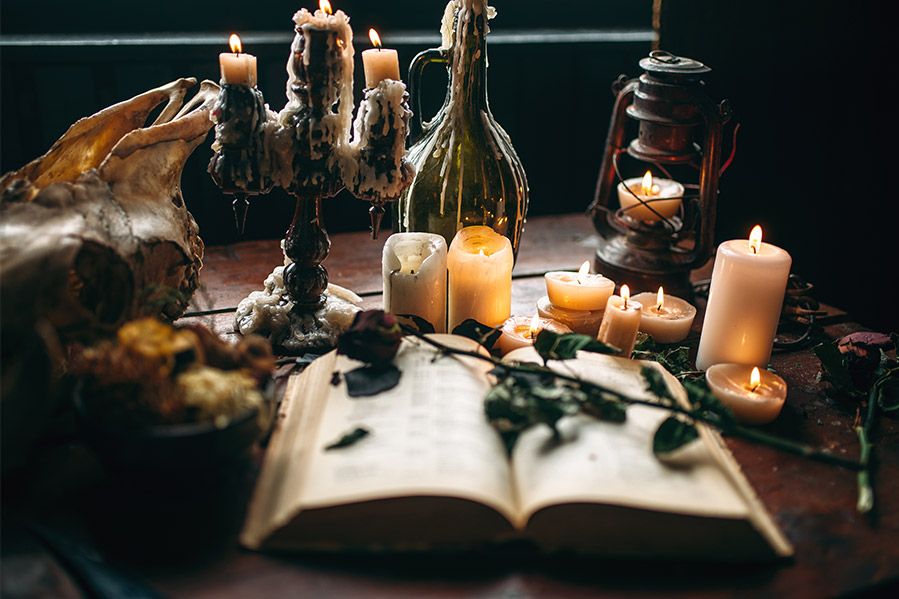 In July of 2015, local authorities in Pensacola found the bodies of Voncile Smith, 77, and her sons John and Richard. Due to the brutal nature of the killings, the coming blue moon (a second full moon in a lunar cycle), and the positioning of the bodies, the police concluded that there was only one culprit here: Witchcraft.
"It's witchcraft, I'll say that right now," said a sheriff at the time, shocking the press. Prior to the capture of the killer, he was referred to in the press as the 'Blue Moon Killer'. Local pagans were outraged and feared they'd be scapegoated. Voncile's other son, David Hartung, was considered the primary suspect, mostly for his interest in the occult and his practice of Wicca. Ultimately, the police got the right man, but for the wrong reasons. Earlier this year, Hartung was convicted of the triple homicide, but his belief in Wicca had nothing to do with it. He was simply frustrated that he'd been left out of his mother's will.
The ordeal highlights just how frequently witchcraft is unjustly blamed for society's ills. Or how pagan beliefs are blamed for crimes, when, as in this case, the answer was simply good old fashioned greed.
Salem and Beyond
America has a long history of prejudice against witches, which often turned deadly. In fact, fear and hatred of witches predates America's independence. During the spring of 1692 in colonial Massachusetts, two young girls accused three women - a slave, a homeless beggar, and an elderly woman - of bewitching them, setting off the Salem Witch Trials. In a desperate ploy to save her own life, one of the women, Tituba, confessed to bewitchment and accused others in the Puritan community of witchcraft, and soon accusations of witchcraft spread throughout Massachusetts, overwhelming the justice system to the point that the governor had to appoint a special court to oversee witchcraft trials and judgments. Few, if any, of those accused actually identified as witches. At the end of the mass hysteria, 20 men and women were executed for witchcraft, and at least five more died in prison before they could be tried. 
And if you think we're long past those days, you're mistaken. While no one is being executed for witchcraft any longer, fear of witches and the occult persists in the modern era. In the 80s and 90s, the United States underwent another moral panic - the "Satanic Panic" - which saw everything from heavy metal albums to Dungeons & Dragons to horror films scapegoated as ungodly and legislated against. And the Harry Potter series continues, to this day, to be ranked in the top 10 most challenged books list.
Taking Back 'Witch'
Given biases against them that have historically turned violent, witches often hide their beliefs for fear of persecution. But modern witches are owning the word 'witch' in ways previous generations didn't.
Witchcraft has been on the rise in the last couple of decades, the meteoric growth has even been dubbed a 'witch Renaissance'. Growing interest in astrology and crystals can be credited in part, but feelings of disenfranchisement and lack of faith in traditional institutions like government and church are much larger contributors. Notable witch Pam Grossman told The Atlantic that "the more frustrated people get, they do often turn to witchcraft, because they're like, 'Well, the usual channels are just not working, so let's see what else is out there.'"
Witches have even gone political, 'fighting MAGA with magic'. In 2018, a "Magic Resistance" group that is 13,000 members strong held numerous binding spells against President Trump in an attempt to magically hinder his political agenda. And in a contentious election year, we're sure to hear more about the Magic Resistance as we get closer to the November election.
Even as prejudice against witches continue, witches only grow more empowered. And with the internet, witches who, in years past, might have had no one to talk to now have thousands of fellow witches a click away.
With the witchcraft movement growing in influence every day, it's hard not to see parallels between other marginalized faiths. And like other marginalized faith groups, in the face of adversity, witches aren't standing down. 
What do you think about the burgeoning 'witch Renaissance'? At the end of the day, is there really much of a difference between witches gathering online and expressing their faith together, and traditional church services?