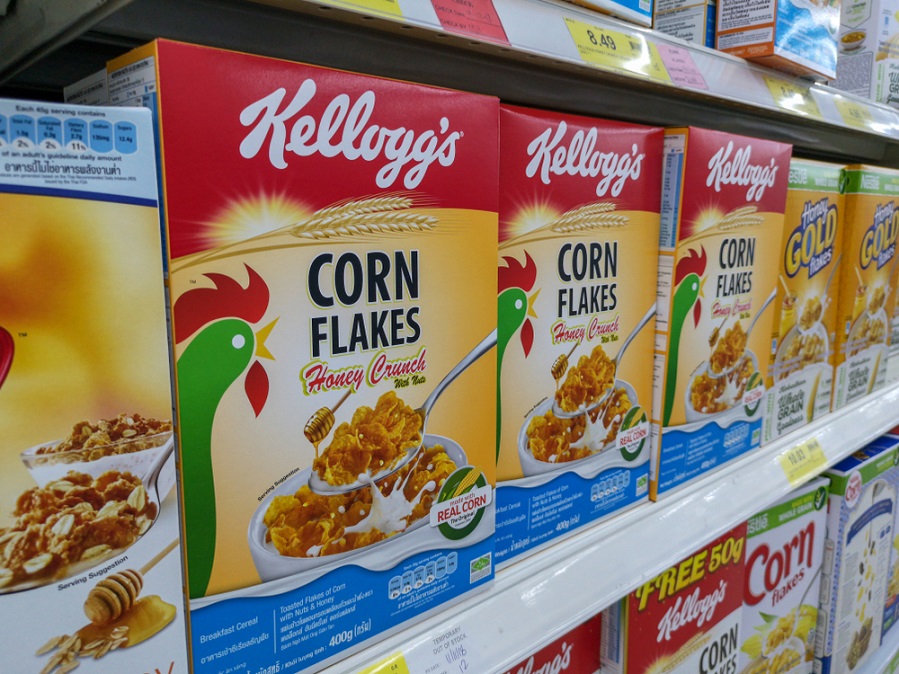 ---
You can thank your lucky stars for Christian fundamentalists every morning when you down that big bowl of breakfast cereal or at least thank them for giving you your Lucky Charms. It's true. Back in the early 19th Century, when most people ate pork chops for breakfast (and washed them down with whiskey and coffee), Christian fundamentalists decided that this was hell on a person's soul as well as on his or her bowels. They went so far as to preach that constipation was God's punishment for eating meat.
In 1863, one such fundamentalist, Dr. James Jackson, decided to do more than just preach. He invented Granula, America's first, and for a while only, ready-to-eat grain-based breakfast product. Never mind that Granula "bricks" were as hard as real bricks. Determined Christian fundamentalists chowed down on them, hoping to clean both their consciences and their bowels.
Enter Dr. John Kellogg
Ultimately Granula failed to catch on in the mass market. But not before catching the attention of Dr. John Kellogg, a surgeon and health guru who ran the upscale Battle Creek Sanitarium in Michigan where the Rockefellers, the Roosevelts, and other rich families flocked for treatment. True to its founder's nutritional outlook, "The San" served bran biscuits for breakfast that were suspiciously similar to Dr. Jackson's Granula bricks. Only here they were called Kellogg's Granola. (Note that Kellogg changed one letter of Jackson's product name, thereby avoiding a lawsuit.)
By 1889, two tons of Granola was flying off the shelves of The San's store, even though the product was still virtually inedible. John Kellogg and his brother W.K. decided to come up with a more palatable, but still healthy, breakfast product. Believe it or not, it was a kitchen mishap that resulted in America's first cereal flakes.
Advent of Advertising
The Kellogg brothers discovered that cereal flakes were the perfect consumer product: easy to produce, easy to sell, and outstandingly lucrative. Even today, breakfast cereals carry a 50% profit margin!
Interlopers soon appeared, most notably Charles Post. Having failed as a suspender salesman, he moved to Battle Creek in 1895 and started selling knock-off Kellogg products. But he added a new twist: advertising. For his initial Grape-Nuts product, he published pamphlets like "The Road to Wellville," claiming that Grape-Nuts would cure appendicitis, make a person's "red blood redder," and even improve IQ. Grape-Nuts were netting Post $1 million annually by 1903.
What could the Kellogg brothers do to stop their own dwindling profits? Start advertising themselves, of course. In Kellogg's first national print campaign, the company took unknowing advantage of the innocence of the time by instructing women to: "Wink at your grocer, and see what you get." The pure-as-snow Victorian answer: a free box of Kellogg's Corn Flakes!
The success of Post and Kellogg were so astounding that aspiring cereal barons descended on Battle Creek in droves. By 1911, companies headquartered there were producing 107 brands of corn flakes alone. But the cereals had little substantive differences. Now what?
Rethinking the Cereal Box
To make their own product(s) stand out from the competition, cereal producers started focusing on the outside of the cereal boxes rather than on the products inside them. One company called its cornflakes University Brand Daintily Crisped Flaked Corn. Another created a mascot, Sunny Jim, for its Force cereal. Sunny Jim was a cartoon gentleman who wore a top hat while strutting across the Force box. He and his cereal brand achieved such success that other companies had to create mascots for themselves.
Post once again led the way. During the Great Depression, Post Toasties hired none other than Walt Disney to create the cartoon animals on its cereal boxes. He used his Post earnings to build his world-famous Disney empire, including Disneyland in California and Walt Disney World in Florida.
From Christian Fundamentalism to Pure Capitalism
By now, breakfast cereal had nothing to do with Christian fundamentalism and everything to do with the cereal companies' mad rush to market their increasingly sugary products to American kids. With the advent of television, iconic characters like Howdy Doody, Dick Tracy, the Lone Ranger, Yogi Bear, and the Beverly Hillbillies characters regularly interrupted their episode of the week to turn to the camera and hawk the cereal product(s) of one company or another. Even today, cereal represents the second-largest TV advertiser, outspent only by the automobile industry.
Despite the fact that cereal has come a long way, baby, you still might want to send up a thank you to Dr. James Jackson. Without him and his fundamentalist beliefs, you and your kids could still be eating pork chops for breakfast.