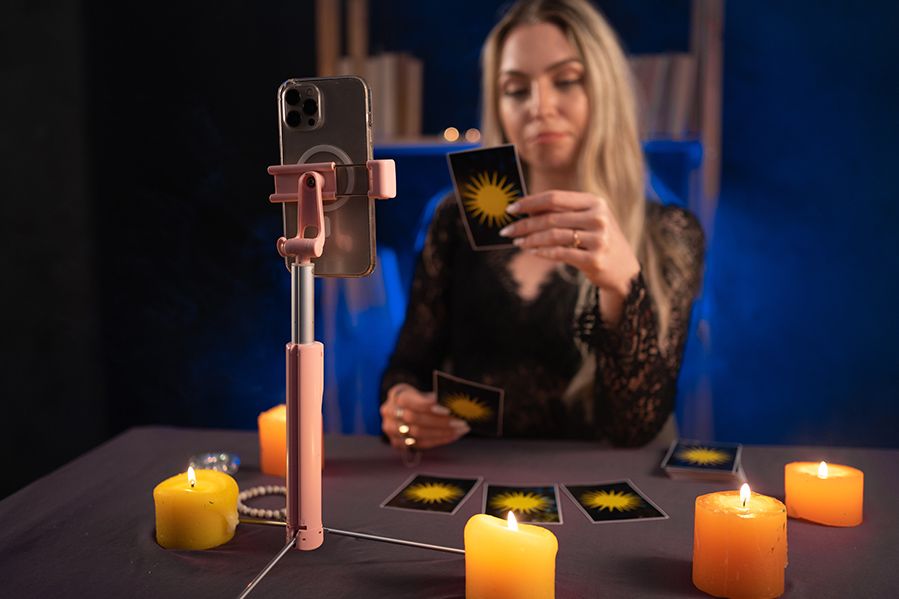 Wiccans, witches, and other groups have been practicing forms of magick for thousands of years. Now, that activity is adapting to the internet age. 
Welcome to WitchTok.
On the popular video platform TikTok, scores of witches virtually gather together to cast hexes, weave spells, and even bind or curse their perceived enemies.
It may be one of the fasted growing spiritual practices today, and there are likely hundreds of thousands of active WitchTokers in the United States alone.
Yet those not on in this specific corner of the internet may very well not even know about this not-so-secret cabal of internet witches sharing videos and commenting online.
Welcome to WitchTok.
What is WitchTok?
There are scores of witchy content creators on TikTok. They're joining covens, casting spells, and creating videos with the "WitchTok" tag – which have amassed tens of billions of views on the platform. That's "billions". With a B.
WitchTok creators might show everything from magical spellcasting to using healing crystals, but the content stretches far beyond what you might think.
Even relatively mundane subjects get scores of views: makeup tutorials, book recommendations, cat videos. 
This broad rundown of "witch tips" garnered nearly 1.5 million views:
Others dropped spells for winning the affection of men:
And for protecting your home:
A New Dark Age?
For many TikTok witches, this internet coven of sorts is the community they never had. WitchTok followers are often members of marginalized groups – primarily women and the LGBTQ+ community. 
"I am a lot of marginalized groups. I am nonbinary, I'm queer and I'm half-Black... but magic has been the voice of people that are voiceless for a very long time," explains WitchTok creator Honey Rose. "Some people have a problem with traditional religions and traditional spirituality, as sometimes they go towards a more abstract form of spirituality, which can be witchcraft."
Some of these people see the rise in paganism, particularly in online spaces, as a direct response to the general feeling many young people may have that the world is completely out of their control.
These young witches, many of whom grew up online, sometimes express that they feel both a loss of local community prior generations had, as well as the sense that the powers-that-be are selling their future short, and that the deck is stacked against them.
"We live in this very intense, dark age... People want purpose, and they want connection," explains author Gabriela Herstik. "But beyond that, they want something that helps them connect to something larger than themselves. Something that helps them feel like there's a purpose, and magic does that. Magic is a way to align with your purpose, your power."
Using Magick for Activism
While many WitchTokers are in it for the community, or the aesthetic, or just for fun, some are increasingly using spellcasting and witchcraft as a means of activism. 
For example, when 2024 presidential hopeful Vivek Ramaswamy joined TikTok, he may have expected some comments about his Hindu faith... but he probably didn't imagine that he'd be on the receiving end of some very powerful hexes.
Indeed, within minutes of joining the popular social media platform, Ramaswamy was inundated with comments and videos hexing him.
In a now-deleted video that was viewed over 300,000 times, an anonymous woman who goes by @witchycannamom, cast a spell on Ramaswamy with ingredients that would have fit right into a creepy 19th century fairytale: one eye of newt, some stinging nettle, a touch of hemlock, and the hex was cast, which is purported to bring pain, sadness, and discomfort to Ramaswamy.
Ramaswamy was hardly WitchTok's first target, however. Hexing as a form of activism really took off during the Trump Administration, where many users cast spells and hexes intended to damage President Trump politically, or even personally.
Although initially published on the website Medium, a binding spell against President Trump went viral on TikTok. And in late 2020, WitchTok took a victory lap when President Trump was diagnosed with COVID-19.
Scores of internet witches said that the president's COVID diagnosis, which came under a full moon on October 1st, was proof that their innumerable hexes and spells worked.
While the activism side is a big part of WitchTok's popularity, for many more it's a form of spirituality that provides a sense of community, as well as means of seizing control. As WitchTok creator Ayla Skinner puts it, "witchcraft, paganism, it all gives you a bit of control back, you can live your life how you want."
For many, the religious mysticism of witchcraft is a conduit to spirituality, activism, and community. In that sense, is it really any different from other modern faiths?