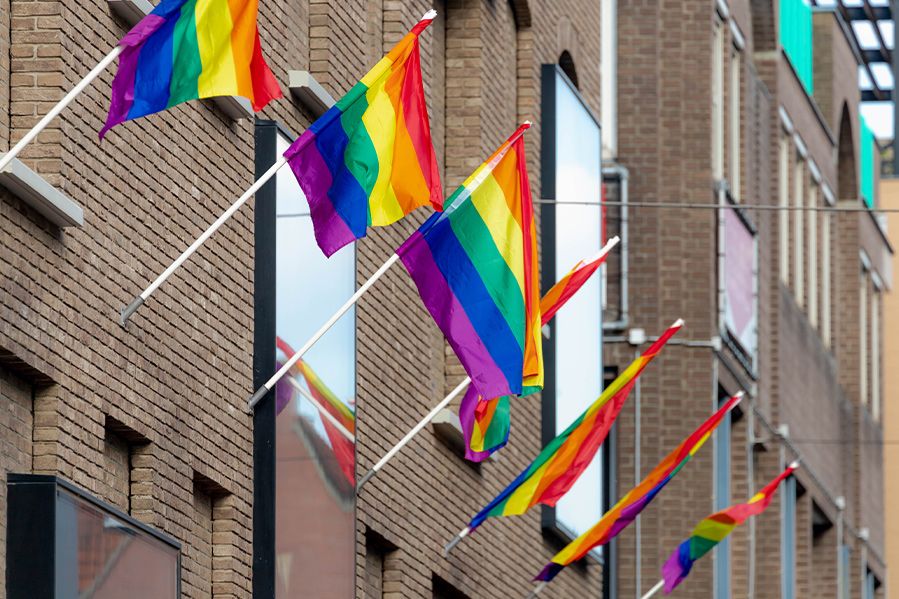 Back in June, the all-Muslim city council in Hamtramck, Michigan banned the LBGTQ Pride flag from flying on government property.
The council's unanimous vote followed three months of intense debate at city council meetings, which often ended in shouting matches and unsavory accusations on both sides.
If supporters of the ban expected the national spotlight to fade away from their small, 28,000 person town just outside of Detroit, they were wrong.
Months after the decision, resentment and disappointment are still simmering amongst the town's LGBTQ+ population. Many activists are settling on a single word: betrayal.
A Promising Alliance Sours
Hamtramck's LGBTQ+ community has long championed the city's sizable Muslim community, and many viewed the two groups as progressive allies in the fight for a less prejudiced and more open society.
Hamtramck is believed to be the only city in America with an all-Muslim city council. As a marginalized community themselves, the LGBTQ+ folks in Hamtramck supported their Muslim neighbors when they faced discrimination, and largely backed an amendment to the city's noise ordinance which allows for Muslim calls-to-prayer to be broadcast over public loudspeakers.
There were other signs that the council was motivated to advance Islamic beliefs. Back in January, they voted to approve animal sacrifice for religious purposes (prompting outrage from groups like PETA). 
However, it wasn't until the Pride flag ban was proposed that the relationship between the LGBTQ+ community and city leaders really began to fray. 
In fairness, the new flag ordinance restricts all flags except a handful: the United States flag, the Michigan flag, and so on. However, LGBTQ+ groups believe the vote was targeted at them – and much of the public debate centered around whether the Pride flag specifically should be able to fly on city property:
For its part, the city argues it was just "trying to close the door for other groups that could be extremist or racist." 
Betrayal in Hamtramck
Now, some LGBTQ+ residents say they feel that a community they helped in its time of need is now turning its back on them.
Over the summer, former city councilor Catrina Stackpoole, who is gay, minced no words. "We welcomed you," she told the Muslim members of the city council. "We created nonprofits to help feed, clothe, find housing. We did everything we could to make your transition here easier, and this is how you repay us, by stabbing us in the back?"
The sense of betrayal by many of the city's gay community is palpable. One local woman, Hayley Cain, says that she moved to Hamtramck specifically because of the religious and ethnic diversity. Now, she's having second thoughts. "I knew it was a diverse community," she stated. "I'm questioning whether it is. I don't want to live in a place like this."
The ban has seemingly emboldened anti-LGBTQ individuals in the town, too. Thefts and vandalism against homes flying the flag have reportedly gone up, and many of the town's LGBTQ+ community no longer feel safe. Some are considering moving away. 
Are All Phobias Equal?
This issue has since gained the attention of Michigan's political leadership, some of whom are hoping to see the ban overturned. 
Michigan Attorney General Dana Nessel recently participated in protests and called out the perceived hypocrisy of city leadership. "Make no mistake," she said, "homophobia, transphobia are indeed forms of evil as much as Islamophobia is."
What do you think? Did Hamtramck's Muslim leadership "betray" the LGBTQ community with the flag ban? And is the city's Muslim community being hypocritical here, or are they entitled to pass measures that align with their beliefs?