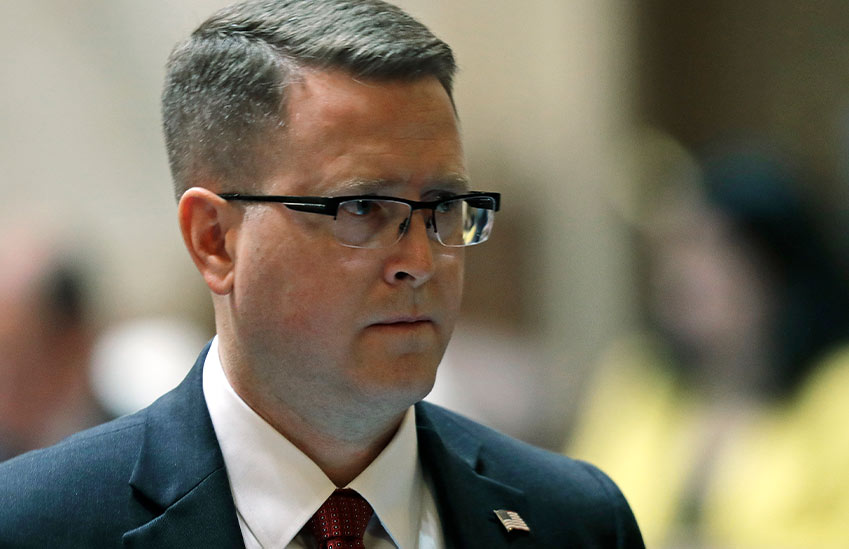 ---
Last year, just before his successful re-election, Spokane Valley Republican Matt Shea denied a leaked manifesto he penned was a road map for a Holy War. The manifesto pitted conservative Christian "patriots" against Muslim and Marxist "terrorists."
This week, The Guardian released leaked emails that showed Shea communicated with a known religious militia. That group, known as Team Rugged, trained children, teens, and men in their early 20s for armed combat in a perceived Holy War.
Team Rugged
"The entire purpose behind Team Rugged is to provide patriotic and biblical training on war for young men," wrote the group's self-described leader Patrick Caughran to Shea back in July 2016. "Everything about it is both politically incorrect and what would be considered shocking truth to most modern christians. There will be scenarios where every participant will have to fight against one of the most barbaric enemies that are invading our country, Muslims terrorists."
Team Rugged expounds "biblical" teachings based on the works of Christian militia enthusiast John Weaver. Weaver is a racist preacher who's defended slavery, praised the Confederacy and condemned interracial marriage.
Consequently, Team Rugged promises to offer practical weapons training. Said Caughran: "Those who attend will learn combatives, the use of a knife in defense, close quarters shooting with rifle and pistol and how to work effectively in teams of 2, 3 and 4."
"Acrobatic Special Forces"
The Spokesman-Review obtained the emails between Caughran and Shea through multiple sources. A team of private investigators hired by the state House of Representatives is now using those emails to determine whether Shea had promoted political violence. 
Team Rugged's Facebook page and website have since disappeared, so it's unclear if the group remains active elsewhere, either physically or online.
What should be crystal clear is Shea's apparent affection for the group.
"I love the fact that you guys looked like almost an acrobatic special-forces team out there," said a beaming Shea in a July 2017 interview with Team Rugged members. That glowing endorsement came on the heels of one of those young men describing the group as providing "all the foundational learning and skills that they need to be effective in Christian warfare." Shea seemed particularly impressed with one young man, who claimed he could hit a target with his firearm while doing a one-handed cartwheel.
Records show a company called Team Rugged LLC formed about a year after Caughran emailed Shea.
Holy Warrior
Spokane County Sheriff Ozzie Knezovich has since urged fellow Republicans to denounce Shea as an extremist, comparing Team Rugged to the Hitler Youth of Nazi Germany. While Shea has not responded directly to any of the allegations, he recently shared a political blog post on Facebook, adding: "THE CURRENT DIRECTION OF WASHINGTON IS DECIDEDLY ANTI-CHRISTIAN."
Shea might continue to insist that his original "Biblical Basis for War" manifesto is little more than a scholarly sermon on war in the Old Testament. But the company he has chosen to keep over the last few years proves otherwise.
As a result of the recent rise of Christian nationalism, Shea's language and conduct are rightfully raising eyebrows in his community and beyond. Recently, Spokane's mayor and police chief joined Sheriff Knezovich in calling Matt Shea unfit for office.
However, whether voters see it that way remains to be seen.