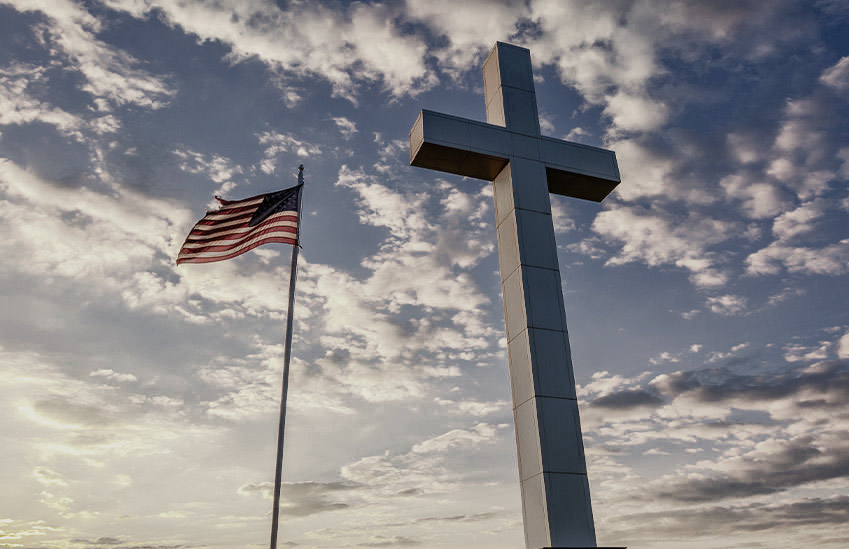 ---
Prominent Christian leaders are warning their community members to be wary of 'Christian nationalism' and its potential to condone white supremacy, encourage racist violence, and ultimately damage America's constitutional democracy.
"Christian nationalism demands Christianity be privileged by the State and implies that to be a good American, one must be Christian," read a statement endorsed by nineteen religious leaders from groups including the Network Lobby for Catholic Social Justice, the Franciscan Action Network, the Episcopal Church, and the Evangelical Lutheran Church of America, to name a few.
"[Christian nationalism] often overlaps with and provides cover for white supremacy and racial subjugation. We reject this damaging political ideology and invite our Christian brothers and sisters to join us in opposing this threat to our faith and to our nation. Conflating religious authority with political authority is idolatrous and often leads to oppression of minorities and other marginalized groups as well as the spiritual impoverishment of religion."
The strongly-worded statement explicitly says that America has no second-class faiths and demands Christians stand up and speak out against Christian nationalism, "especially when it inspires acts of violence and intimidation-including vandalism, bomb threats, arson, hate crimes, and attacks on houses of worship-against religious communities at home and abroad."
Nationalism Moves to the Mainstream
White evangelical Protestants have become the poster children for this more politicized strain of Christianity in recent years. Indeed, Christian American exceptionalism is a belief that has gone from the fringe to the political mainstream recently. From beliefs that America brings about its own violence and misfortune by not allowing prayer in school to the belief that gun ownership is a God-given American birthright, the language of Christian nationalism is increasingly being invoked in defense of socially conservative causes. Evangelicals' desire for a more Christian nation was made perfectly clear in the 2016 election, where they supported Donald Trump at a whopping rate of 77%.
So while Red Letter Christian founder Tony Campolo may insist "the true Jesus is neither a Republican nor a Democrat," it's evident that an increasing number of evangelicals disagree.
Religious Extremism on the Rise
What's wrong with Christians veering further to the right?
Well, researchers at the University of Maryland who analyzed the Global Terrorism Database reported that 2017 showed a "sharp increase" in the share of attacks by right-wing extremists, from 6% in the 2000s to 35% in the 2010s. The share of attacks by religious extremists also increased between those two decades, from 9% to 53%. Another study published in the Sociology of Religion found that "Christian nationalism can serve as an ethno-nationalist symbolic boundary portraying nonwhites and Muslims as threatening cultural outsiders."
The University of Maryland study defined "right-wing extremism" as "violence in support of the belief that personal and/or national way of life is under attack and is either already lost or that the threat is imminent." It includes anti-globalism, white supremacy, and nationalism. The same study found a precipitous drop in left-wing and environmental terrorism over the same time period, from 64% of the share of terrorist attacks in the 2000s to only 12% in the 2010s.
When Quartz studied that same database, it found right-wing extremists committed most attacks in the US: in fact, 37 of the 65 total incidents in 2017 were tied to racist, anti-Muslim, homophobic, anti-Semitic, fascist, anti-government, or xenophobic motivations, including neo-Nazi extremist James Field's attack against a crowd of counter-protesters in Charlottesville; attacks against a gay bar in Puerto Rico; mosques in Washington, Texas and Florida, and a vehicle decorated with Jewish iconography in New York. Islamic extremism accounted for only seven attacks in the same period.
As white nationalist and Christian nationalist language increasingly make their way into the public discourse, some Christian leaders are decrying a trend they see as worrying.
What are your thoughts? Is Christian nationalism the slippery slope to dangerous radicalization that the statement sponsors seem to think it is?