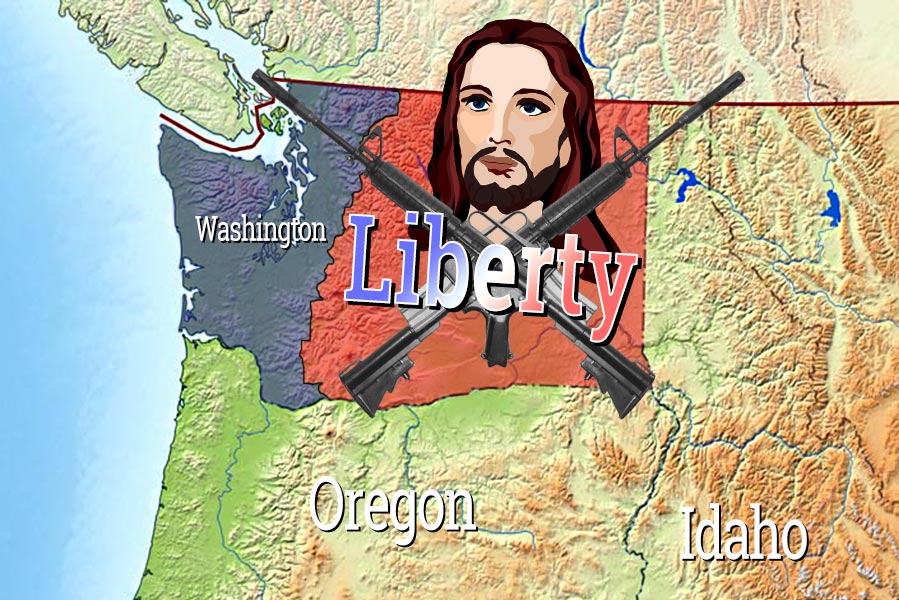 ---
Is it time to form the 51st state in the Union? Some Christian politicians think so, and they're eager to shape a new set of laws that align with their beliefs.
Last week, a group of freedom-minded lawmakers gathered in Washington State to raise money for a campaign to form "Liberty", a newly proposed state that would include the eastern portion of Washington, as well as parts of Oregon, Idaho and if organizers get their way, perhaps even Montana and Wyoming as well.
The guest list included both state and local lawmakers.   
Washington State Rep. Matt Shea, best known for his "Biblical Basis for War" manifesto, and who recently proposed actual legislation to create Liberty, was joined by Spokane City Councilman Mike Fagan and Loren Culp, a police chief who made national headlines after pledging not to enforce a controversial state-wide gun control initiative. Joining them as well was Barry Byrd, leader of the Marble Community Fellowship in northern Stevens County, who once helped pen a Christian Identity manifesto that referred to Jews as "anti-Christs" and condemned interracial marriage.
From the sound of it, these people are pretty serious about secession. "It's either going to be bloodshed or Liberty State," declared Shea's legislative assistant Rene' Holaday.
While the imaginary state is still working on a draft of its Constitution, early indications are it will heavily favor both religious freedom and gun rights. In fact, the AR-15 has already been designated the official state rifle.
What's Driving Calls for Secession?
During the evening's main address, Rep. Shea covered a wide range of grievances that "Liberty" supporters say justifies the creation of a new state. Among them: global warming is a hoax that big-city voters are forcing small town folks to pay for, and strict new gun laws are an intentional effort to target rural areas and take away their rights.
But that's not all there's a distinct religious component to "Liberty" founders' motivations. The U.S. is "a Christian nation" under siege, says Rep. Shea. He thinks it's about time true believers take their country back. "The Communists and atheists those that are responsible for the deaths of more people than any other belief system in the history of the world  unfurled their flag on the Capitol steps this last spring," Shea complains.
Should Christians Get Their Own State?
On its face, this whole plan seems pretty outlandish. Sure, it might be great for the gun rights activists and practicing Christians but what about all the other folks who live in those areas? Are they supposed to just take the state-sponsored religion and AR-15s in stride?
Plus, the bold new state constitution being proposed would undoubtedly clash in some areas with federal law what happens then? Would "Liberty" try to secede from the United States entirely (can you imagine the headlines)?
On the other hand, if these people are so dead-set on creating a Christian state, maybe it wouldn't be the worst idea to let them try. If it's a spectacular success, other fundamentalists and religious activists would likely decide to move there alleviating existing religious tensions elsewhere. If it fails, then we'll have solid evidence that Christian-based system isn't the best way to run a government after all.
Your reaction?