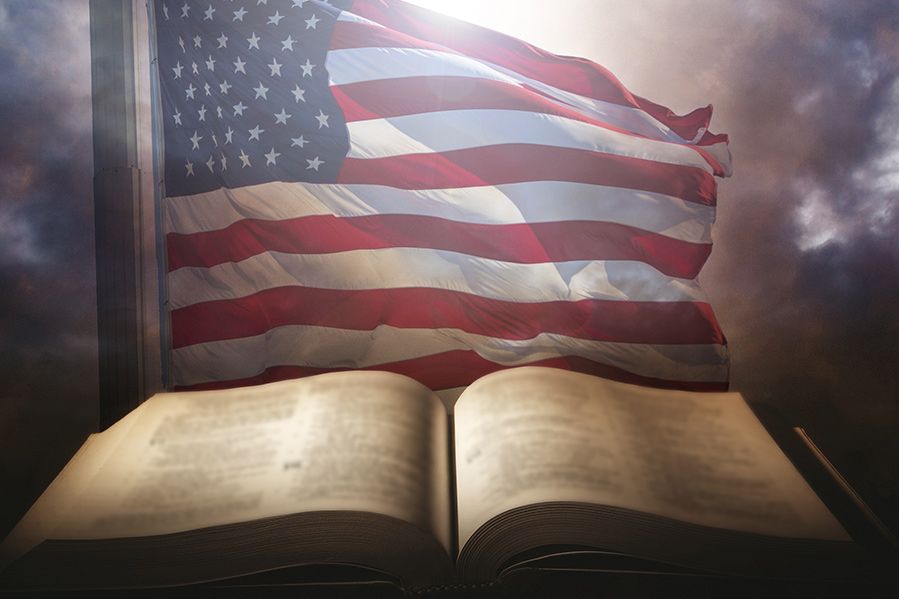 Should politicians be required to hold Christian values? Does adhering to the Bible make someone more deserving of winning an election?
Those are the questions sparked by controversial recent comments from an Ohio Senate candidate and a former national security advisor.
Faith Fight
Two nominees for an open Ohio Senate seat are in a war of the words, with one claiming he holds the strongest Christian values, and the other saying that simply can't be possible... because he's Jewish.
The frontrunner for the nomination in 2022 is Josh Mandel, a Jewish man who has repeatedly emphasized his 'Judeo-Christian values' in an effort to court evangelical Christians. His website declares him decidedly "Pro-God".
His opponent, Mark Pukita, is using those very values as an attack line. 
"Are we seriously supposed to believe the most Christian values Senate candidate is Jewish? I am so sick of these phony caricatures," a voice says in a radio ad run by Pukita's campaign. "I agree," says another voice. "If we keep electing people like this, we'll keep getting the same terrible results."
At a recent campaign forum, Pukita was on the defensive when asked to respond to claims that he's anti-semitic. "In terms of antisemitism, all I did in an ad was point out that Josh is going around saying he's got the Bible in one hand and the constitution in the other," he stated. "But he's Jewish. Everybody should know that though, right?"
While Pukita's campaign stopped short of saying that Mandel's Jewish faith should disqualify him from public office, there are some out there who might think it should be.
Mandatory Christianity
Michael Flynn, former Army lieutenant general and national security advisor to President Trump, caused a stir at a recent rally when he called for a single unifying national faith:
Michael Flynn tonight: "If we are going to have one nation under God, which we must, we have to have one religion. One nation under God, and one religion under God." pic.twitter.com/ShGVrsQ9hW

— Ron Filipkowski 🇺🇦 (@RonFilipkowski) November 13, 2021
The comments were met with immediate criticism – and alarm – from many sectors. Religious freedom is a cornerstone of the United States constitution and a plurality of religious beliefs have existed in the country since its founding. To say that the U.S. must adopt one single religion flies in the face of that tradition.
And yet, there seems to be some popularity around the idea. Josh Mandel, the Senate candidate, signaled support for General Flynn's comments on Twitter.
Nor is he alone. Activist Jacob Wohl, who himself is Jewish, said "I firmly believe that every Jew in America should decorate their home with Christmas lights. It's called assimilation. America is a Christian country."
One Nation Under God?
The comments reminded some of a controversial 4th of July newspaper ad from Hobby Lobby earlier this year that read "ONE NATION UNDER GOD" and included quotes from the Founding Fathers to assert that America is in fact a Christian nation.
Critics, however, point out that many of the Founding Fathers were Deists, and that the First Amendment grants freedom of religion to all Americans. They argue that the idea of religious freedom doesn't just cover your right to practice whichever branch of Protestantism you prefer: It means the freedom to practice any faith or no faith at all.
Still, it's hard not to acknowledge that in some ways, America is a Christian nation – at least symbolically. There are signs of Christianity's influence in nearly every aspect of daily life. "One nation under God" is recited in schools across America during the pledge of allegiance, and "In God We Trust" adorns our currency. Not to mention that an estimated 93% of Americans are preparing to celebrate Christmas next month. 
What is your reaction?