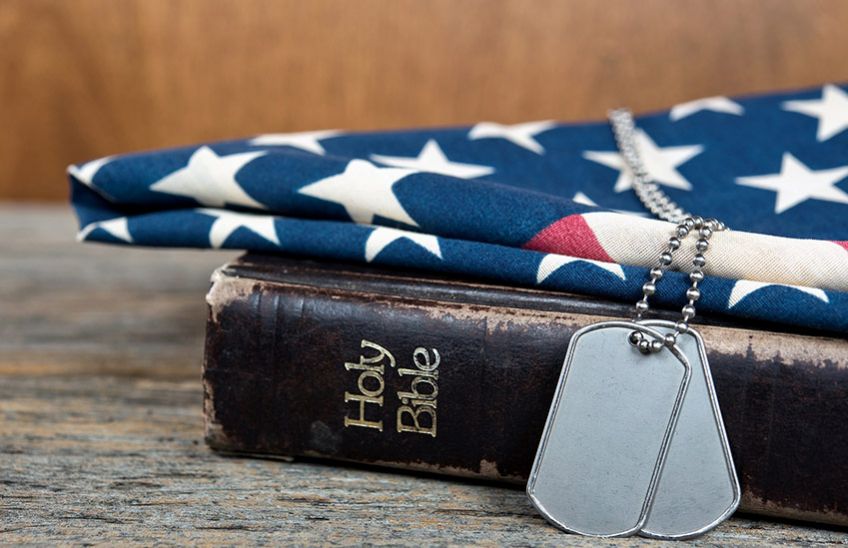 Shields of Strength, a private, faith-based company the U.S. military's been working with to create replica dog tags, is under fire. The company has had a trademark agreement with the Army for 20 years, enabling them to use their logo on their replicas. But recently, they created a dog tag with the Bible verse Joshua 1:9 inscribed on the tag, which prompted positive coverage in Fox News - and a complaint from Military Religious Freedom Foundation (MRFF) founder Mikey Weinstein. The MRFF said the scripture alongside an official military logo is tantamount to government endorsement of religion, and demanded the military stop enabling a practice that "poisons the constitutionally-mandated separation of Church and State."
The message was received, at least by the U.S. Army. "You are not authorized to put biblical verses on your Army products," read the email from the Army trademark office to Shields of Strength owner Kenny Vaughan. The August email, with the subject line "Negative Press", seemed to be in response to a complaint raised by Weinstein to the Department of Defense. "For example," the email reads, "Joshua 1:9. Please remove ALL biblical references from all of your Army products."
War of the Words
Still, Vaughan, a former world-class water skier who never forgot the courage he gained after his wife wrote scripture on his water ski rope, told "Fox & Friends" he was speechless, estimating his organization has produced over 4 million such tags. He says his organization donated hundreds of thousands to Department of Defense units and individual service members as well. During the Iraq War, Vaughan says at one point they were donating 50,000 pieces a month.
"It's insane. It's incredibly selfish," Vaughan says. "The love of Jesus changed my life forever. The most valuable thing I have to offer anyone is God's Word. No one needs it more than a young man or woman fighting for our freedom and we're going to fight for them."
First Liberty Institute, a Texas-based legal defense organization, has since come to Vaughan's defense, demanding the Army reverse its "unconstitutional" directive and reinstate the trademark for the faith-based initiative.
"Virtually every unit has contacted us and said, 'Would you make us a tag with our unit on it?'" wrote director of military affairs Mike Berry, a Marine Corps combat veteran who served in Afghanistan. "Just when I didn't think Mikey Weinstein could stoop any lower, he pulled a stunt like that. He'd rather take it away from them just to raise his own publicity than support our service members... that's pretty cowardly and that's cruel."
Logo Legality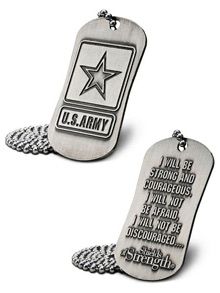 But is this religious discrimination? There's nothing stopping anyone from making dog tags that feature Bible verses, crosses, or any other religious symbol. The issue is the official logo.
An official Department of Defense instruction even prohibits that sort of activity explicitly. As that policy says, "DoD marks may not be licensed for any purpose intended to promote ideological movements, sociopolitical change, religious beliefs (including non-belief), specific interpretations of morality, or legislative/statutory change."
And Mikey Weinstein of MRFF isn't backing down. He says that he's not anti-Christian, he's merely "pro-Constitution and pro-trademark law." And in a press release, he didn't mince words. "Illegally using military logos and symbols to further the SoS organization's partisan and sectarian fundamentalist Christian religious agenda of proselytization is the REAL selfishness here!" 
The Controversy Continues
So is the prohibition of official military logos next to scripture a religious freedom case, or a trademark violation case? That seems to depend on who you ask.
Shields of Strength's lawyers have called all of this "unconstitutional", "censorship", and even said prohibiting the production of officially licensed Army products with scripture on them as a First Amendment violation.
But the MRFF says this is a clear cut case of a private company inappropriately and unconstitutionally using trademarked government material to seemingly endorse a specific religion.
But with recent cases like "In God We Trust" being emblazoned on a police cruiser and scripture chiseled into a town hall monument, this is just the latest outrage over government use of Christian language and imagery.
What do you think? Is government use of a religious symbol tantamount to an endorsement?