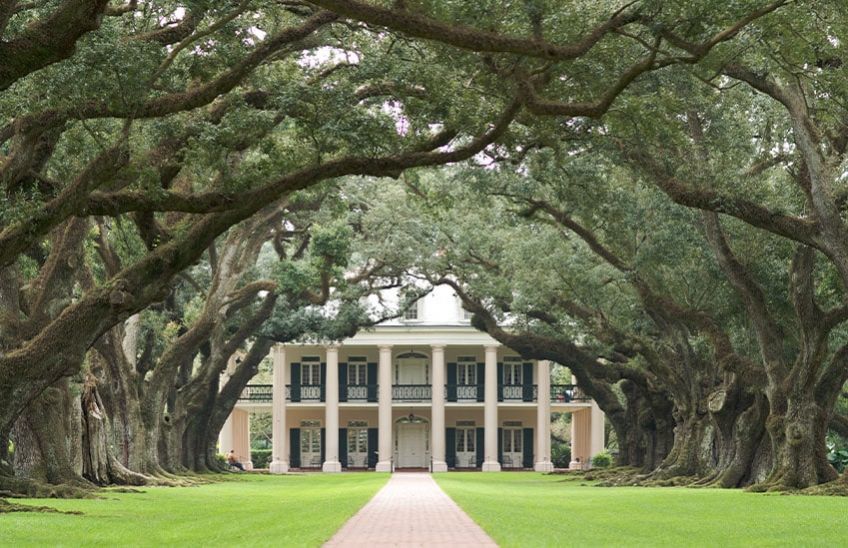 Two of the nation's largest online wedding-planning platforms will now be discouraging would-be couples from booking former slave plantations as wedding venues. Many plantations have successfully rebranded themselves as "elegant" and "charming" places to get married. But many people view this development as problematic, given the dark history of these places. 
Under pressure from civil rights groups, Pinterest and the Knot Worldwide have agreed to stop promoting any content from venues that romanticizes, glorifies or celebrates Southern plantation history. 
"Weddings should be a symbol of love and unity," a Pinterest spokesperson told Buzzfeed News. "Plantations represent none of those things. We are working to limit the distribution of this content and accounts across our platform, and continue to not accept advertisements for them."
Wedding Sites Scrub Plantations
Knot Worldwide chief marketing officer Dhanusha Sivajee also said her company wants to ensure all their customers "don't feel in any way discriminated against."
Both wedding sites apparently saw the light following a written pressure campaign from civil rights advocacy group Color of Change. "The decision to glorify plantations as nostalgic sites of celebration is not an empowering one for the Black women and justice-minded people who use your site," read one letter sent to Knot Worldwide executives. "Plantations are physical reminders of one of the most horrific human rights abuses the world has ever seen. The wedding industry routinely denies the violent conditions Black people faced under chattel slavery by promoting plantations as romantic places to marry."
Similar letters were sent to Zola, Martha Stewarts Weddings and Bride. The letter sent to Zola said, "'classic,' 'elegant,' and 'glamorous,' are just a few of the tags that your site uses to describe the places where many of your readers' ancestors were tortured and stripped of their most fundamental rights."
After the publication of the initial Buzzfeed article, Zola removed all plantation venues from their website as well.
Plantations Remain Popular Wedding Destinations
A sizeable chunk of the $76 billion in revenue generated by the US wedding industry in 2019 will go to venues. And plantations are an increasingly-desirable place to hold weddings. Although nothing new, plantation weddings are apparently back in vogue amongst Southerners seeking some antebellum charm for their big day. Notably, actors Blake Lively and Ryan Reynolds were recently married at the Boone Hall Plantation, where dozens of black men, women, and children were once enslaved.
The Tuckahoe Plantation in Virginia, the boyhood home of Thomas Jefferson, hosted about 25 weddings in 2014, with a la carte items such as lighting packages, lanterns and a bedroom in the historic mansion for the bride to get ready in pushing costs up to $8,000 - all without any mention of the old S-word. 
In fact, visiting the website for most of these venues will yield very little knowledge about the slaves who toiled in the fields, under an unrelenting Southern sun, for up to 16 hours at a time. Many plantation websites do their best to avoid the subject of slavery, and some scrub the word 'slavery' from their website entirely. And in Louisiana - where slaves comprised nearly half the population in 1860 - only one former plantation, the Whitney Plantation, now functions as a museum of slavery.
At many of these impressive estates, a blissfully ignorant visitor might leave without ever knowing about the gruesome conditions and cruelty so many people were subjected to on that very same soil.
Color of Change VP Arisha Hatch believes rebranding plantations as "romantic farms" or "stately manors" seeks to erase an important part of this nation's history. "If we were talking about concentration camps, it would be weird and disrespectful and egregious for folks to be seeking to have their weddings at these locations," she explains. So why is it okay at plantations? 
History and Healing
Given how wildly influential they are in the wedding industry, do websites like Pinterest and the Knot have a moral imperative to steer people away from plantation weddings?
Those who still live in and operate the plantations don't seem to begrudge the decision, but they argue that focusing on history makes it difficult to look to the future. Vicksburg Mayor, George Flaggs Jr., said he won't criticize a private business for making a business decision - but that history is history. "If we continue to live in the past, we'll stay in the past," he insists.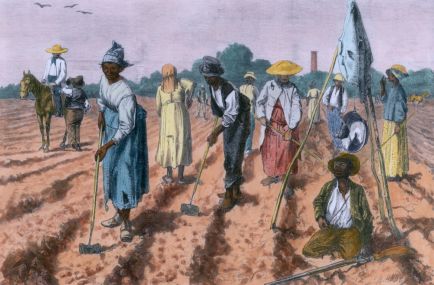 Jennifer Combs, director of Visit Natchez, told the Clarion Ledger that "we certainly understand and respect the efforts to make people more aware of slave history, an incredibly tragic time in our nation's history… However, we're not aware of, nor would we condone, any of the many wedding venues here glorifying that history in any way."
Another venue owner, Debbie Cosey, explained that she tells prospective wedding customers her venue's history before they sign the paperwork. "As ugly as it was, it was such a romantic period. It makes for a beautiful wedding," she says. 
And that's just it. There's no denying the beauty of these venues -- that's _why _they're so popular. The question is: is it okay to ignore the horrific histories of these grounds in the name of promoting love and happiness (and turning a serious profit)? 
On the one hand, terrible atrocities have occurred all over the world throughout history. People still go to those places. They laugh in those places. They even get married in those places, often without issue. 
But is this equivalent? Many would argue no. Slavery is such a uniquely painful stain on America's history -- a deep wound that has never closed, despite many decades of healing. Under no circumstance is profiting off the beauty of such cursed ground acceptable, opponents say. 
What do you think? Is it insensitive to get married at a plantation venue, or are people overreacting?