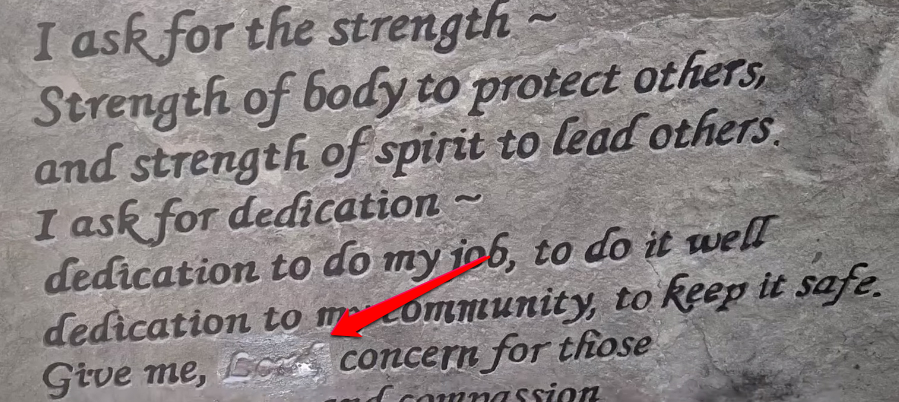 ---
"Thou shall not utter the Lord's name in vain" is one thing, but what are the rules for erasing it entirely?
That's the question faced by a South Carolina city that's still trying to recover from a high-profile controversy involving a memorial to fallen police officers that was installed on city property.
The stone memorial in Tega Cay, SC featured a scripture reference from Jesus' famous Sermon on the Mount on the front, and this police officer's prayer on the back: "Lord, I ask for courage. Courage to face and conquer my own fears, courage to take me where others will not go...Give me Lord, concern for others who trust me and compassion for those who need me. And please Lord, through it all, be at my side."
That prayer drew immediate complaints from residents concerned the "Lord" references effectively favored one religion over others. The city's attorney warned the monument lacked the historical significance of other hotly contested memorials across the country and therefore needed to be changed.
So the city decided to seek a compromise: they kept the monument up but scrubbed the word "Lord" from the inscribed prayer.
When Toeing the Line Goes Wrong
Needless to say, this did nothing to calm tensions. In fact, it only made things worse. Many Christians accused the city of turning its back on faith and causing tremendous insult to the fallen officers and their families in the process. How dare they remove the name of the Lord just because a few atheists complained? Has America really drifted so far from Christ that this was deemed a reasonable solution? critics asked.
After the backlash didn't let up, city officials decided to take the monument down entirely, lamenting their failure to handle the situation in an effective manner.
"We attempted to find a compromise but failed as our community has further divided," declared the Tega Cay City Council on Facebook. "In an attempt to find a resolution, we have upset parties on both sides of this issue and for that we are truly sorry."
And On the Third Day...
After this embarrassing incident, city officials went back to the drawing board. Despite the initial complaints about a religious prayer being displayed in public, they recently decided to bring back the monument in its original state - prayer and all:
Religion on Public Property
This certainly is not the first argument over religious symbols on public property. But it's an interesting case in that it was litigated entirely in the court of public opinion, as opposed to a legal battle. Public officials were forced to change course, then abandon their plans, then reverse course altogether when the outrage refused to subside.
What do you think? Was the removal of "Lord" from the inscription a reasonable solution that people overreacted to, or was it legitimately offensive? Did the city make the right decision in restoring the monument?