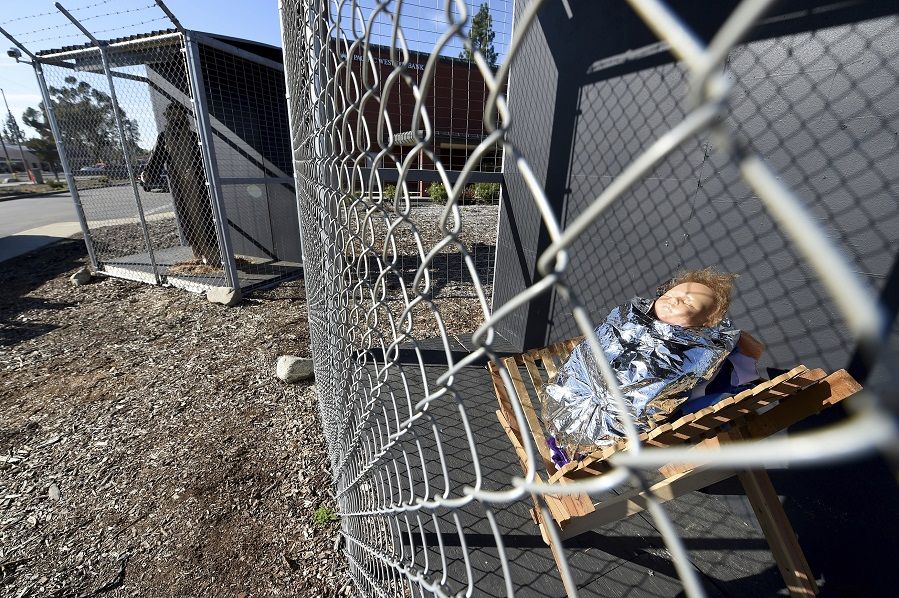 Joseph and Mary look longingly towards baby Jesus. Although his father's arms stretch out towards him, the three figures are separated by metal cages topped with barbed wire.

That's the scene greeting visitors to California's Claremont United Methodist Church this holiday season. The church's display was posted online, and soon went viral. In a widely-shared Facebook post, Senior Minister Karen Clark Ristine explains the meaning behind her congregation's nativity scene:

"In a time in our country when refugee families seek asylum at our borders and are unwillingly separated from one another, we consider the most well-known refugee family in the world. Jesus, Mary, and Joseph, the Holy Family.

What if this family sought refuge in our country today?

Imagine Joseph and Mary separated at the border and Jesus no older than two taken from his mother and placed behind the fences of a Border Patrol detention center as more than 5,500 children have been the past three years."

The stark nativity installation is a reference to the controversial White House immigration policy which saw thousands of children separated from their families at the southern border. Minister Ristine suggests that Christian teachings should prohibit treating anyone in such a manner – citizen or not.
Debate Rages On
Unsurprisingly, the nativity display has provoked strong reactions from opponents of immigration – as well as from Christians who were furious to see a popular religious symbol being used to make a political statement.

"Karen, I am Methodist and your post is a clap in the face to me," said one churchgoer. "What about the ILLEGALS coming into this country and killing someone?" reasoned another, "the parents and that child are separated forever in this life...Horrible display."

On Twitter, conservative voices were quick to critique the display:

But many others commended the nativity scene as powerful and moving.  "Thank you for standing up for those who have no voice. This is not 'using' the nativity scene. This is a perfect artistic rendition of Jesus's teachings. I'm truly grateful," one supportive voice wrote.

Another pointed out that outrage from anti-immigration circles only highlights misplaced priorities.  
Using Faith for Activism
Interestingly, the Claremont church is no stranger to controversial nativity scenes, which in past years have featured displays including gay couples and Trayvon Martin. There is clearly a strong current of activism that runs through this congregation – a desire to harness faith and community to effect real change in the world.
Few critics of the display would disagree that this is a laudable goal, although they seem to take issue with the manner in which it's being carried out. They argue that taking an iconic religious symbol like the nativity and manipulating it for political aims is offensive to Christians and a "cheap shot" designed to generate attention.
But the church's supporters turn this argument on its head, insisting that if Christians are angrier about a statue of fake Jesus in a cage than they are about real children being separated from their parents, then perhaps they should re-examine their values.
Where do you stand?