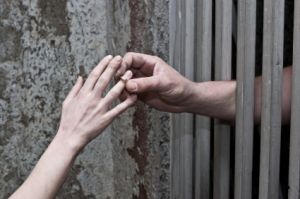 Who would want to marry a prisoner? Apparently a lot of people one minister in the Universal Life Church has found a surprisingly stable market in prison weddings. Cindy Richardson, a notary public who decided to get ordained online, has since made it her career to bring together loved ones despite the bars that may, quite literally, keep them apart.
For nearly two years, Richardson has been performing inmate weddings she even drives a van that says "Jailhouse Weddings" on it. When her son, Josh, was sent to jail, Richardson decided it would be easier to match him up, and create a more intimate and meaningful experience, if she became ordained in the ULC. Eventually she married Josh to Amanda Eddlemon, who became ordained as a minister herself and now performs most of the inmate weddings. Meanwhile, Richardson has focussed her efforts on obtaining notarized proof of ID required to issue a legal marriage license to individuals, such as inmates, who cannot be present at the county clerk's office.
Richardson describes the motive behind prisoners wanting to get married as a desire for a heartfelt affirmation of love and commitment, despite the prisoner's status. Usually it happens once an individual has been sentenced to jail time, she notes, and this is largely based on a sense of insecurity. Prisoners, she explains, are often uncertain of the loyalty of their romantic partners, and "tying the knot" in prison serves as surety against a partner's abandonment. "Guys [all of the inmates have been male thus far] get the whole insecurity thing going on", says Richardson. "Girlfriends or fiancées want to reassure them, 'I'll be here for you'". If a person is willing to marry a lover even if that lover is sequestered away in a cell, it suggests a level of commitment which the inmate can rely on.
Inmates also get additional visitation rights if they are proven to be legally married according to the laws of their state or other jurisdiction. Richardson describes how they are allowed a surprisingly substantial amount of visitation time with individuals to whom they have been. "When you're married, you can have family visits. You go in on a Friday and come out on Sunday." Whether or not these scheduled visitation times give couples the opportunity to consummate their love remains unclear, however.
Of course, Richardson and Eddlemon's wedding business doesn't hinge entirely on what the man wants. As Eddlemon explains, she designs her ceremonies to reflect the expectation that the inmate will take his new duties as husband seriously, regardless of his status as a prisoner. During the exchange of wedding vows, which are often written by the bride and groom themselves, she asks the groom, "Do you take her to be your wife through freedom and incarceration [sic]?" For Eddlemon, this is meant to encourage an expression of sincere devotion and solemn respect for the sacrament of holy matrimony. ""I get straight to the point", she says, adding, "I tell the guy you owe them big time when you get home. They're giving up everything to stand by your side." In this sense, at least, jail weddings reflect a particularly strong sense of commitment.
Richardson and Eddlemon's jail weddings are just one of myriad offbeat, quirky, or otherwise unconventional types of modern wedding ceremony officiated by ministers ordained in online churches. Often, it is these clergy-members who are the first to extend their services to couples who want their special day to be presided over by somebody who understands them, or who expresses sympathy for the shunned and under-privileged of society. Share your stories with us. As a minister ordained online, have you ever officiated at a prison wedding, or some other wedding, funeral, or baptism which others were unwilling to handle because it fell outside acceptable or conventional social norms in some sense?
Source: