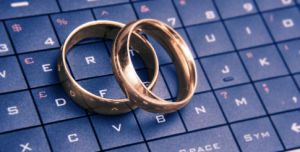 Ever wondered how to perform a long-distance wedding? One couple who are barred from marrying in their home state have successfully married via the software application Skype, which allows users to engage in voice and video calls. The event illustrates the creative ways in which people are using modern technology to navigate the often arbitrary system of wedding laws that characterizes the United States.
The practice is called "e-marriage", and longtime partners Mark Reed and Dante Walkup have pioneered a new use for it. Conventionally, e-marriages are held when one party cannot be present for example, when one of them is stationed abroad in the military, however, the wedding between Dante Walkup and Mark Reed, who serves as a board member for the U.S. LGBT direct action group GetEQUAL, constitutes the first gay digital wedding. It was held inside the W Dallas Victory hotel in the conservative U.S. state of Texas, where same-sex wedding nuptials are still illegal, and was performed by wedding officiant and marriage equality activist Sheila Alexander-Reid from a similar W Hotel room in Washington, DC, where same-sex marriage is legal. Alexander-Reid appeared before the couple on a 6-foot-by-8-foot screen in one of the Dallas hotel's conference rooms. The couple received their marriage license in the mail a few days later.
But why not simply travel to a district, state, or country where same-sex marriage is legal and hold your ceremony there? The reason, for Reed and Walkup, is that their friends and family are back in Dallas, not in Washington, DC. "The reason we wanted to do it this way is because we wanted to have a wedding here in Dallas with our family and friends", said Reed, according to John Wright of Dallas Voice, adding that "It was very important that all of our family came. It was the first time they actually met, even though we've been together 10 years. If we had to go to D.C., there's no way we could have had the people there who we wanted to be there". As the case of Reed and Walkup shows, e-marriage is an ideal solution for couples who wish to circumvent the outmoded and discriminatory marriage laws of their local jurisdiction, but who also wish for friends and family to be present at little inconvenience. The couple did, however, have to travel to Washington beforehand in order to register (which makes one wonder how military couples manage this).
Of course, there are some very powerful and vociferous opponents of same-sex marriage in the United States, a country not only mired in red-blooded machismo and stubborn patriarchal sentiment, but notorious among industrialized nations for its hysterical and schizophrenic attitude towards the very thought of two men kissing. As Wright explains, while there is no law in Washington barring e-marriage, same-sex marriage opponents may very well challenge the practice in order to annul the two men's marriage. After all, everything about the Reed and Walkup marriage is subversive to the status quo two men in love have been married to each other over the Internet by a gay rights activist and a legally ordained minister who is black and a woman, no less.
The long-distance wedding between Reed and Walkup vividly highlights the absurdity of granting and denying civil and constitutional rights on the basis of imaginary state boundaries. If such rights are universally applicable, and not relative to regional differences, then denying them in one state but granting them in another contradicts this principle of universal applicability. Opponents will argue, "but the right was granted in such-and-such a state, and not another, because of a majority rule in that state". But this observation does not refute the point that civil and constitutional rights are granted and denied on the basis of imaginary state boundaries; indeed, it merely confirms this point by admitting that even majority rule is incumbent on fictive and arbitrary lines drawn across prairie grasses and mountain passes. (Besides, there is the problem of majorities ruling on issues which do not affect them, and the question whether, in a true democracy, legislators are compelled to make decisions reflecting the interests of their constituents when the decision at hand does not involve or concern their constituents.)
Despite this looming threat, the e-wedding between Reed and Walkup is an encouraging move forward in erasing such ridiculously arbitrary lines and enabling rights which are universally applicable in theory to be universally applicable in practice as well. Maybe someday somebody, whether an individual or a consortium of equality supporters, will successfully achieve this task by invoking the Equal Protection Clause of the 14th Amendment to the United States Constitution, which states that "no state shall ... deny to any person within its jurisdiction the equal protection of the laws", and thus trumps states' rights to deny the sacrament of marriage on the basis of sex. In the meantime, we can rely on Skype and other software applications to make marriage a little bit more accessible to those who deserve it, but are otherwise denied it.
Source: