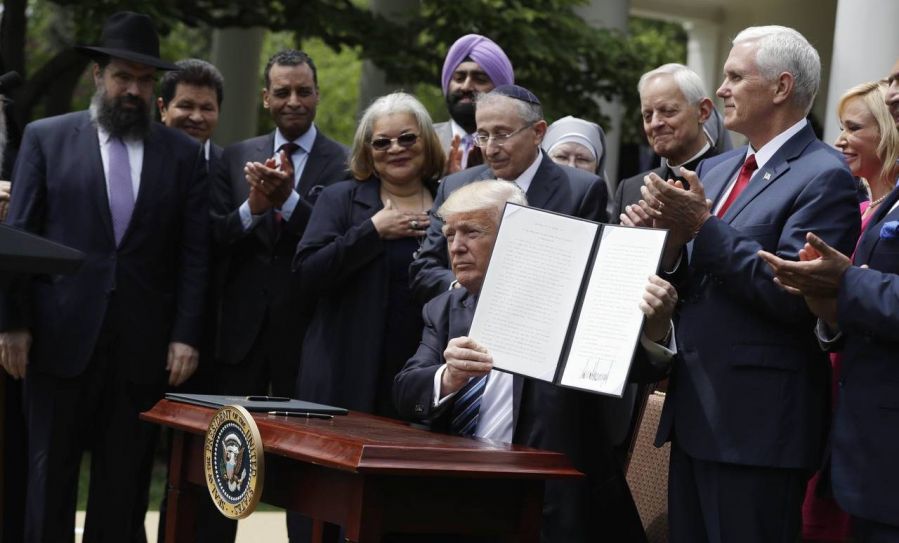 ---
President Trump marked the National Day of Prayer by signing an executive order making it easier for churches to take an active role in politics. The order gives churches much wider leeway to engage in political speech and endorse specific candidates.
"We are giving our churches their voices back," Trump said. "Faith is deeply embedded into the history of our country, the spirit of our founding and the soul of our nation. We will not allow people of faith to be targeted, bullied or silenced anymore."
The idea of churches endorsing political candidates has long been a controversial issue in the religious community eliciting strong opinions from those on both sides of the debate.
Fighting the IRS Rule
For decades, under an IRS rule known as the Johnson Amendment, churches have been prevented from endorsing political candidates. A violation of this rule may cause a church to lose its tax-exempt status, so pastors must tread carefully when bringing up politics in their sermons. Explicitly telling parishioners how to vote can result in a visit from the IRS.
Some faith leaders say the rule squashes free expression of ideas, and have been fighting to get it changed for years. After today's announcement, they are applauding.
"The open season on Christians and other people of faith is coming to a close in America and we look forward to assisting the Trump administration in fully restoring America's First Freedom," said Tony Perkins, president of the conservative faith group Family Research Council.
Clergy Not Convinced
Interestingly, many clergy members say they have no interest in getting involved with politics, nor do they feel comfortable endorsing political candidates. The data back this up an overwhelming 94 percent of evangelicals surveyed after the 2012 election reported that their pastor didn't endorse a political candidate.
Back in April, 99 different religious groups banded together and wrote a joint letter to Congress urging them not to change the law. A diverse group of representatives then delivered copies of the letter in person to Capitol Hill. Among them were leaders from Baptist, Muslim, Jewish, Catholic, Hindu, and Sikh organizations.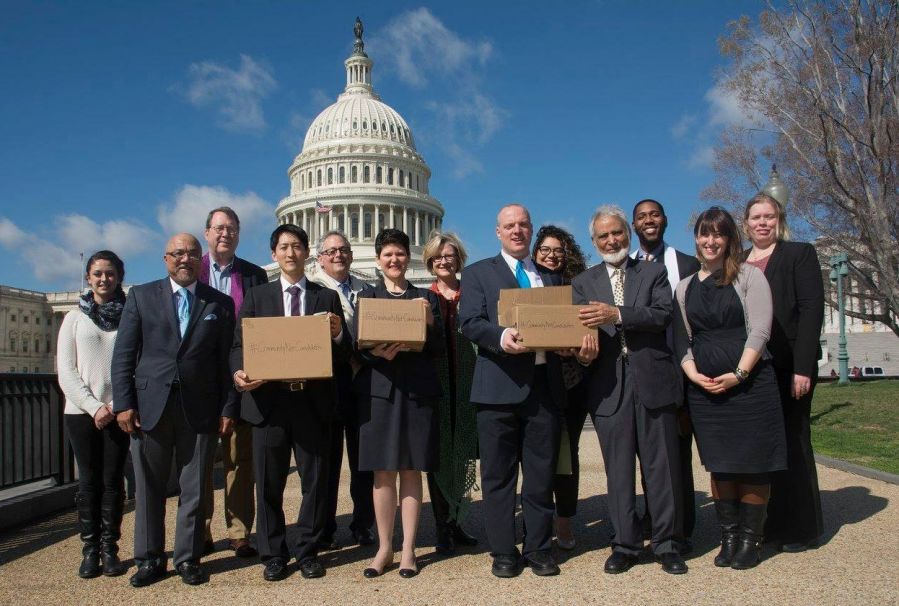 The group thinks mixing politics with worship will have unintended consequences:
"Houses of worship are spaces for members of religious communities to come together, not be divided along political lines; faith ought to be a source of connection and community, not division and discord."
The letter raises a good point. Churches are supposed to be welcoming spaces for everyone, and there are few topics more divisive than politics especially these days. What is the benefit to bringing contentious political debates into the religious sphere?
Leaked Order on Religious Freedom
Prior to the announcement, there were concerns that the new executive order might take a darker turn. Back in February, a draft of an executive order on religious freedom was leaked to the media. The proposed order would have given broad legal protection to those exercising their religious beliefs. Civil rights groups argued it would essentially allow for open discrimination against LGBT individuals under the guise of "religious freedom". In the end, today's executive order steered clear of the issue.
What Next?
It seems that opposition is already building to the president's order. Soon after it was signed, the ACLU responded, promising to "see Trump in court".



Our freedom of religion is not a #LicenseToDiscriminate. @POTUS, we will see you in court, again. pic.twitter.com/JZgaWcu6Px


ACLU National (@ACLU) May 4, 2017
Clearly, the debate about the role of churches in the political process is far from over. Does the principle of religious freedom give them the right to participate? Some faith leaders insist the answer is yes. But others are clearly less enthusiastic about the prospect. It seems the issue could now be decided in the courts. How do you see this whole thing shaking out? Should churches be allowed to endorse politicians?