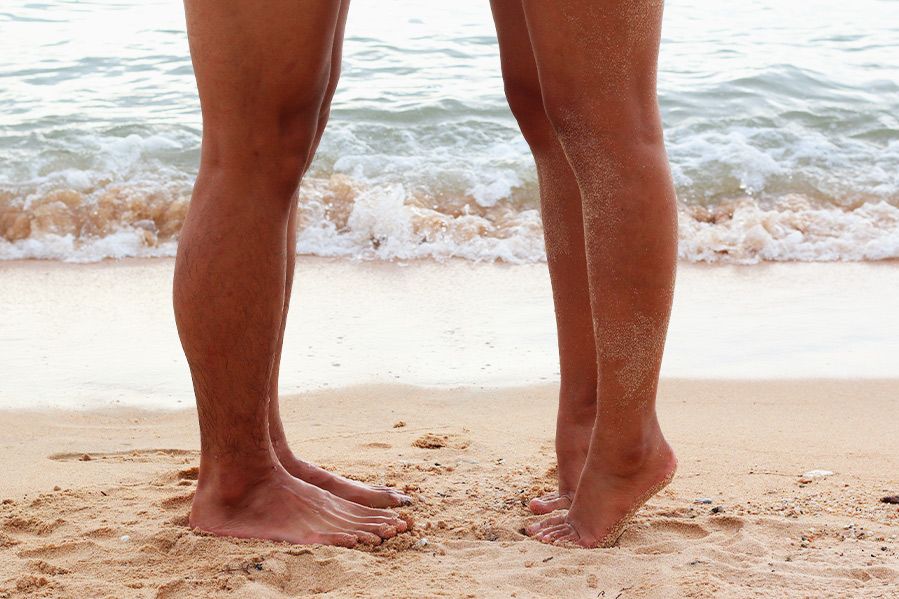 Interested in exchanging vows in the buff? If you're a nudist or naturist at heart, you may be envisioning a nude wedding ceremony. While certainly unconventional, a nudist wedding can be an authentic and liberating way to say "I do." 
In fact, nudist weddings are on the rise. Whether that's because nudism is becoming more mainstream, more couples want the excitement that comes with baring it all at the wedding altar, or summer wedding season is simply getting too hot for clothes, who's to say. Whatever your reason, here's what you need to know.  
This guide covers every aspect to consider before getting married naked, from finding a nudity-friendly venue, to the invitations, to certain practical considerations unique to nude weddings.
Here are the top seven things to know when planning a nude wedding. 
1. Know the Law
Before you get too invested in your naked wedding dreams, it's crucial to understand the legal aspects of stripping down.
The rules surrounding nudity in public spaces vary from place to place, and quite obviously, public nudity is not allowed in a great many locations.
Research local laws to find suitable locations where you can conduct a nude wedding ceremony without legal complications (and keep in mind, it is entirely possible you'll need to travel if you're in a state or county where public nudity is universally banned).
2. Location, Location, Location
Picking the ideal spot for your nudist wedding is of paramount importance.
Nudist resorts or secluded beaches are popular choices, but know that some of these places may be tailored to specific demographics (the elderly, the LGBTQ+ community, women only), so double check that you and your nude wedding party will be a welcome addition to the space. If you'd like a little more privacy, consider a private property or even a rented venue that allows nudity.
Finally, make sure to have a backup plan in case of unfavorable weather conditions. No one likes rain on their wedding day; doubly so when your wedding day is also clothing optional. Tents, awnings, and towels will be a lifesaver if your nude wedding gets rained out.
3. Communicate About the Dress Code (Or Lack Thereof)
Your guests should be informed about the nudist nature of your wedding. Make it crystal clear on the invitation that they will see nude bodies, including your own – and if that's not something they're comfortable with, politely suggest that they refrain from attending.
Additionally, let guests know your expectations for their dress. If guests are also invited to join in the clothing optional fun, give them a heads up well ahead of time. 
Respect that not everyone may be comfortable with this, and be prepared for some folks to decline your invite. 
4. Choose Your Officiant Carefully
You'll obviously need an officiant who's comfortable conducting a nude ceremony. Some organizations specialize in this, so do your research to find someone who aligns with your values.
Another popular solution: if you have like-minded friends or family members who you think would make a great wedding officiant, ask them to get ordained online with the ULC so that they can perform your nude marriage ceremony. And it goes without saying that if you want your officiant to follow the dress code you should let them know from the outset. 
Considering the unconventional nature of the ceremony, you might ask the officiant to explain during the proceedings why you've chosen to have a nudist wedding in the first place.
Whether it's because you feel a spiritual connection to nature when nude, you feel it promotes body acceptance, or you just don't like clothes, asking your wedding officiant to briefly speak on your clothing optional decision is a reasonable request considering the situation.
5. Match Wedding Decor and Atmosphere
Many nudists describe experiencing an ethereal bond with the natural world while unclothed, and a minimalist aesthetic often complements the natural vibe of a nudist wedding. Think flowers, candles, and simple, organic materials. You'll probably want the event to highlight the beauty of the human body and the natural surroundings, rather than lavish decorations.
6. Consider the Comfort of Guests
While a nudist wedding may sound liberating, it also comes with some practical concerns. Make sure to provide adequate seating that won't cause discomfort for your guests, like padded chairs or towels. Remember to source supplies like sunblock, insect repellent, surface sanitation, and other necessities to keep everyone in attendance comfortable and safe.
7. Don't Forget About Photography (and Other Vendors)
If you'd like to capture your special day, a professional photographer experienced in nudist events will be invaluable. Be clear about your boundaries and how explicit or subtle you'd like the photos to be. A photographer who can be discreet and professional in this situation is a must, so be sure to vet them wisely.
Additionally, any other vendors you hire for the event should be aware of your plan, and you'll need to confirm that they are fully comfortable viewing and being around nudity while in attendance.
Remember to Enjoy the Moment
A naturist wedding can be a liberating and genuine expression of the openness you practice with your significant other and the partnership you share. Just realize that there are some important considerations that come with nude weddings that simply aren't present at more conventional ceremonies.
Planning carefully, respecting your guests' comfort zones, and focusing on the emotional aspect of the ceremony will help make your special day go smoothly. With thorough research and thoughtful consideration, you can have the nudist wedding of your dreams.
Good luck, and may your wedding day be as authentic and beautiful as you are!