Is belief in hell bad for your mental well-being? Are we better off if we ditch the concept of eternal damnation altogether? These were the questions behind a recent survey that looked at the link between belief in hell and personal happiness, or "satisfaction with life". The researchers found that those who belief in hell report less satisfaction with life than those who do not, which forces us to ask ourselves why some of us still cling to this concept. And while a link appears to exist, it remains unclear whether belief in hell causes unhappiness, or unhappiness causes belief in hell.
Eternal Damnation and "Life Satisfaction"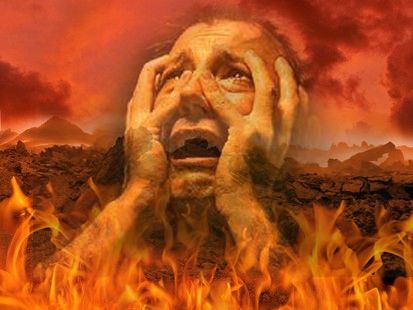 Previous research has suggested that belief in divine punishment leads to lower crime rates and greater economic growth, but there is a trade-off, as psychologist Azim Shariff explains. Shariff, an assistant professor of psychology at the University of Oregon, and his colleague Lara Aknin, of Simon Fraser University in British Columbia, looked at data from various global surveys on the emotional states of people who believe more strongly in hell. The data came from the Gallup World Poll, the World Values Survey, and the European Values Survey and covered 63 countries. Shariff and Akin focussed on people who believe in one, but not the other.
What they found was that the more strongly a country's people believed in heaven than in hell, the happier that country's people were; by inference, the more strongly a country's believed in hell than in heaven, the sadder a country's people were, or the less satisfaction with life they had. This was assessed partly by looking at the emotional state of the participant and comparing this with their beliefs about hell. Although Abrahamic religions dominated in the majority of countries examined, some non-Abrahamic religions were represented too. Curiously, Shariff and Aknin did not find a significant difference between Abrahamic and non-Abrahamic believers in regard to the link between belief in hell and sadness.
Correlation versus Causation
It is important not to confuse correlation with causation. Just because there is a link between belief in hell and unhappiness does not mean that belief in hell causes unhappiness. It is also possible that unhappiness leads to belief in hell perhaps grumpy, unhappy people are more likely to have a pessimistic outlook on what awaits them after death. To determine a causal relationship, the researchers conducted their own survey, asking 422 respondents from Amazon's Mechanical Turk to write about heaven, hell, or what activities they participated in the previous day. They then asked respondents to rate the extent to which they were experiencing seven emotions, ranging from happiness to sadness. They found that people who wrote about heaven did not differ emotional from those who wrote about the previous day's activities, suggesting that belief in heaven alone does not make people happier.
If belief in heaven alone does not make people happier, what does make them happier, as previous research has suggested? "Religious people tend to be happier, or at least they report they are happier, and that is probably driven by the social aspect of religion", says Shariff, and
Other research seems to back up this claim, suggesting that religion is built around communities which provide various social benefits to its members. Of course, this does not necessarily explain why countries with high rates of atheism, such as Denmark, report being among the happiest countries in the world. There are several possible explanations for the hell-sadness link, Shariff says: writing about hell may prompt negative feelings, it may prompt nonbelievers to imagine their fate if their nonbelief is wrong.
Research into the hell-sadness link highlights an interesting dichotomy: stronger belief in hell might suppress antisocial behavior, thus reducing crime rates, but it also correlates with greater sadness and less overall satisfaction with life. Also, it is important to note that religious belief may not be required to create social harmony it is just that religion has been the traditional system with which we keep people in check. There may be other ways, too.
What do you think? Do you think belief in hell makes people sadder, or does sadness lead to belief in hell?
Source:
The Huffington Post