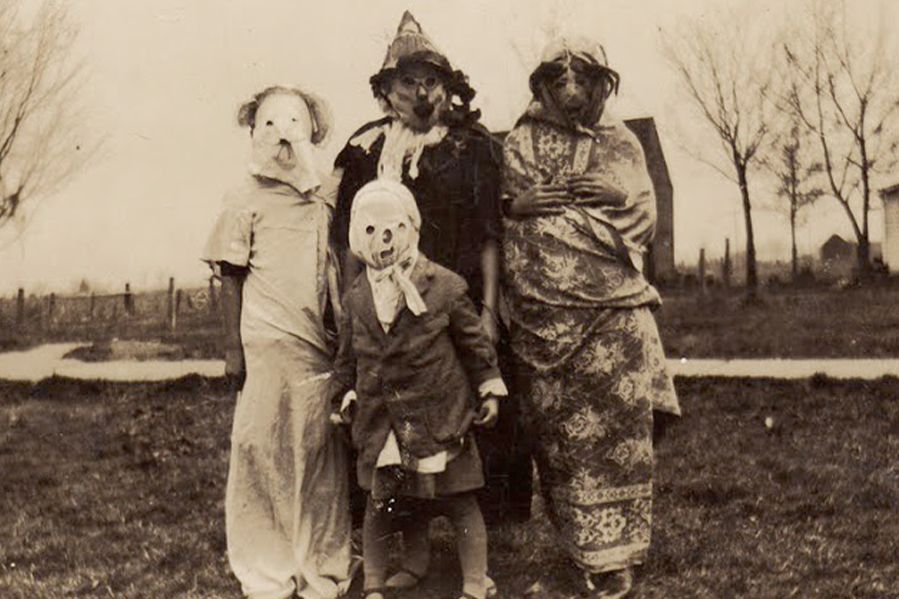 It's one of autumn's most iconic traditions; as soon as the month of October arrives, everyone wants to know what you're dressing up as for Halloween. 
Whether you're dressing up in a classic costume or going as a character from the current year's pop culture, many of us will be donning a disguise on October 31st.
But where did this strange tradition come from? Why do we get one night a year to pretend to be someone else? And how did it become so ubiquitous?
The truth is a lot stranger – and spookier – than you might imagine.
From Samhain to Halloween
The roots of Halloween costumes can be traced all the way back to the Celtic festival of Samhain.
Samhain dates back to pre-Chrisitan Europe, where the ancient Celts and Pagans of England and Ireland celebrated the end of the harvest season and the start of winter with massive feasts and bonfires. It was also during this time, ancient tradition says, that the doors between the spirit world and our own creaked ever so slightly open.
That meant that all manner of ghosts and ghouls could visit Earth, but nobody could be sure of their intentions.
With both the spirit gods and the dead visiting our world, many ancient Pagans dressed in disguises, often animal skins, to offer treats to the dead… or protect themselves from them.
But this pagan tradition would soon be co-opted by the Christian church. Hoping to reframe Pagan traditions as their own, the church turned Samhain into All Hallows' Eve (eventually shortened to Hallowe'en), but kept many of the same traditions, including costuming. 
With Pagan and Christian traditions married, western Europe enjoyed Halloween revelries like costumes, tricks, and treats, for centuries.
Early American settlers, however, weren't so excited about Halloween. They refused to celebrate what they viewed as a heathen Catholic holiday.
In fact, it wasn't until a wave of Irish and Scottish immigrants showed up in the 19th century that Halloween truly took off in the United States.
An Evolution of Costumes
This is where things get weird. There's no other way to say this: 19th and 20th-century Halloween costumes were creepy. Really, really creepy.  
Because many families celebrating Halloween were extremely poor, budget-friendly costumes were necessary for the large majority of revelers. That meant simple masks crafted out of paper cutouts or paper mache, and whatever fabrics were on-hand were used for costumes.
At this time, costumes largely leaned into the spooky and gothic elements of Halloween, so that meant lots of little demons, ghosts, witches and even clowns were running around every October 31st. 
They were absolutely, positively horrifying.
It probably didn't help that all the photos were taken in black and white. 
The Creep of Commercialization
In the 30s, characters from pop culture slowly entered the Halloween costume rotation.
Walt Disney realized that he could license out popular Disney characters as costumes, and in 1937 the costuming company Ben Cooper Inc. partnered with Disney to create a Halloween costume catalog full of mass-produced costumes of Disney's most popular characters.
The idea was a hit, and soon characters from pop culture were just as common as their creepy counterparts. 
Adults began to want in on the fun as Halloween exploded in popularity during the 20th century. And in the 1940s, the idea of the 'sexy costume' was born. Believed to be inspired by the pin-up models popular at the time, many women soon took to wearing revealing Halloween costumes, a trend which has mostly stuck around through the present.
Over the proceeding decades, Halloween has only become more popular – and commercialized. Costumes became cheaper to produce, making them more ubiquitous, and what was once a niche holiday has transformed into one of the largest festivities in the country.
However, not everyone thinks the holiday is such a great idea. In fact, an unlikely alliance is ramping up the pressure and calling for Halloween to be canceled entirely. 
That outcome seems unlikely, but the holiday is bound to continue to evolve, as it always has.
It's true that the Halloween of today looks quite different from its origins, but there are still elements that shine through. Perhaps the most visible of these is the Halloween costume, a tradition that has always been there in one form or another.
It's no trick – the costumes may change with the times, but the tradition remains the same.