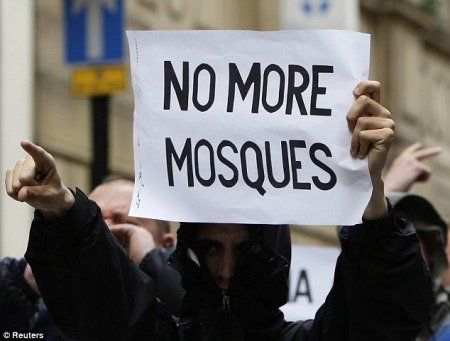 ---
Are Islam and conservatism inherently at odds? That the question a group of Republicans officials in one Texas county were forced to tackle last week.
Dr. Shahid Shafi a trauma surgeon from India who became a U.S. citizen in 2009 was recently elected to head the Tarrant County Republican Party. This angered a faction of the party who became convinced that not only was Shafi unqualified to lead the GOP due to his Muslim faith but that he may even try to institute "Sharia law" in Texas. So great was this supposed threat, that opponents organized a vote to have him booted from the position to which he'd been elected.
"We don't think he's suitable as a practicing Muslim to be vice chair because he'd be the representative for ALL Republicans in Tarrant County, and not ALL Republicans in Tarrant County think Islam is safe or acceptable in the U.S.," wrote Dorrie O'Brien, one of those calling for Shafi's removal.
Cooler Heads Prevail
Thus, GOP members in Tarrant County were faced with a decision: accept that a man of Islamic faith had been elected to lead the party, or vote to have him thrown out of office simply for being a Muslim. Numerous concerned politicians chimed in, urging Tarrant County to stand behind Dr. Shafi.
"Religious freedom is at the core of who we are as a nation and state, and attacks on Dr. Shafi because of his faith are contrary to this guiding principle," explained Governor Greg Abbott.
In the end, Tarrant County decided that praying to Allah does not in fact disqualify you from being a conservative representative; the final vote was 139 to 49 in favor of keeping Dr. Shafi as the party's vice chair.
"As an immigrant to this great country, I am honored and privileged to receive the support of my fellow Republicans," announced Shafi following the vote. "We need to learn to trust each other so we can create a more perfect union every day."
Opponents Remain Bitter
Tarrant County precinct chair Sara Legvold refused to cast a vote, instead choosing to sit outside the meeting in a burqa to protest the so-called "Islamization" of America. "You already see it in the workplace where Muslims demand they're able to wear their hijab and demand they get a prayer room," she told the Texas Tribune. "When was the last time a Christian was allowed to have a separate place to say their prayers?"
Several other vocal opponents resigned following the vote, insisting they didn't want to be involved with a party that supported the growth of Islam in the United States.
The Constitution Wins
On the one hand, you'd think that a medical professional who has lived in U.S. since 1990 would be spared the disrespect of having his allegiance to American values challenged for no other reason than he worships a different God than others do.
On the other hand, Dr. Shafi's successful fight was not only a win over bigotry it was also an affirmation of religious freedom in America. The Constitution forbids any sort of religious requirements for public office specifically to guard against cases of religious discrimination. This time, at least, it seems reason prevailed.
Islam and the West
The Tarrant County incident is just the latest in a series of clashes between Muslim politicians and those uncomfortable with Islam becoming more mainstream in the United States. Following the 2018 midterm elections - which saw the first two Muslim women elected to Congress in the country's history - we wrote about how some representatives were opposed to the idea of hijabs being worn in congressional chambers.
But the West's testy relationship with Islam runs much deeper than issues of symbolism and identity. Amid concerns about how
Islam is on track to become the world's largest religion, there exists no shortage of people who remain convinced that Islam and Western values are wholly incompatible. And disturbingly, this type of thinking has been connected to a rise in hate crimes against Muslims.
To be fair, there are some critics who operate in good faith - seeking not to instill fear of "the other," but instead to highlight important issues such as human rights abuses in Muslim countries and the subjugation of women under certain interpretations of Islamic doctrine. However, there clearly exists another faction of detractors - this one governed primarily by fear and bigotry toward a faith dissimilar to their own. Within this group, cries of "Sharia law" are plenty, but evidence for such claims is hard to come by.
Unfortunately, things don't appear to be trending in the direction of harmony. In Europe, which has seen a massive influx of immigrants from Muslim countries in the past decade, polls show that 1 in 5 people would be uncomfortable having a Muslim neighbor.
When hearing stories like that of Dr. Shafi, one wonders what the responses would look like if this poll was conducted in the U.S.