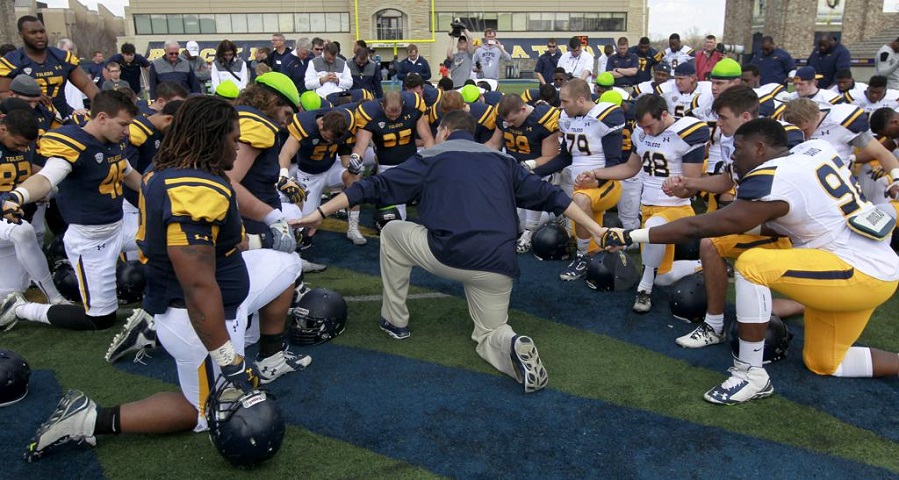 ---
Praying for a last-second "Hail Mary" throw from the sidelines?
Not so fast, says the Freedom From Religion Foundation. The activist group famous for taking on religious authority in the U.S. recently selected a new target: school sanctioned prayer at football games. When the coaching staff at Indiana's Gibson Southern High School led players in silent prayer after a game a few months back, they were probably just following tradition. But is that tradition legal?
Soon after the incident, the school district received a formal letter from FFRF attorney Ryan Jayne. Apparently, a witness had been present and snapped photos of coaches and players from both teams in contemplative prayer, heads bowed and hands on students' shoulders.
"It is unconstitutional for public school athletic coaches to lead their teams in prayer, participate in student prayers, or to otherwise promote religion to students," Jayne wrote. "We are writing to request assurances that this constitutional violation will not reoccur."
Looking to beef up the legal argument, Jayne cited several previous court rulings which rejected school district policies allowing student-led loudspeaker prayer before football games.
Time's Up for Jesus?
The school district apparently found this argument convincing, as they've decided to change their prayer policies on the football field beginning in 2019.
"The photograph as it relates to possible coach participation in student-led prayer is certainly ambiguous," responded school district attorney J. Robert Kinkle. "However, for the purposes of our response to this situation, we plan to instruct our head coaching staff at a meeting to be scheduled after the first of the year on this issue... that they may not encourage, lead, initiate, mandate, either directly or indirectly, any such student prayer."
That's not to say that Jesus is losing this battle. As we've documented before, the debate over whether Christianity should be kept out of public schools is by no means settled. Nor, for that matter, is it entirely clear that Christian values align with football as one angry preacher made clear in a widely-viewed social media rant about youth football players going to hell.
Football season might be nearing its end, but this controversy is unlikely to go away anytime soon.
Where do you stand on the issue of prayer at football games? Is it an overblown issue, or are groups like the Freedom From Religion Foundation right to be vigilant about Jesus slowly creeping from the football field into the classroom?