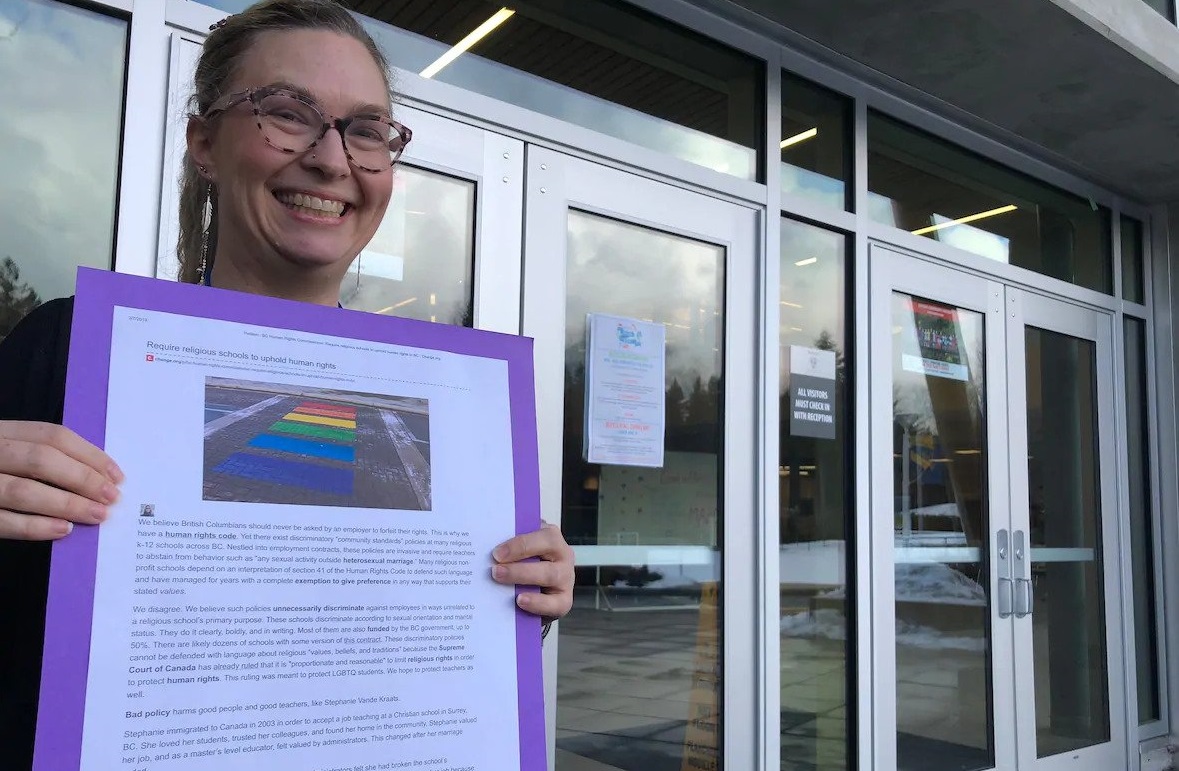 ---
When Stephanie Vande Kraats first took a job teaching at Surrey Christian School she had to sign an employment contract stating that she was married. At the time, that was true.
But the long-time British Columbia teacher eventually divorced and moved in with another man, violating a clause that forbids "any sexual activity outside of a heterosexual marriage." When the school superintendent found out, Vande Kraats was forced to resign.
"It was humiliating," explained a teary-eyed Vande Kraats. "When you're enforcing a policy like this you have to ask a teacher questions like, 'Who do you live with? Where do you live? Are you sexually active? Are you pregnant? Are you gay? I didn't want to continue in a place where I already felt humiliated and judged. It was traumatic for me."
Although the superintendent insisted she could work through the remaining six months of her contract, she felt the need to go quietly in order to preserve her chance of getting a good letter of reference. Even the B.C. Human Rights Tribunal dissuaded her from filing a case, "sympathetic" as they were to her experience.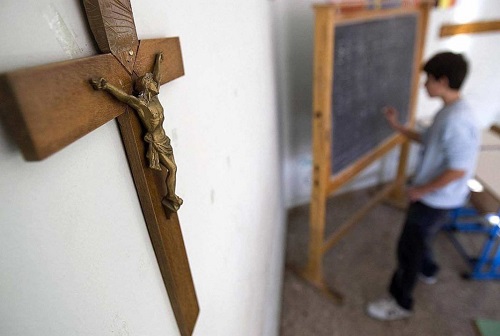 Government-Sponsored Morality Police
Although Vande Kraats has since found work elsewhere, she holds on to one chief complaint about the incident: her former employer still receives $5 million annually from the Canadian government. How can a school that receives public funding be allowed to enforce such a discriminatory policy?
Well, it turns out they're not the only one. In fact, hundreds of religious schools across Canada continue to rely on public funding, even as they are allowed to enact discriminatory hiring policies on the basis of religious exemptions.
Canada allows religious schools to set their own policies as long as they're based on religious beliefs and designed to promote the interests of a religious group. In 1984, the Supreme Court of Canada ruled in favour of a Catholic school that fired a teacher after she married a divorced man, saying non-profit religious institutions had the right to give preference to its members.
Not only that, but such policies don't disqualify the schools from receiving federal funding. Since the Canadian Constitution doesn't include a mandate for the separation of church and state, there is no legal ground on which to challenge such funding.
Nonetheless, Vande Kraatz has filed a petition asking the government to investigate whether funding is unfairly assigned to discriminatory religious schools.
Will Things Ever Change?
Opponents argue this policy amounts to an unofficial government endorsement of discrimination. "It's enabling private schools that are using public money to operate to violate the human rights of their employees," says Patti Bacchus, former Vancouver School Board chair. "I think that's a big problem."
As for Surrey Christian School, superintendent Dave Loewen admits it was "sad" to see a strong teacher like Vande Kraats go. However, he believes it is more about choices than anything else. "I don't think it's discriminatory because it's not a requirement for people to work here. It's invitational and we're transparent about our values," Loewen insists.
Those values, laid out in community standards policies employees must follow, include recommended bans on using coarse language, public drunkenness and watching porn. Although cases of teachers being forced out on account of their lifestyles are nothing new, whether in Canada or here in the US, these cases seem to be receiving more attention than in the past. Whether that will translate to a change in policy is hard to say.
What do you think? Should the government be barred from sending money to religious schools that discriminate against certain classes of people, or does religious freedom take precedence?