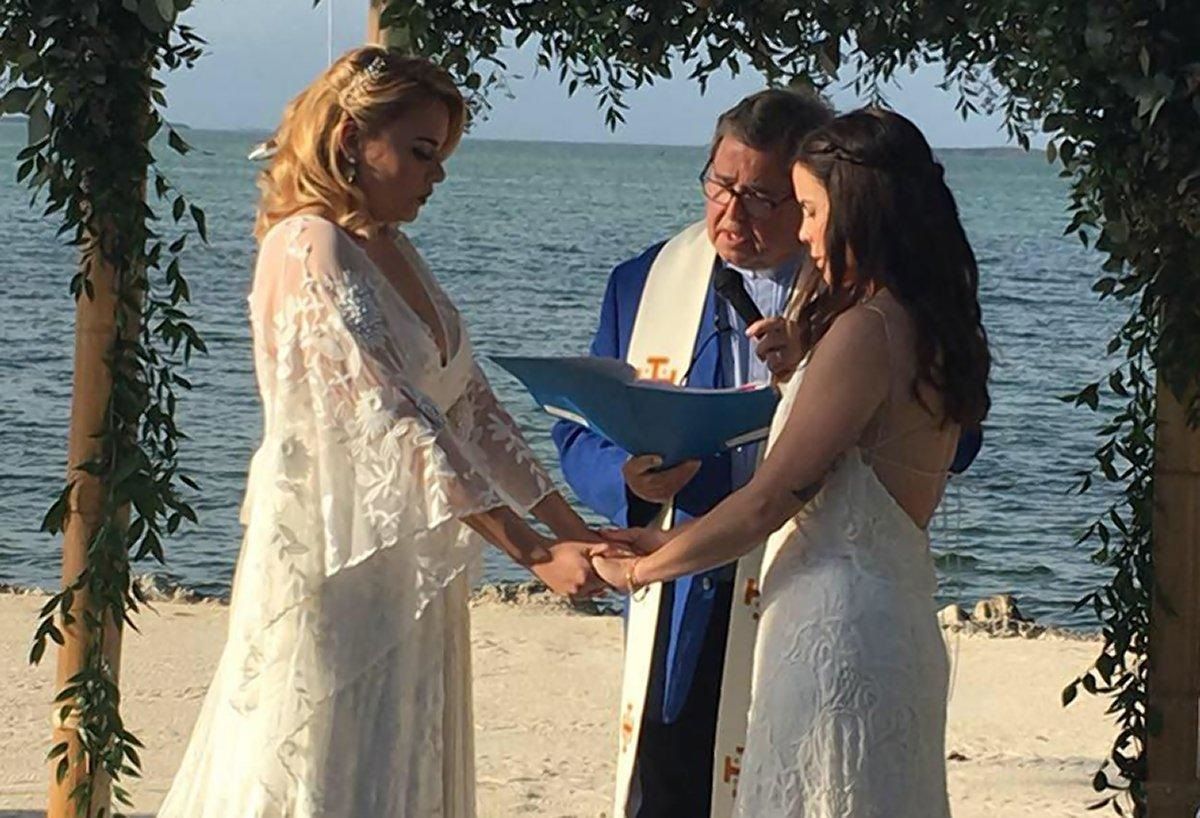 ---
Wedding bells on the weekend, fired first thing Monday morning.
Not exactly the happily-ever-after that first-grade teacher Jocelyn Morffi envisioned when she decided to tie the knot. The wedding went off without a hitch, and everything seemed to be great.
But then administrators at the Catholic school where Morffi taught found out that she had married another woman. Rather than risk scandal, they decided to let her go immediately.
"This weekend I married the love of my life and unfortunately I was terminated from my job as a result," the distraught teacher said in a statement. "In their eyes I'm not the right kind of Catholic for my choice in partner."
A Model Teacher
By all accounts, Morffi was one of the most popular teachers at Miami's Sts. Peter and Paul Catholic School, where she had taught for seven years. Students loved her, and parents held her in high regard.
The school principal sent out a letter notifying families, but skirted around any specific reasons for her firing. It said only that "a difficult and necessary decision" had been made and asked for "continued prayers."
That didn't sit well with those parents who knew Morffi personally, about a dozen of whom showed up at the school the next day to voice their displeasure before the news cameras. They couldn't care less that Morffi was gay, one parent told reporters: "Our only concern was the way she was with our children, the way she taught our children, and this woman by far was one of the best teachers out there."
"This teacher in particular has made such a contribution to the school," explained another. "She never imposes her personal beliefs on others. She just does everything in love."
Friendly Fire
As it turns out, Jocelyn Morffi was not the only staff member affected by the school's strict policy. Four fellow teachers chose to attend the wedding ceremony and support their friend. Well, school officials caught wind of this and called them into a meeting. The four teachers were warned that if they wanted to keep their jobs, they couldn't post any photos from the wedding and even had to promise not to attend any future events supportive of same-sex marriage.
According to one teacher who is remaining anonymous, the threat of being fired was implicit but clear. Frustrated, she vented to reporters after the meeting. "We pick and choose what is considered wrong and what we're going to enforce, and I think it's like a joke," she said.
She's not alone in this thinking.
"Do they investigate teachers to see who is using birth control?" another critic asked.
Was it Justified?
Because Catholic schools are private institutions, it seems the administration was well within its rights to fire Morffi (and any teachers who support her) for violating the school's policy against same-sex marriage.
After Florida lifted its ban on same-sex marriage back in 2014, the Miami Archbishop, even warned that church employees who refused to abide by the Church's teachings would risk termination.
So, the firing was legal. But does that make it right?
That's a much bigger question.
Risk of "Indoctrination"
Those who object to homosexual teachers worry that a gay person might bring implicit bias into the classroom. Or worse yet, they might try to advance the so-called "gay agenda" and secretly indoctrinate students into supporting it.
But critics say this view is nonsense, insisting that gay teachers are no different than straight teachers. Perhaps they bring a certain worldview into the classroom with them, but so does everyone else that walks through the door to take attendance be they male or female, black or white, native or foreign-born.
A teacher's sexual orientation has no bearing on their ability to teach, they argue.
Although the school has tried to remain neutral on this thorny issue, the carefully crafted statement released by the Archdiocese of Miami makes it clear that they didn't believe Morffi could separate being gay from following "the teachings and traditions of the Catholic Church." In other words, her sexual orientation would ultimately trump her responsibilities to teach children "good Catholic" values.
What do you think are gay teachers fundamentally different from their straight counterparts? Was the school right to fire Morffi?