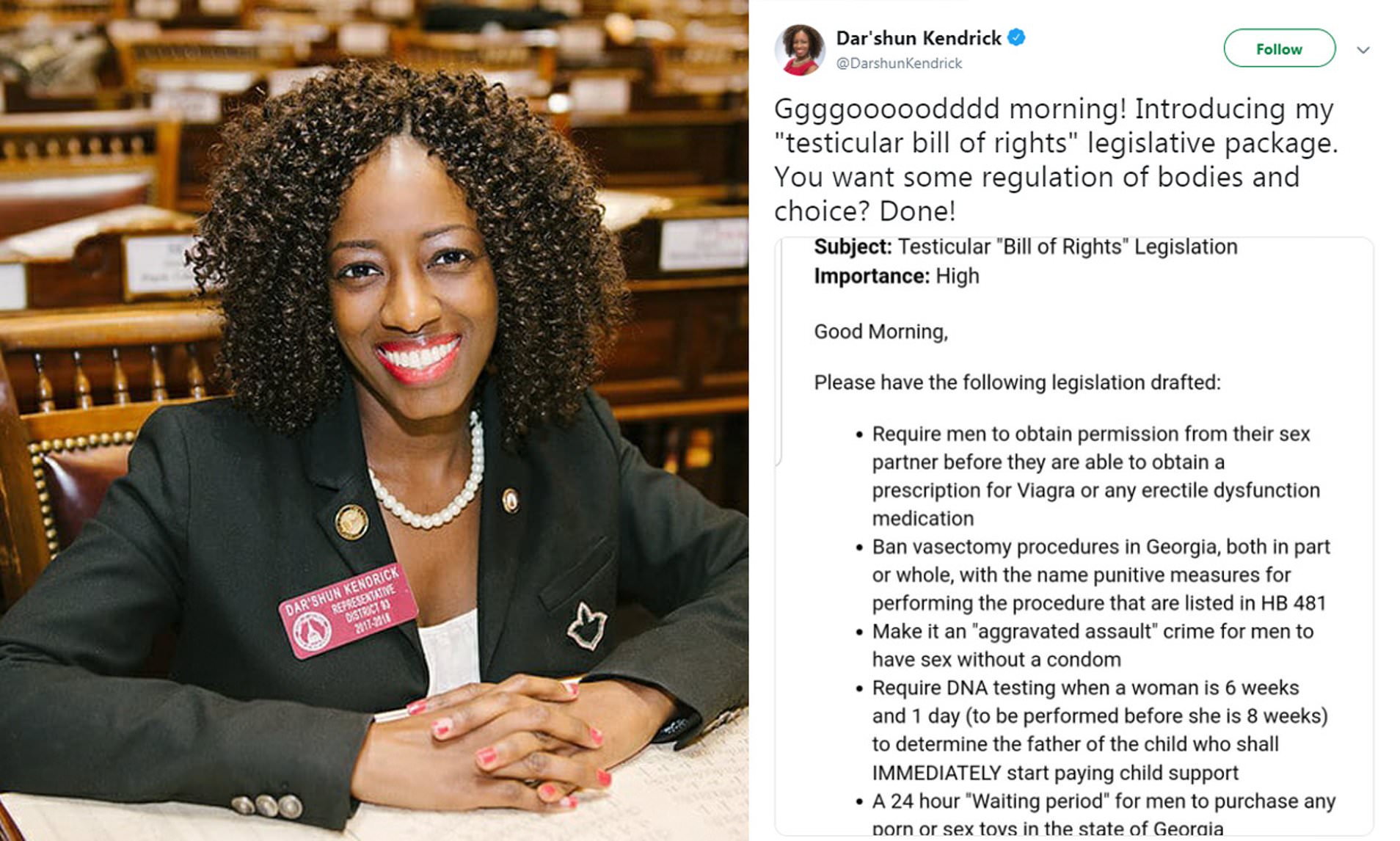 ---
A Georgia lawmaker brought male members to attention this week after proposing a law that would ban vasectomies, make sex without a condom akin to "aggravated assault" and require all men to seek their partner's permission before using Viagra and other E.D. drugs.
The so-called "testicular bill of rights" would also require paternity DNA testing at the sixth week of pregnancy and immediate child support payments if positive - with a mandatory 24-hour waiting period for any man in the market for porn or sex toys thrown in for good measure.
Regulation for Me, But Not for Thee
Rep. Dar'shun Kendrick crafted the proposal in response to Georgia's House of Representatives passing HB 481, a "heartbeat bill" that would ban abortions after the sixth week of pregnancy. As the bill advances to the Republican-controlled State Senate, Georgia Gov. Brian Kemp has characterized it as a "powerful moment" to "give all Georgians including the unborn a good chance to live, grow and prosper."
But Kendrick doesn't see it that way. "If the state of Georgia is going to be concerned with regulating women's reproductive rights, I think it's only fitting that we also do that for men's reproductive rights," she explained during a radio interview on Georgia Public Broadcasting. While she admits the bill is mostly tongue-in-cheek, it does represent a real frustration. "This really is to draw attention to what I think is an absurdity," she said.
Advocates Face Off
Women in Georgia can currently receive abortions up to 20 weeks into a pregnancy, and pro-choice groups believe that HB 481 would only subject a greater number of women to unsafe versions of the procedure. She maintains her end goal is to reduce the total number of abortions just not at the expense of women's safety.
Heartbeat bill sponsor Rep. Ed Setzler has called abortion a "barbaric procedure" and insisted women who became pregnant could still take a "morning after" pill or carry the pregnancy to term and then put the baby up for adoption. The bill would also make exceptions in cases of rape or incest, following an official police report proving either.
Fight Goes On
While a similar bill also cleared Tennessee's house this week, other states have not gone so far. Ohio governor John Kasich vetoed a provision banning abortions once a fetal heartbeat has been detected, while a federal judge struck down a similar bill in Iowa.
Kendrick believes Georgia's bill is "definitely unconstitutional," and meant as little more than a "test case" for conservative lawmakers looking to challenge the Supreme Court and ultimately overturn Roe v. Wade, which made abortion legal across the country nearly half a century ago.
The "testicular bill of rights' has no chance of passing, but that's not really the point. Supporters say the overarching goal is to shed light on the double standard women face when it comes to the government regulating sexuality.
Although the proposal has elicited more than a few chuckles, whether it will truly move the needle on this issue is yet to be seen. What is your reaction?