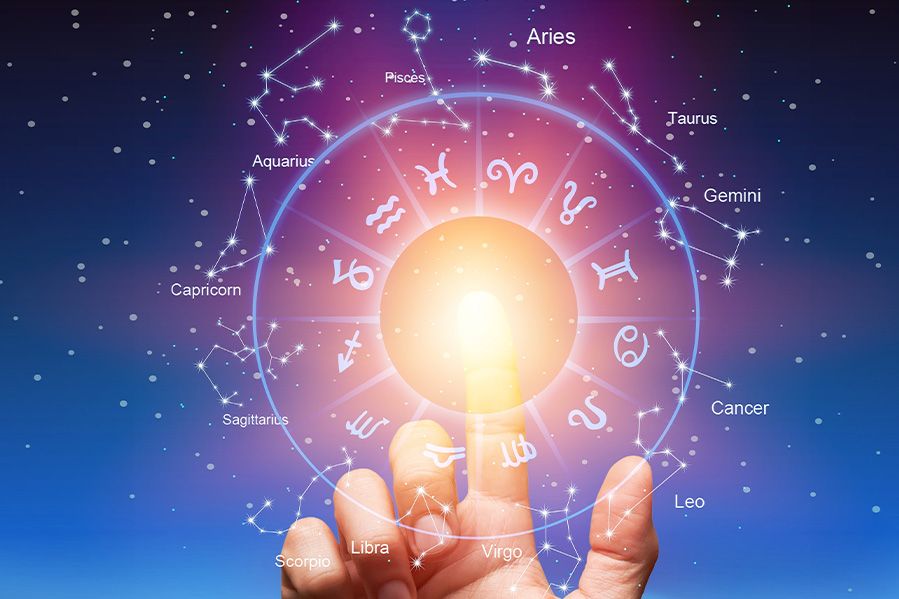 Will motel nightstands of the future have tarot cards in place of a Bible?
Possibly, says a new study from Arizona Christian University. Their research shows that millennials will turn to everything from astrology to magic to tarot cards when looking for answers to life's big questions. Pretty much everything under the sun except Christianity.
The study shows a nation whose faith is in flux. It found that only 57% of millennials identify as Christian. Compare that to 70% of Gen X and 79% of the baby boomer generation, and it's clear that millennials are a far less Christian generation than those that came before.
Instead, millennials are turning to alternative sources to understand the universe. Some are even looking to the skies… just not the heavens.
It's yet another sign that millennials are a far less Christian generation than those that came before, and that Christianity's influence over young people in America is waning – in a big way. Check out the results for yourself: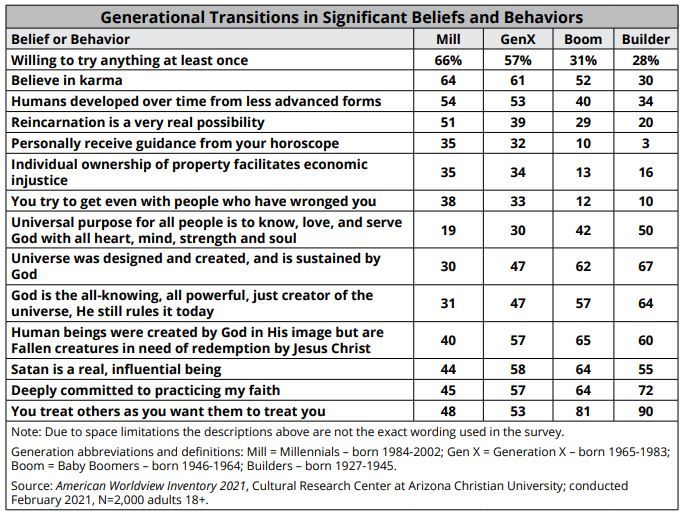 Out With the Old, In With the New Age
Per the study, more than half of millennials believe in concepts like karma and reincarnation, and over one-third receive guidance from their horoscope.
They're also far less inclined than prior generations to agree with statements such as "God is the all-knowing creator of the universe" and "human beings were created by God in His image." 
When millennials need guidance on the future, they're not turning to Christianity, they're turning, well… anywhere else.
US Games, one of the leading tarot deck publishers, reported having to double their print runs of many tarot decks because they're flying off store shelves as millennials turn to tarot to divine their futures.
And magic is so popular with millennials that a "binding spell" cast against President Trump in 2017 went viral, as thousands of witches worldwide joined together at once to fight MAGA with magic. The binding spells continued weekly through the duration of Trump's presidency.
But why are millennials so enchanted with everything from ancient Pagan rituals to New Age mysticism, and so disenchanted with Christianity?
Melissa Jayne, owner of Brooklyn-based metaphysical shop Catland, has, a theory. "For a generation that grew up in a world of big industry, environmental destruction, large and oppressive governments, and toxic social structures, all of which seem too big to change, New Age ideas can be incredibly attractive."
Faith Leaders Play Defense
Christian leaders are well aware that they're losing ground to alternative concepts like magic and astrology. And they're not happy about it.
"Magic is not Christian!" declared Pope Francis in 2019. "How is it possible, if you believe in Jesus Christ, you go to a sorcerer, a fortuneteller? The grace of Christ can bring you everything! Pray and trust in the Lord."
Before his 2018 death, famed evangelist Billy Graham even wrote on his website that magic was "directly opposed to God," warning that "occult practices of any kind could involve you with spiritual forces that are opposed to God and are, in fact, in league with the devil."
He also said that astrology was "offensive to God" because it tries to divine God's future for us "through other means than God has appointed."
It's easy to see why Christian leaders would be frustrated by young people's rejection of their philosophy. But many millennials turning to astrology or magic say that the church had their shot and failed.
What do you make of all this? What does the future hold?