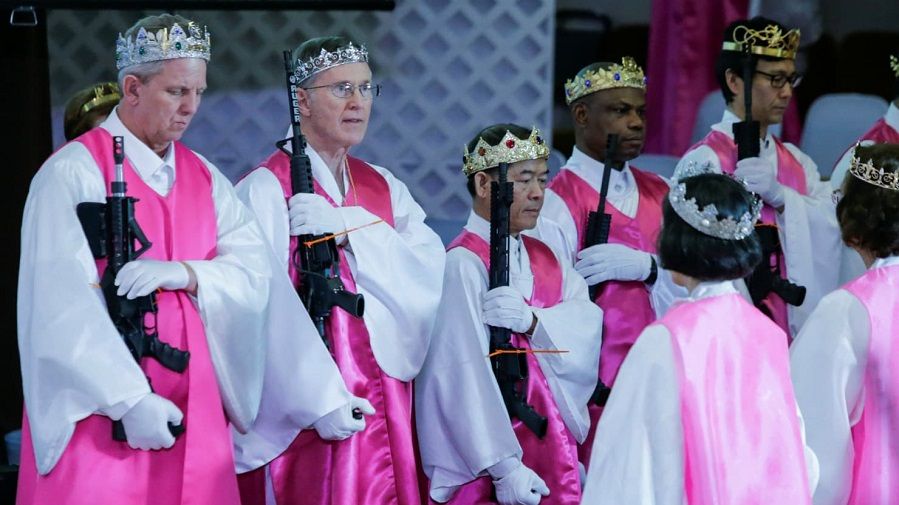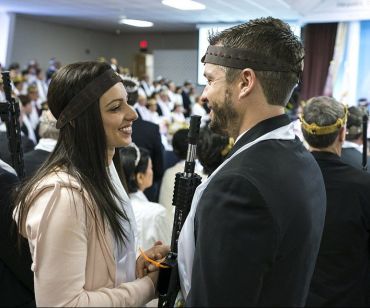 ---
Worshippers gathered yesterday at a Pennsylvania church to participate in a "mass blessing ceremony" for their AR-15 rifles. Attendees wore crowns fashioned from bullets, drank holy wine, and clutched firearms during the worship service.
The church holding the event, the World Peace and Unification Sanctuary, encouraged parishioners to bring in their AR-15 rifles to show support for the Second Amendment. In fact, church leaders warned that anyone who showed up without a weapon or proof they were planning to buy one would be denied entry.
The event also doubled as a mass wedding ceremony, with many couples saying marriage vows during the proceedings all while holding rifles.
"As it is in Revelations"
The church believes that the Bible references rifles directly. Church leader Tim Elder explains that the AR-15 represents "the rod of iron, as it is in Revelations. Revelations talks about the returning Christ ruling with the rod of iron."
Followers believe that guns have been bestowed upon the people by God, and it's our duty to follow His wishes.
"People have the right to bear arms, and in God's kingdom, you have to protect that," said one parishioner. "You have to protect against evil."
Protesters Gather Outside
The event had apparently been planned months in advance. However, in the wake of the devastating mass shooting at a high school in Parkland, Florida, it received extra scrutiny even drawing small crowds of protesters uncomfortable with the idea of an entire congregation proudly waving their guns around.
Although each gun was checked at the door to make sure it was unloaded and zip-tied for safety, the event still caused many to feel uncomfortable. An elementary school down the street from the church even decided to move students to other campuses for the day as a safety precaution.
"It's scaring people in the community," one protester was overheard telling church members. "Are you aware of that?"
Lisa Desiena drove from Scranton to join the protest. She held a sign calling the church an "armed religious cult." Desiena said she supports gun ownership, but "I don't need a freaking assault weapon to defend myself. Only thing they're good for is killing. Period. That's all that weapon is good for, mass killing. And you want to bless it? Shame on you."
Is It God's Will?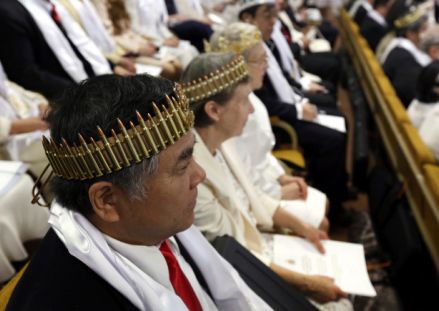 Critics point out that the Bible doesn't explicitly mention guns (well, how could it?). But they also insist that religious folks who cite the Bible are simply clutching at straws in an attempt to connect the Second Amendment to Biblical values. Vague references such as a "rod of iron" don't constitute an endorsement of modern firearms, they claim.
But it's no secret that gun rights and religion are closely tied in America.
After the Charleston church shooting back in 2015, NRA President Wayne LaPierre referenced God's will when arguing that widespread gun ownership was the only way to combat future violence:
"God would want guns in church. God wants his people safe. Catholics and Christians alike are called upon everyday by the Lord to prevent criminals and other miscreants from carrying out the Devil's work."
An Armed Population
We recently posed a simple question to our readers: is gun ownership a God-given right? We got a range of responses across the spectrum, though the majority of people who answered the poll said it was not.
On the surface, encouraging people to arm themselves might seem at odds with Christian ideals of peace on earth and good will toward mankind. But supporters of gun rights disagree, explaining that peace on earth requires certain measures of security such as the ability to protect one's family, should push come to shove. Does the future of worship include a gun in every pew?