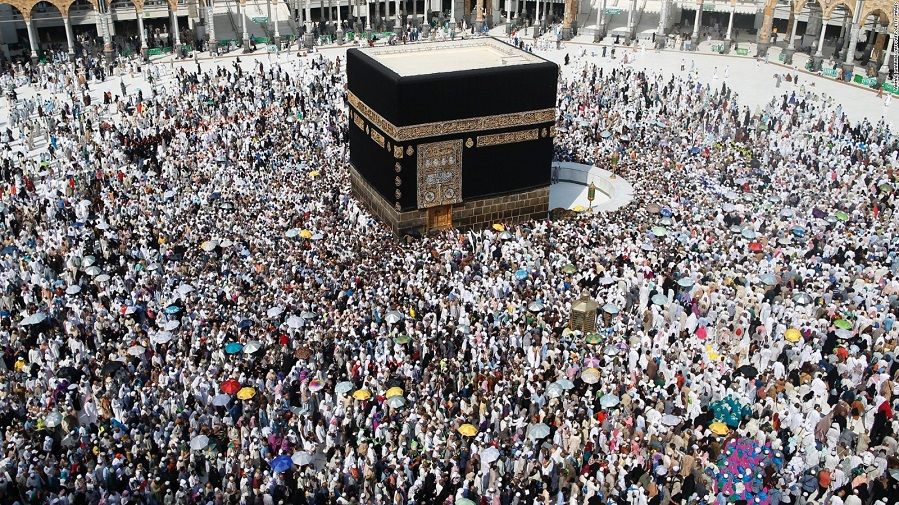 ---
It's a hashtag movement most Muslim women would have preferred to sit out.
Instead, the #MosqueMeToo movement has been gaining steam after Mona Eltahawy, an Egyptian-American activist and journalist, tweeted about the sexual assault she first experienced during her pilgrimage to Mecca. She was just 15-years-old at the time. That supposed holiest of moments, when pilgrims circle the Kaaba seven times in prayer, turned nightmarish after a man grabbed her butt and refused to let go.
But she couldn't exactly tell the authorities. She was a young girl in a crowd of thousands of men. Nobody would believe her, and even if they did, finding the perpetrator would be virtually impossible. Eltahawy described bursting into tears afterward, overcome with frustration and shame.
Unfortunately, it wasn't a one-time occurrence. Eltahawy was assaulted during her second hajj as well this time by a Saudi policeman who fondled her breast as she leaned to kiss the outer walls the Grand Mosque.
Though she had kept silent for 20 years, Eltahawy was spurred to speak out after seeing a viral Facebook post from a Pakistani woman who had shared her own story of assault during the pilgrimage to Mecca. The woman wrote: "My entire experience at the holy city is overshadowed by this horrible incident... Who wants to talk about sexual assault at a holy place? No one would believe it."
The sentiment clearly struck a chord, because the post was shared thousands of times and elicited a wave of responses.
Muslim Women Speak Out
The post inspired thousands of online testimonies from Muslim women around the world, many who have experienced groping, fondling, grabbing and other forms of sexual assault while in Mecca. Rothna Begum, a representative from Human Rights Watch, says that although there's no doubt sexual assault happens during hajj, it's impossible to say exactly how widespread the issue is. "Given the taboo nature of sexual harassment, women are probably not reporting this" she explains. It would likely be considered shameful to divulge such information even to family members. Instead, women are pressured to keep it to themselves.
But that's not the only reason Muslim women are reluctant to come forward.
A Potential Spark for Islamophobia
Unlike the original #MeToo movement, which has focused primarily on assault and harassment in the workplace, #MosqueMeToo faces added pressure of inadvertently stoking Islamophobia. Since Islam is often criticized for its attitudes toward women, Muslim women have long been hesitant to tell their stories worrying that by going public, they will only further cement negative stereotypes of their faith.
Assault Knows No Borders
These testimonies show that the issues exposed by the #MeToo movement have no boundaries. They exist across religious, cultural, and geographic spectrums.
What sets the #MosqueMeToo movement apart is the particular challenges Muslim women face in coming forward. Given the unique social pressures at play, it's impossible to say if sexual assault is particularly bad in Muslim communities, or pretty much on par with other places.
A Mecca for Mistreatment
It's no secret that Saudi Arabia home to Mecca has a questionable record on human rights, especially in its treatment of women. Although the nation is ruled by strict sharia law, it did recently pass a measure addressing sexual harassment, characterizing it as a "contradiction of Islamic principles" and threatening perpetrators with flogging or imprisonment.
But while Saudi leaders have signaled a public willingness to level the playing field, some Muslim activists fear that conservative Islamic clerics will try to twist the #MosqueMeToo movement and use it as an excuse to roll back some of the gains women have made there recently. For example, clerics have long argued that if women are accompanied by a male family member wherever they go, they won't be at risk of sexual assault.