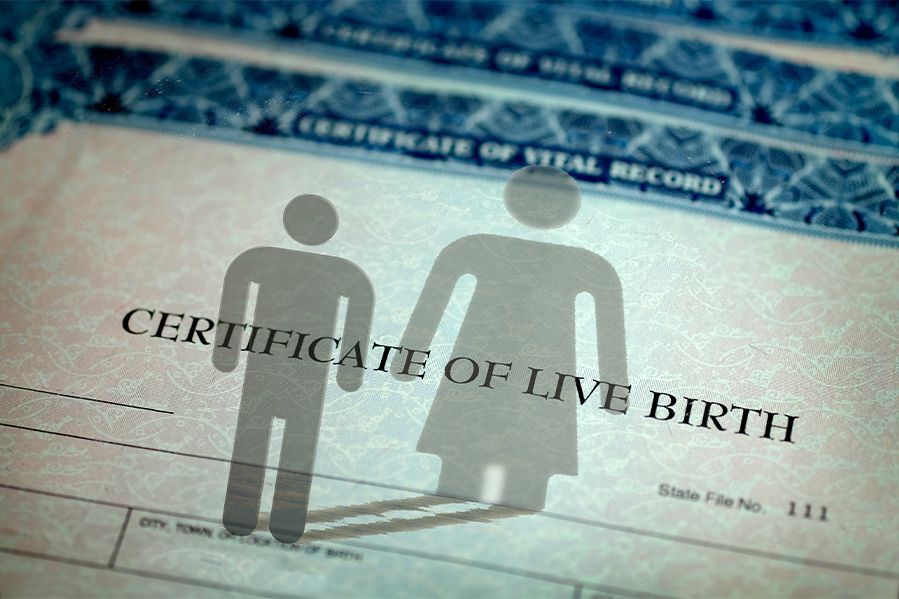 ---
The state of Oklahoma is nixing nonbinary options on birth certificates.
Last week, Oklahoma Governor Kevin Stitt signed a bill into law that specifically prohibits a "nonbinary" option on birth certificates.
Experts say the policy is the first of its kind nationwide.
The move comes on the heels of an executive order issued by Stitt last year, which barred transgender individuals from changing their gender on their birth certificates. "I believe that people are created by God to be male or female," he stated at the time, invoking his Christian faith. "There is no such thing as nonbinary sex."
Now he's taking things one step further, ensuring that no nonbinary options will be available to Oklahoma residents.
However, critics say the policy "solves" a problem that didn't really exist in the first place (most states only allow "male" and "female" on birth certificates anyway) and is a perfect example of the virtue-signaling behavior that the bill's supporters so often complain about. 
So how did the controversy begin in the first place?
Following the Science?
The bill was reportedly prompted by a lawsuit filed by a nonbinary individual against the Oklahoma State Department of Health. The nonbinary plaintiff was seeking to make a formal change on their birth certificate, and state officials initially refused to offer a nonbinary option.
The health department eventually relented, and issued the state's first nonbinary birth certificate.
However, news of this historic moment didn't sit well with lawmakers, who rushed to oppose the policy. A month later, the executive order banning changes to birth certificates was issued.
Only 15 states in the United States allow a nonbinary option on birth certificates, although that will increase to 16 in July, courtesy of a new Vermont statute.
In making this change, Oklahoma lawmakers say they're simply following the science. "People are free to believe whatever they want about their identity, but science has determined people are either biologically male or female at birth," stated Oklahoma Representative Sheila Dills, who sponsored the bill in the House.
But critics point out the policy is also, in part, a religious one, as it stems from traditional Christian beliefs that God created man and woman, gender is intrinsically linked to genitals, and that He doesn't make mistakes.
Opponents React
As you might imagine, LGBTQ and nonbinary rights advocates aren't happy.
Human Rights Campaign senior counsel Cathryn Oakley didn't mince words:
"Prohibiting nonbinary identity markers is just another attempt to erase the identity of transgender and nonbinary people. This goes against the views of the vast majority of Oklahomans, and people across the country."
Oklahoma City Representative Maureen Turner, the U.S.'s first openly nonbinary legislator, expressed their disappointment on Twitter: 
I find it very extreme and grotesque use of power in this body to write this law and try to pass it - when literally none of them live like us.

Some of our fate, for now, lies in the hands of some people who claim to get it and some people who absolutely don't.

— Mauree Turner | They / Them (@MaureeTurnerOK) April 21, 2022
Activists say that the new law will not only hurt Oklahoma's nonbinary community, but also transgender people born in Oklahoma who will no longer be able to change their birth certificate to match their gender identity. From housing to employment, that can cause a lot of problems.
"My Social Security card and my birth certificate don't match. I am looking for a job now. It brings up a lot of questions," explained Rowan Fowler, whose birth certificate doesn't match her gender identity due to the executive order issued by Gov. Stitt. 
"What genitalia I was born with is no one's business but mine and my doctor at this point. These are embarrassing questions that no one should have to answer."
What Comes Next?
The policy is indicative of the latest battle in the so-called "culture wars" – this one a nationwide wave of legislation restricting gender identity and expression.
If the popularity of Florida's 'Don't Say Gay' bill – and the subsequent copycat laws that sprouted up across the country – is any indicator, more states may soon propose similar birth certificate restrictions. 
Meanwhile, the U.S. State Department recently announced that passports will soon have a nonbinary gender 'X' available, setting up a potential clash between national and state governments. 
What do you think?
Are lawmakers truly following the science by banning gender changes and nonbinary options on birth certificates? Or is this a blatant shot aimed at the transgender and nonbinary community?