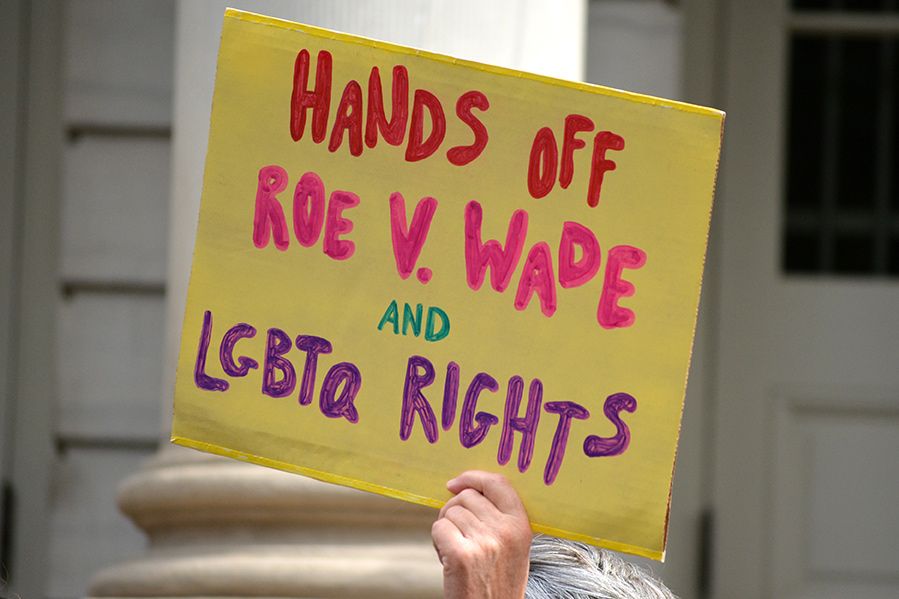 The bombshell leak indicating the Supreme Court plans to reverse Roe v. Wade has sparked intense reactions, with some groups thrilled and others horrified. 
But for the LGBTQ community, the news conjures up a different, previously unthinkable possibility: marriage equality getting overturned in the United States.
The leaked draft opinion penned by Justice Samuel Alito rested partially on the argument that because abortion rights weren't codified in the Constitution, the nation's highest court shouldn't be deciding this controversial issue for individual states.
Now, many LGBTQ rights activists fear that the very same logic could threaten marriage equality. 
If abortion is outlawed, is same-sex marriage next?
Roe Reversal
The LGBTQ community is finding little comfort in the fact that Alito's leaked draft seems to go out of its way to apply itself only to abortion. Roe was decided largely on privacy grounds – that pregnant women have a fundamental right to privacy, including the right to choose to have an abortion.
Alito's justification in part for reversing Roe is that "the Constitution makes no reference to abortion and no such right is implicitly protected by any constitutional provision, and no such right is implicitly protected by any constitutional provision, including the Due Process Clause of the Fourteenth Amendment."
Those familiar with the legal history quickly noted that this language closely echoed Alito's dissenting opinion in Obergefell v. Hodges, which legalized same-sex marriage nationwide in 2015. 
"The rights we enjoy, especially the LGBTQ + community, are based on unenumerated rights under the 14th Amendment, the right to privacy," explained Jim Obergefell, whose marriage was at the center of the case that legalized same-sex marriage nationwide (and he's a ULC Minister!).
"And the belief that if the Constitution doesn't specifically in writing outline that right, i.e. the right to privacy, then all of those rights that have been affirmed for us that are based on the right to privacy under the 14th Amendment are at risk."
"It scares the daylights out of me," he said.
What's Next?
The worry amongst many in the LGBTQ community is that the Supreme Court tossing out one right that was originally decided on privacy grounds could lead to an avalanche of other rights getting taken away, too. Same-sex marriage? Birth control? Interracial marriage? All are potentially at risk, if that same logic is applied more broadly. 
That the court could reverse Obergefell isn't unfounded fearmongering, either, according to experts. Just a few years ago, Justices Alito and Thomas issued a statement lambasting the Obergefell decision, saying that "the court has created a problem that only it can fix," and that "until then, Obergefell will continue to have ruinous consequences for religious liberty."
And many point to Ketanji Brown Jackson's confirmation hearing in March as proof that certain politicians still have an Obergefell reversal on their minds. During her questioning, Texas Senator John Cornyn called the legalization of same-sex marriage an "act of judicial policymaking" and a "court-made law" that "[overruled] the will of the people." Several other senators also made a point to ask Brown Jackson how she felt about the Obergefell ruling.
While there's no current case on the Supreme Court's plate that could reverse same-sex marriage, LGBTQ advocates fear it's only a matter of time before a challenge is raised. 
What do you think? If Roe gets reversed, could same-sex marriage be next? And how far can that logic realistically extend?