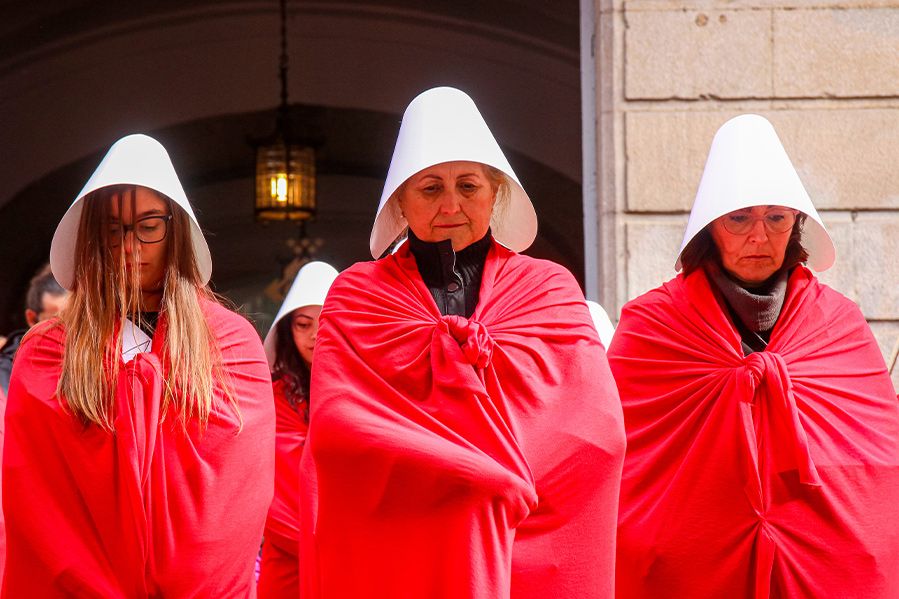 Is nothing sacred?
That's what many Catholics are saying after Mother's Day Sunday masses were besieged by pro-choice protestors picketing the Church's pro-life stance on abortion.
Pro-choice activists disrupted services in multiple cities in an apparent effort to call attention to Catholicism's role in opposing abortion. 
The protests are part of broader unrest nationwide following a leaked Supreme Court document that seems to indicate that the nation's highest court will overturn Roe v. Wade.
While outraged Catholics took to social media to air their frustrations, the pro-choice activists who organized the events argued that interrupting mass is entirely justified considering the Church's long shadow in the fight against legal abortion.
Disrupting the Masses
Dressed in the signature red shrouds and white hoods of 'The Handmaid's Tale,' several protesters entered the Cathedral of Our Lady of the Angels in Los Angeles on Mother's Day in protest of the Catholic Church's anti-abortion stance.
A video viewed nearly 1.5 million times on Twitter alone shows the protesters carrying a pro-choice sign down church aisles, before being escorted out by security and a handful of parishioners.
Protesters in Seattle similarly took their cause to the pews, demonstrating on the steps outside St. James Cathedral. Wearing hospital gowns with bloody marks over their wombs and bearing wire hangers as props, they laid motionless on the steps of the cathedral before trying to make their way inside – although security stopped them from actually getting in. 
Is Church Off Limits?
The incidents – just two of many that occurred nationwide – have sparked a debate on just where the line is when it comes to protesting. Is it okay to disrupt worship for a cause you believe in?
Some say that interrupting the religious worship of anyone is wildly disrespectful, regardless of the issues. And many have pointed out that while pro-life demonstrations are a common sight outside Planned Parenthood, they don't enter the clinic themselves to share their message.
Pro-choice advocates, however, argue that this is a matter of life and death. If Roe is reversed, women will die, they say. The Catholic Church, they argue, will have their blood on its hands.
It's worth noting that nearly half of U.S. states have 'trigger laws' that will immediately ban abortion – in whole or part – the moment Roe is reversed.
What do you think? Is Sunday church service fair game for pro-choice protests? Or is disrupting worship in sacred spaces a bridge too far?