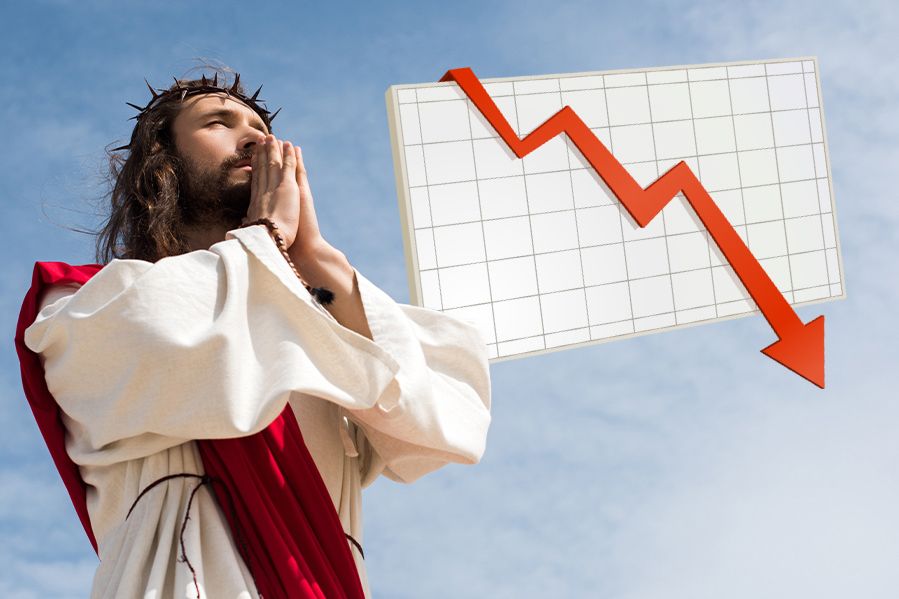 Biblical literalists may be a dying breed. At least according to a new Gallup poll, which says that only 20% of Americans believe the Bible is literally the word of God – a marked downturn from previous decades when as many as 40% of Americans stated they believe the Bible comes straight from God's holy lips. 
Additionally, the poll says, more Americans view the Bible as a collection of fables than as the literal truth, a trend which is only increasing year over year.
With each new generation less religious than the one that came before, the evidence shows that Americans increasingly view Christianity – and religion in general – with skepticism. 
Move Over, Christianity!
The poll results are surprising, even if you're already aware of the trend lines showing religious belief in steep decline in the United States.
In the late 1970s through the early 1980s, American belief that the Bible was the "actual word of God, to be taken literally" held steady at 40%. Around that time, only 10% of Americans believed it was a collection of "fables, history, [and] moral precepts recorded by man."
In 2022, things look a lot different. 29% of Americans now say the Bible is a collection of fables, and only 20% say it's the literal word of God.
That's quite the change in less than 50 years.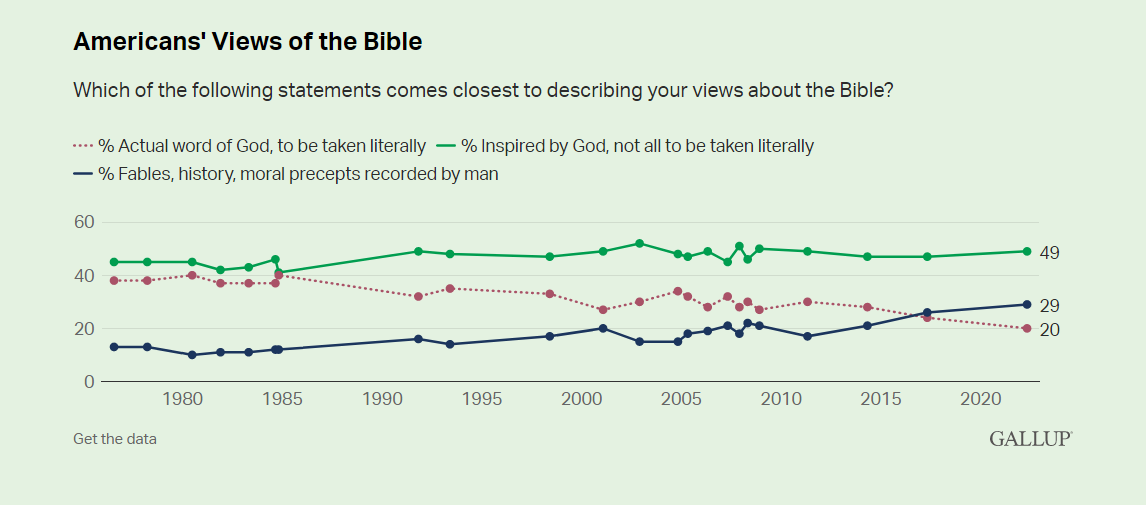 These results reflect the views of younger generations who don't hold the same relationships with religion that their parents and grandparents did. 
Indeed, more than one-third of young adults identify their faith as "none."  That is more than double the percentage of non-religious baby boomers and more than triple the percentage of the silent generation. 
It's not just an American phenomenon, either. Reports from all over the western world show a staggering increase in the rate of secular belief across Europe and Oceania.
Millennials and Gen-Z are rejecting the faiths of their fathers in record numbers.
But what's pushing them away?
Opinion is divided, but one frequently cited reason is the strict views about gender and sexuality held by evangelical Christians and other deeply religious faith groups. Young people are largely in favor of things like same-sex marriage and abortion rights, for example, and don't view the religious opposition to such issues all that kindly.
An (un)Representative Government?
Another Gallup poll found that only 81% of Americans believe in God at all. Yet again, a sharp decline over years past.
And yet, the religious makeup of our political institutions hardly seems reflective of our changing demographics. Only one member of the 117th Senate (Krysten Sinema of Arizona) identifies as religiously unaffiliated. And in the House, only 15 members – a whopping 3.5% – declined to give a specific religious affiliation. 
Eight members of the Supreme Court are Christian (seven of them Catholic), President Biden is Catholic, and former President Trump identifies as a Presbyterian.
Pointing to recent Supreme Court decisions that overturned Roe v. Wade and declared a high school football coach's right to pray on the field, many people have expressed concern that Christianity and Christian values now hold a significantly oversized influence over policy in the United States.
Religious belief is at an all-time low, but you wouldn't know that by looking at the makeup of our political institutions.
What do you think? Why is religious belief in decline? Should American institutions better reflect the views of the people?