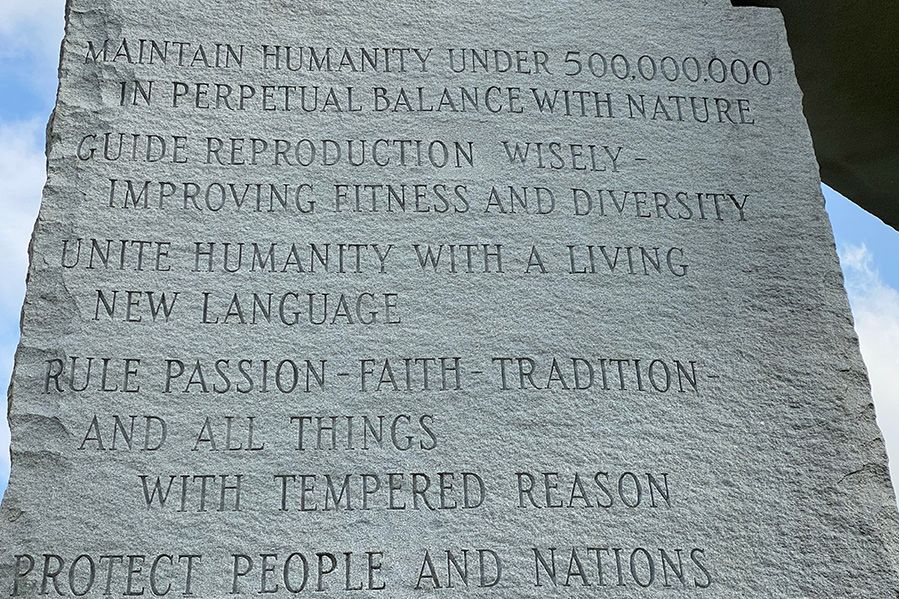 At least part of a granite monument in Georgia sometimes referred to as the "American Stonehenge" was destroyed in a bomb attack early in the morning of July 6th. 
The Georgia Guidestones have sat in a field in rural Elbert County, Georgia since their erection by an unknown patron in 1980. Intended to serve as compass, calendar, and clock, the 19-foot stone structure is inscribed with messages in eight languages.
While they've been controversial since their unveiling in 1980, they received new attention when a candidate in Georgia's gubernatorial election called them "Satanic" and pledged to tear them down as part of her platform.
Now, that wish has come true – at least partially. 
But why are the stones significant?
American Stonehenge
The Georgia Guidestones were commissioned in 1979 by an unknown individual or group under the pseudonym Robert C. Christian. Built by the Elberton Granite Finishing Company for a price many times larger than any prior project the company had ever worked on, the Georgia Guidestones were officially unveiled on March 22, 1980.
The mysterious patron, Mr. "Christian", said that the anonymous group he represented had been wanting to build the guidestones for some 20 years. In the years since its construction, many theories have been floated regarding who is behind the structure. None have been proven.
Calling themselves "guidestones to an Age of Reason," the massive set of stones seemingly lay out a set of guiding principles for future generations in eight different languages both western and eastern. The ten principles are: 
Maintain humanity under 500,000,000 in perpetual balance with nature.
Guide reproduction wisely — improving fitness and diversity.
Unite humanity with a living new language.
Rule passion — faith — tradition — and all things with tempered reason.
Protect people and nations with fair laws and just courts.
Let all nations rule internally resolving external disputes in a world court.
Avoid petty laws and useless officials.
Balance personal rights with social duties.
Prize truth — beauty — love — seeking harmony with the infinite.

Be not a cancer on the Earth — Leave room for nature — Leave room for nature. 
The guidestones also have practical features like an astronomical calendar, as well as a sundial... just in case of humanity's destruction, it seems.
A Satanic Evil?
Almost since the beginning, they've been targeted by conspiracy theorists as proof of a sinister "Satanic" New World Order plot. The first two principles in particular – keeping humanity under 500 million and guiding reproduction – are commonly interpreted as advocating for a form of eugenics. 
They gained national attention just earlier this year when a candidate for Georgia governor, Kandiss Taylor, dubbed them Satanic and called for the stones to be destroyed.
Promising to "rid Georgia of this Satanic evil" and "stand up to the Luciferian cabal," she pledged that on her first day as governor, she will demolish the "Demonic plans of our enemy."
Someone apparently saw fit to see the job through themselves.
Early in the morning of July 6, 2022, a bomb was detonated at the site of the monument. No injuries were reported, but apparently at least one of the guidestones was partially destroyed. 
While details are still forthcoming and the Georgia Bureau of Investigation says there are no leads as of yet, the very woman who renewed interest in the monuments only months ago has a divine idea on who might be responsible: 
What do you think?