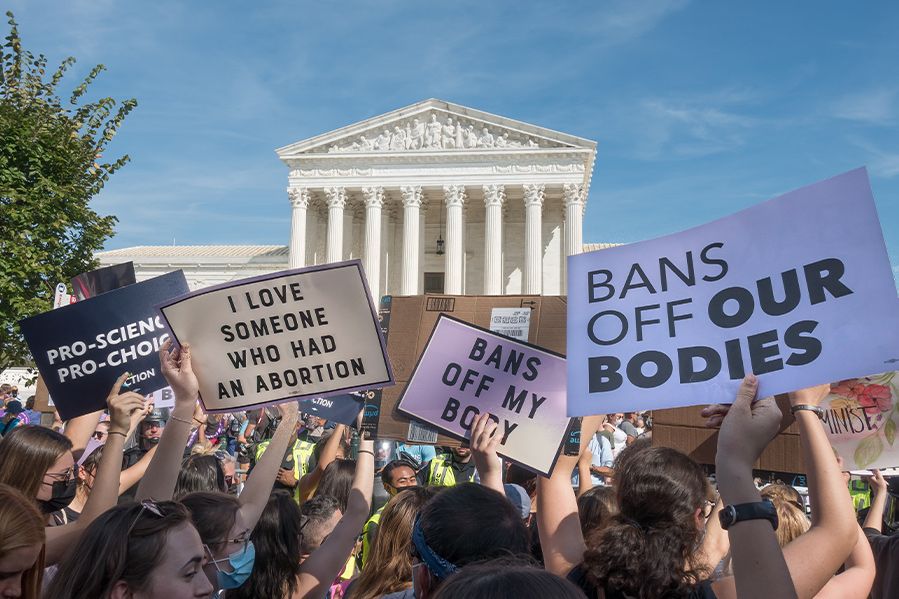 In a 6-3 vote, the United States Supreme Court has officially voted to roll back abortion rights and overturn Roe v. Wade.
The Roe reversal has been expected for over a month now. In early May, a draft of a majority opinion penned by Justice Alito was leaked to reporters, setting off nationwide protests in places like church services, and outside of some justice's homes. The leaked draft, written as a majority opinion in Dobbs v. Jackson Women's Health Organization, called Roe "egregiously weak from the start," with "damaging consequences."
While Chief Justice John Roberts claimed at the time that the leaked draft "does not represent a decision by the Court or the final position of any member on the issues in the case," that ultimately turned out not to be the case, as the conservative majority on the nation's highest court nonetheless voted to overturn Roe.
The move has already sparked jubilation from anti-abortion activists, and outrage from those who believe abortion rights should not be restricted.
Now, many are wondering what the future of abortion in the United States will look like – and what rights could potentially be overturned next.
Roe Reversed
Roe v. Wade is a landmark 1973 Supreme Court decision that protected by law a woman's right to an abortion. The case, decided by a 7-2 majority, codified into law a woman's right to an abortion, overturning many individual state laws that banned abortions completely, except in cases when the mother's life was in danger.
The Roe decision is one of the most controversial Supreme Court decisions ever handed down, and pro-life activists – a coalition deeply connected to churches and faith groups across the United States – have been working for decades to get it overturned.
Now they can say "mission accomplished." The reversal of Roe kicks abortion law decisions back to the states, where more than a dozen have "trigger laws" in place to outlaw abortion entirely should the Supreme Court overturn Roe. Combine that with several states that never repealed their pre-Roe abortion bans and another couple of states set to enact abortion bans soon, and abortion is de facto illegal in half or more of the United States.
Faith Groups Rejoice
For millions of pro-life Christians, this was a long time coming. Evangelicals have long been leading the charge in the anti-abortion movement for years, often staging protests outside abortion clinics and at public events.
86% of white evangelicals holding the view that life begins at conception. Many even hold the belief that seeking an abortion should have legal consequences; some two-thirds of white evangelicals believe that women who seek an abortion should have to pay a fine, do community service, or even be jailed.
Now, with abortion rights kicked back to individual states to decide, they may get their wish.
Just the Beginning?
As protests erupt outside the Supreme Court today, many people are looking to America's judicial future with concern that other rights could soon be lost as well.
Indeed, some experts say it's not out of the question that a conservative-leaning Supreme Court could overturn everything from marriage equality to the right to contraception. 
Justice Clarence Thomas even indicated in his opinion that this could happen:
Quotes from certain political leaders also tease an appetite for more judicial action. In March, Texas Senator John Cornyn called the Obergefell v. Hodges ruling that made same-sex legal nationwide "judicial policymaking" that "overturned the will of the people," and in May, Mississippi Governor Tate Reeves refused to say whether he'd try to ban common birth control like Plan B or even IUDs, only saying that he isn't focused on banning them "at this time."
The carefully worded message did not go unnoticed.
Indeed, one OBGYN called the abortion decision a "canary in a coal mine," believing that the Roe reversal is just the beginning.
What is your reaction to the Supreme Court's decision to reverse Roe? Do you think other rights, like marriage equality, could now be at risk?