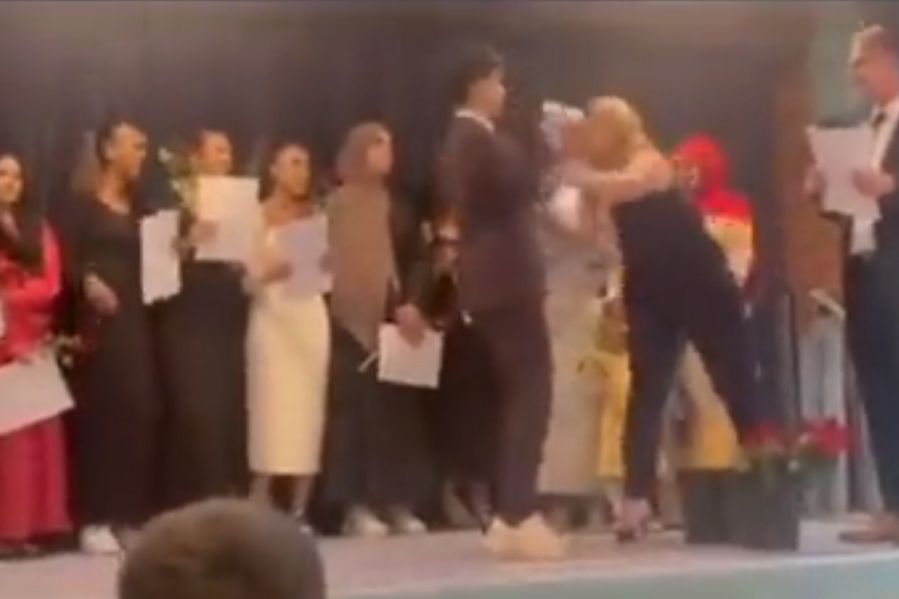 Video of a Muslim highschooler in Norway refusing to shake his female principal's hand at graduation is making the rounds on social media and has been viewed over one million times, reigniting the conversation about ongoing strife between traditional Muslim beliefs and western values.
Talk to the Hand
The viral video shows a high school graduation in Norway. An unnamed Muslim student is shown refusing to shake hands with his female principal on religious grounds when receiving his diploma, prompting the principal to give a lecture to the audience. See the footage below:
"Guys, we live in Norway," the principal begins after the student rebuffs her advances to forcefully shake his hand. "We can't have it like this. I mean it. And your parents, we live in Norway, you will work with Norwegian women, or else you won't succeed in Norway."
Why wouldn't the student shake her hand? While a handshake greeting is common in western countries between sexes, some Muslims believe that physical contact between the sexes is unnecessary or even forbidden. Some cultures have different ways of greeting, after all; a kiss on the cheek is very common in Southern Europe, but not so much in Nordic countries or in the United States.
Many have decried the student's refusal (and the entire concept of men refusing to shake hands with women) as sexist, and some wondered how far the famous Scandinavian hospitality should extend. Is it religious intolerance to find such behavior appalling?
"We don't need Muslims who don't shake hands in Norway, just leave," said one Norwegian Reddit user. "I've worked in Arab countries. I've had a great time there, but I've also tried to adjust/assimilate as much as I could," explained another.
Others, however, came to the student's defense.
"Islam is legal in Norway, anyone who wants to stop people from practicing the religion has less tolerance for religious minorities than ISIS has," said another Reddit user.
When Values Collide
The video is just the latest in discussions on the extent to which Muslims should assimilate to western values, particularly regarding women and homosexuality. The city of Hamtramck, Michigan has been the epicenter of the debate, at least in the United States. Hamtramck is one of the few majority-Muslim cities in the country, and has an all-Muslim city council.
Hamtramck residents first shut down school board meetings in nearby Dearborn, Michigan during debates on the appropriateness of LGBTQ content in schools.
Then, earlier this month, the city council unanimously voted to ban the LGBTQ Pride flag from being flown on government buildings, arguing it offends religious sensibilities.
Around the same time, a similar controversy erupted in Canada after a teacher was recorded criticizing Muslim students for refusing to participate in Pride activities. 
At this rate, the friction between faith teachings and Western values may not be going away anytime soon. 
What do you think – should traditionally-minded Muslims set aside their faith teachings and adopt western values? Is there a possible compromise here, or will one side have to give way?