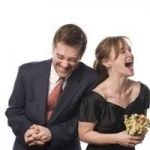 By now most of us are familiar with the many unconventional ways ULC ministers have re-interpreted the traditional wedding ceremony. Often, this involves some form of performance art, from stand-up comedy routines to rock concerts. Now, one minister ordained online in the ULC will be performing wedding vow renewals for audience members during a musical comedy on the often amusing trials of married life. It's just another example of the creative and innovative approach ULC clergy members take to performing wedding ceremonies, wedding vow renewals, and other special occasions.
The wedding vow renewals will be held during a performance of the musical play Let's Pretend We're Married, created and performed by Philadelphia comedians Jennifer Childs and Tony Braithwaite, at Act II Playhouse in Pittsburgh, Pennsylvania. As hinted at in the title, the play will follow the domestic exploits of a number of famous married couples from film, television, and radio, including Edith and Archie Bunker, Lucy and Ricky Ricardo, Sonny and Cher, and Burns and Allen, all of whom will be played by Childs and Braithwaite themselves. Sally Henry of Broadway World calls the play a "delightful, musical comedy celebration of the world's greatest, and most complicated institution".
Braithwaite, who decided to become ordained online in the ULC ministry, will be performing the wedding vow renewals, whilst Childs will be the flower-girl (albeit a grown-up version). Adding to the unconventionality of the occasion, the comedy duo will be offering different themes for each couple's ceremony: a Las Vegas theme, a Hawaiian theme, and a traditional theme for those who wish to play it safe and stay "classic". And apparently every couple is welcome. Braithwaite and Childs will also be offering wedding vow renewals to same-sex couples, as Henry notes: "All married couples are welcome (including visitors from New York, Massachusetts, Vermont, Connecticut, New Hampshire and Iowa!)".
It's quite an unusual combination, to be sure. Fans of both musical theatre, situation comedies, and alternative wedding and wedding vow renewal ceremonies should have plenty to look forward to. According to Henry, the score for the play will include selections from George and Ira Gershwin, Irving Berlin, Stephen Sondheim, and Tom Lehrer. So, not only will audience members have the chance to watch couples renew their vows of love and commitment to one another with the help of a ULC wedding officiant, but they will have the opportunity to revel in the sweeping soundscapes of classic musical scores, with each ceremony set to a different theme: gambling "glitz", tropical "paradise", or good, old-fashioned, whitebread traditional. Certainly not a performance to write off as boring, from whatever angle you look at it.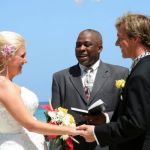 As Braithwaite and Childs show, alternative ceremony ideas aren't limited to just weddings, but apply to wedding vow renewal and commitment ceremonies too. After all, to create truly lasting memories, sometimes it is necessary to buck the trend and do something a little bit off-the-wall. Perhaps we can apply the same principle to performing funerals, performing baptisms, or performing other sacerdotal rites. Of course, the trick is how to strike a balance between spontaneity and reverence. Of course, all that's required is to get ordained online and do a little digging around about the do's and don'ts of performing ceremonies as a minister in an online church. (But that's what we're here for.)
Tickets to Let's Pretend We're Married can be purchased by visiting [
http://www.act2.org
]10, or by calling the Act II Box Office at 1 (215) 654-0200.
In other musical entertainment news, three time Tony award-winning music theatre legend Carol Channing gave a very warm and charming video message at Broadway Sings for Pride: the Winter Holiday Concert. The event is an organized effort by music theatre artists to show support for the LGBT community through the performing arts. As anybody who watches the video can tell, Channing's support for the community is evident in her heartfelt message of love, solidarity, and inclusion, a message which nicely echoes the Universal Life Church Monastery's own motto, which is that, male or female, black or white, gay or straight, young or old, we are all children of the same universe.
Source:
Broadway World: Carol Channing on Broadway Sings for Pride
Broadway World: Act II Playhouse Presents Let's Pretend We're Married Limited Engagement 1/11-22