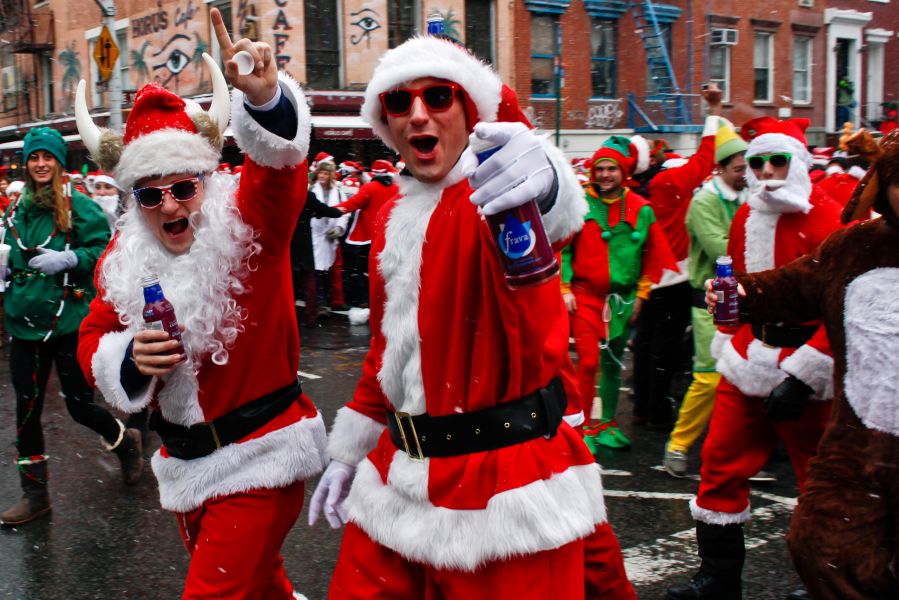 ---
Christmas is a religious holiday, right? I mean, it has to be it's quite literally a celebration of the birth of Christ.
Well, not so fast. They say perception is reality, and a new study from Pew Research Center shows that an increasing number of Americans don't see Christmas as a religious holiday -- offering valuable ammunition to those raising alarm about a supposed "War on Christmas."
Although the vast majority of people (90 percent) continue to celebrate the holiday, 56 percent say the religious elements of Christmas are emphasized less that they used to be. Further, only 32 percent say they're bothered by this trend toward secularism indicative of a general public that doesn't mind seeing Jesus get supplanted by Santa, or Bible verses take a backseat to jolly Christmas jingles.
Christmas in Danger?

Based on its immense popularity, there is little risk of Christmas losing out to other religious holidays. When pundits drone on about a "War on Christmas," perhaps what they're really talking about is a war on CHRISTmas an erosion of the Christian aspects of the holiday.
The data backs this up. Just 51 percent of people say they'll be attending a Christmas church service this year marking a steep decline from generations past when going to church was practically a requirement.
There's more: as recently as 2013, 65 percent of people surveyed said they believed in the story of Jesus' birth. That number has now fallen to 57 percent a downward trend that should have Christian leaders across the United States squirming in their seats.
Coupled with the removal of nativity scenes and other religious symbols from public places during Christmas-time, and it certainly seems like the meaning of Christmas is changing for many people fast becoming more of a cultural holiday than a religious one.
Secularization vs. Commercialization
While atheists or anyone uncomfortable with religious holidays will likely cheer this shift toward a more secular Christmas, cynics point out that removing Jesus from the holiday risks elevating the importance of "stuff" overpriced gifts, expensive decorations, etc.
If people no longer see church services, Bible verses and prayers as central to the Christmas experience, how will they go about making the holiday exciting? Without an emphasis on Christian principles, critics say, Christmas simply becomes a sad commercial exercise devoid of real meaning an excuse to spend money we don't have on things we don't need.
No doubt big-shot executives in board rooms across the country love this time of year, for it promises large profits and big bonuses.
But is that what Christmas should be about?

A Future of Empty Pews
The idea of a "War on Christmas", in the strict sense of the term, is nonsense. It's simply far too popular. After all, who doesn't enjoy taking a day off from work to receive gifts? Santa Claus, festive lights, and the many other secular elements of the holiday are not going away anytime soon.
However, the numbers don't look good for Christmas as a celebration of Christ's birth. Barring a sudden religious revival in America, the pews at Christmas church services once packed to the brim with worshipers will become more and more sparse over time.
Where do you stand? Should Christmas be a secular holiday, or is some of the meaning lost when you remove faith from the equation?