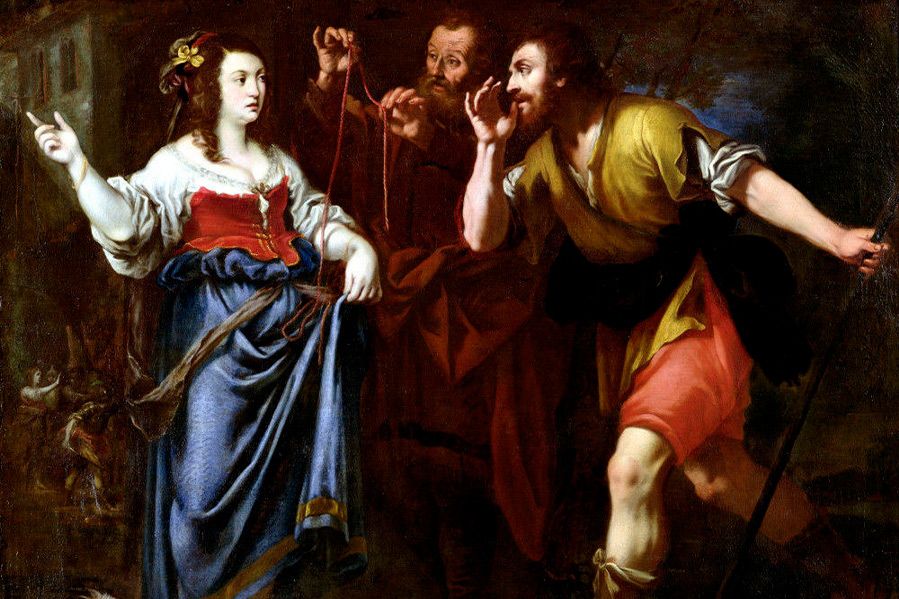 You might recall past stories about Christian models starting successful careers on OnlyFans. One woman claimed that God doesn't judge her for how she makes a living. 
Another woman even said that God spoke to her and said her true calling was to post nude photos online. 
Among the many reactions to those stories were comments noting that OnlyFans models aren't straying as far from God as critics believe.
In fact, they pointed out that the "world's oldest profession" appears frequently in the Bible, and in surprising ways. So, we decided to do some research...
The Bible Takes on Prostitution
As it turns out, sex workers are mentioned throughout the holy book, both explicitly and implicitly.
And while the Bible generally condemns prostitution, it often has a sympathetic view of women who engage in it. Some stories even paint women who engage in prostitution as heroic.  
So let's take a look at some of the sex workers in the Bible, their role in biblical theology, and how the Bible views them.
1. The Story of Tamar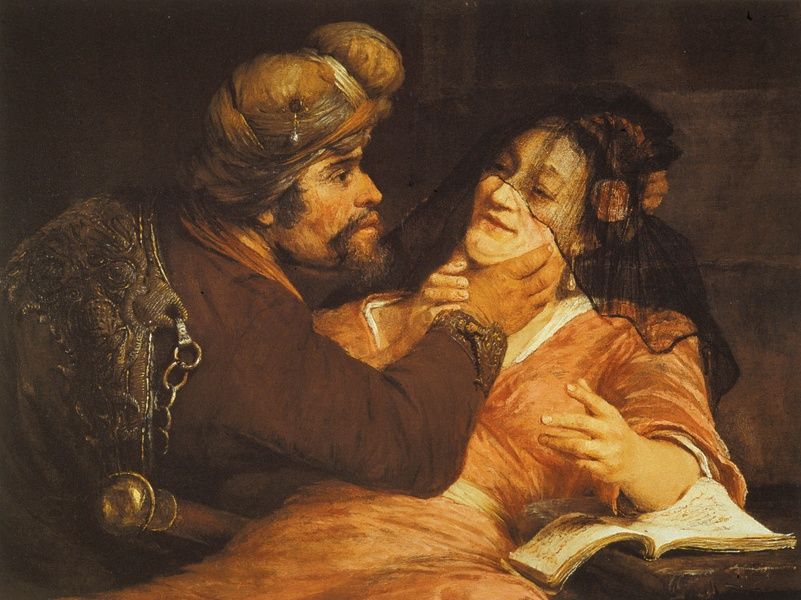 Tamar is a woman who appears in the Book of Genesis, and is the daughter-in-law of Judah.
After Tamar's husband, Er, was struck down by God for his wickedness, Judah commanded her to marry Er's brother Onan. Not wanting to lose his share of his inheritance with a potential son, Onan performed coitus interruptus, spilling his seed on the ground. God was so displeased with Onan's pull-out that he struck him dead, leaving Tamar again a widow. 
Now viewing Tamar as cursed, Judah refuses to marry his third son to Tamar, but deceives her by telling her to wait for him to come of age regardless.
Tamar ultimately takes things into her own hands, and disguises herself as a prostitute, puts a veil on her face to hide her identity, and is propositioned by and has sex with Judah.
Later, when Judah finds out that Tamar is pregnant (while technically still betrothed to his third son), he threatens to have her killed. But when it is revealed she is pregnant with his child, he admits his wrongdoing and admits, "she is more righteous than I."
While the outcome of this tale almost certainly made for some awkward family dinners, there are also lessons to be learned from it.
First, the story introduces moral ambiguity and questions around ethical behavior, as it doesn't neatly fit into categories of right and wrong. Tamar is forced to take an unconventional path to secure justice, reflecting the complexity of ethical decisions in a flawed world.
The story also has added significance due to Tamar's lineage. She becomes an ancestor to David, and according to Christian belief, to Jesus Christ (making her Jesus' great-grandmother). 
2. Rahab: Sinful or Heroic?
According to the Book of Joshua, Rahab was a prostitute who lived in Jericho, where she served many men – locals and travelers alike.
One day, the Israelites set out to conquer the Canaanite city. When the Hebrew army was encamped across the river Jordan and ready to lay siege, two men appeared at Rahab's door.
She understood these men to be Israelite spies sent by Joshua to gauge the military might of Jericho, and secretly harbored them, deceiving the king's men who came looking for the spies by sending them on a wild goose chase into the city instead. 
In return, the spies offered Rahab and her family safety after taking the city, a deal which they honored. Rahab was granted a new lease on life thanks to her allegiance to Israel, and her genealogical line would ultimately lead to King David and Jesus.
The story of Rahab is often cited as an example of the transformative power of faith and the complexities of moral choices. Rahab's status as a prostitute is acknowledged, but does not define her in the biblical narrative.
Instead, she is remembered for her acts of faith, bravery, and her role in aiding the Israelites.
3. The Woman Who Anoints Jesus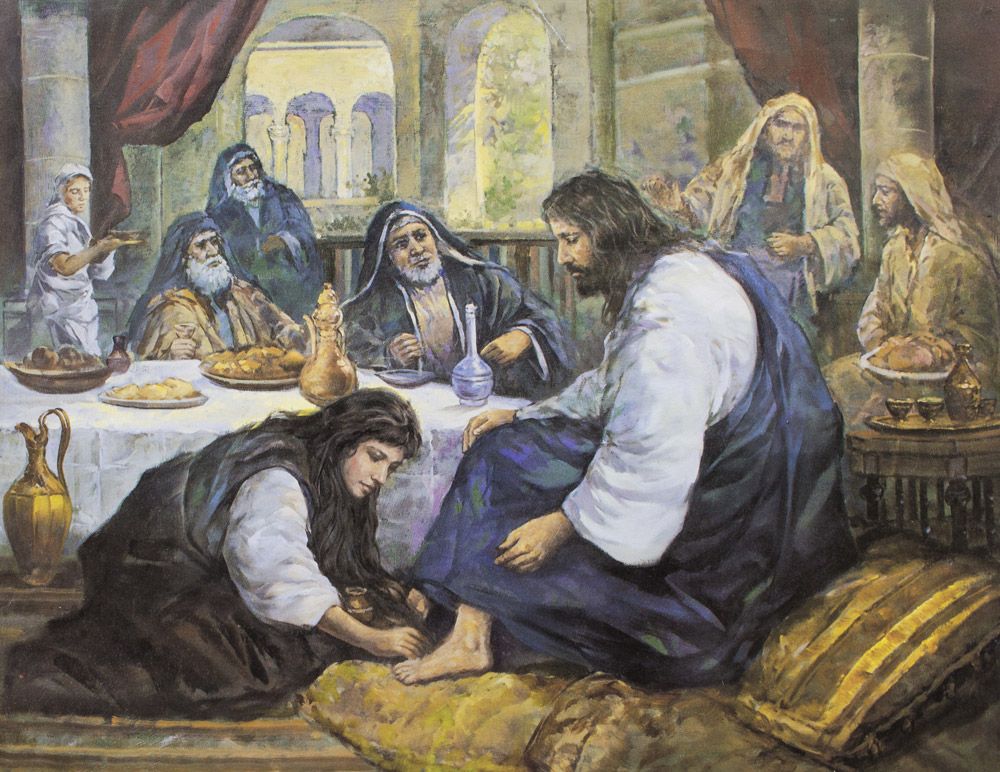 Matthew, Mark, Luke, and John all tell of a woman who anoints Jesus with perfume. While details change between the four gospels, it is generally accepted by biblical scholars that all four accounts relate to one event.
While Jesus was in the home of Simon the Leper in Bethany, a promiscuous woman came to him with a jar of expensive perfume.
Although the woman's profession is a subject of debate, the Gospel of Luke seemingly makes her job clear by calling her a "sinful woman" (and in that historical time period, sex workers were often gifted perfumes by clients). 
The woman enters the home and weeps at the feet of Jesus, then dries his feet with her hair, and finally pours her jar of perfume on his feet. Some of the disciples were indignant, but Jesus shows his grace to the woman, praising her and forgiving her of her sins.
...And Mary Magdalene?
Mary Magdalene was a prominent disciple of Jesus, one of the women who followed Him and provided for His needs out of their own resources (Luke 8:2-3). She is also described as a witness to Jesus' crucifixion, burial, and resurrection.
But was she also the mysterious anointing woman? It's a topic of considerable debate among scholars, theologians, and religious practitioners.
Despite no specific scriptural evidence linking the two, over time, Mary Magdalene became identified with this unnamed woman.
Additionally, Mary Magdalene is described as having had "seven demons" cast out of her (Luke 8:2), but this description doesn't specify what kind of sinfulness or impurity those demons represented.
In the year 591, Pope Gregory the Great further solidified this perception by delivering a sermon where he explicitly identified Mary Magdalene with the sinful woman in Luke 7 and also with Mary of Bethany, who also anoints Jesus in a different account.
This sermon had a profound influence on Christian thought and was a major factor in shaping the popular image of Mary Magdalene as a repentant prostitute – and contributes to ongoing debate even today. 
What the Bible Teaches About Sex Work
Modern Christianity takes a well-known negative stance on all types of "sexual sin."
Children raised in the Christian faith are often taught from a young age to value their purity, and wait until marriage to have sex. Virginity is put on a pedestal, and sexual freedom or experimentation is demonized.
But what do all these biblical stories tell us?
The sex workers of the Bible are complex characters who embody noble traits like bravery and justice even while engaging in "sinful" behavior. 
They also played an integral role in the genealogy of Jesus – and the compassion shown by Jesus to the anointing woman is mentioned in all four synoptic gospels. 
What do you make of these biblical sex workers?