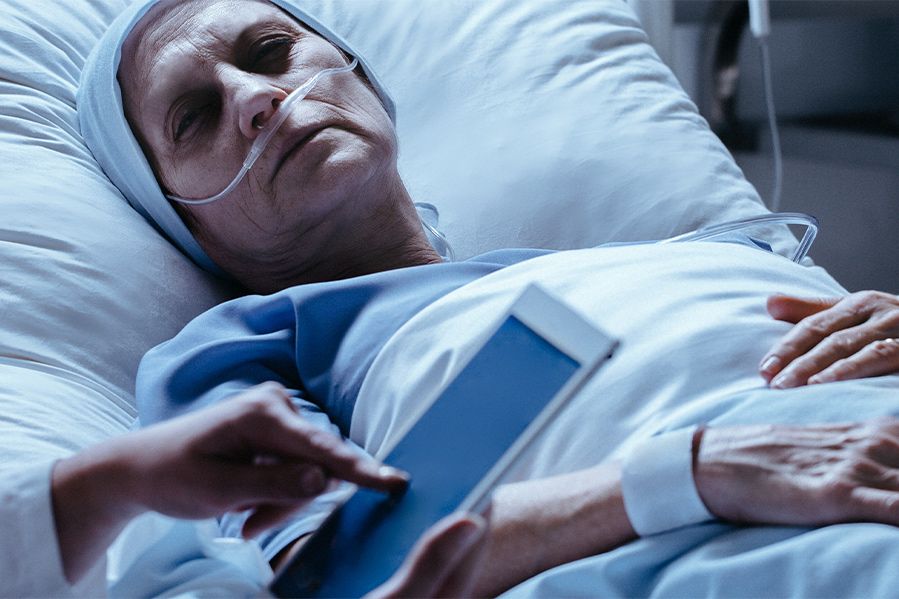 Could "death with dignity" mean dying in a 3D-printed suicide pod?
In case you're not familiar, the "death with dignity" movement seeks to change laws to allow people to end their own lives if they're suffering from a debilitating terminal illness. Currently, 10 U.S. states and numerous countries around the world allow patients to end their own lives under certain circumstances. 
The technology to carry out this end-of-life option may soon include a so-called "suicide pod," developed by Australian euthanasia advocate Dr. Philip Nitschke. 
After extensive testing and legal consultations, he says the pods may soon be ready for use, starting in Switzerland.
While Dr. Nitschke insists that the pods push the death with dignity movement forward, some people of faith say that this movement does nothing more than glamorize the sin of suicide. 
When your time comes, would you hop in the pod?
3D-Printed Death Pod
Dr. Nitschke calls his device the "Sarco Pod" (named for its similarity to the Egyptian sarcophagus). 
He says that the pods are designed in such a way that the terminally ill users are fully lucid, understand what they are doing, and have full control over how and when they end things.
"The person will climb into the machine, they will be asked three questions and they will answer verbally – 'Who are you?', 'Where are you?' and 'Do you know what happens if you press the button?'" he says. Once the button is pressed, oxygen levels in the pod rapidly drop. 
Shortly thereafter, the user is dead. Nitschke assures potential users that there is "no panic, no choking feeling," and the 3D-printed nature of the pods makes them surprisingly portable: meaning "the machine can be towed anywhere for the death."
A Humane Option?
For Dr. Nitschke, such an efficient device has been a long time coming.
Suicide pills have existed for a long time, but many terminally ill patients have difficulty swallowing or have stomach conditions which might interfere with absorption. This, he argues, is more efficient and better for patients.
There are other safeguards in place; to avoid any sort of misuse or abuse by bad actors, the entire process is filmed, and the footage given to the coroner.
"We're ready to use it," says Dr. Nitschke, whom many have dubbed "Dr. Death" for his prominent advocacy for death with dignity.
Despite his myriad precautions, as you might imagine, not everyone is a fan.
Religious Opposition to Voluntary Death
Euthanasia remains a deeply controversial subject in religious circles.
Physician-assisted suicide remains illegal in much of the U.S. and the world – in part due to intense opposition from organized religion. 
Catholics, Protestants, Mormons… basically every branch of Christianity strongly opposes physician-assisted suicide.
The general argument these religious groups make is that life is a sacred gift from God, and to end it "unnaturally" is an affront to His creation. It is not for a medical doctor or even the person themselves to decide when they die; only God can do that. 
Such beliefs run deep.
When terminally ill 29-year-old Brittany Maynard ended her life via euthanasia in 2014, a top Vatican official called the act "reprehensible" and said the act "should be condemned."
In 2020, the Catholic Church reiterated its stance that assisted suicide is "an intrinsically evil act, in every situation or circumstance," going so far as to call it "an act of homicide that no end can justify and that does not tolerate any form of complicity or active or passive collaboration."
As Pastor John Piper of Bethlehem College & Seminary puts it, "our bodies — their life, their death — belong to Christ. He bought them. They are not ours to dispose of as we will. They are his. And they exist for his will, and his glory."
What Does the Public Think?
Physician-assisted suicide is a topic bound to divide, but a 2013 Pew poll showed that some two-thirds of Americans believe that there are some circumstances in which doctors should assist the deaths of the terminally ill. 
Even amongst death with dignity advocates, however, the Sarco Pods are controversial. Some view it as cold, dystopian, and lacking an important human element. Because the Sarco Pods are printable with a 3D printer, others worry about the potential for unauthorized use of such technology. 
Ultimately, if approved, it would be those who are terminally ill and suffering from chronic pain who would have the choice of whether to use the technology. 
What do you think? Should death come as easily as the push of a button?