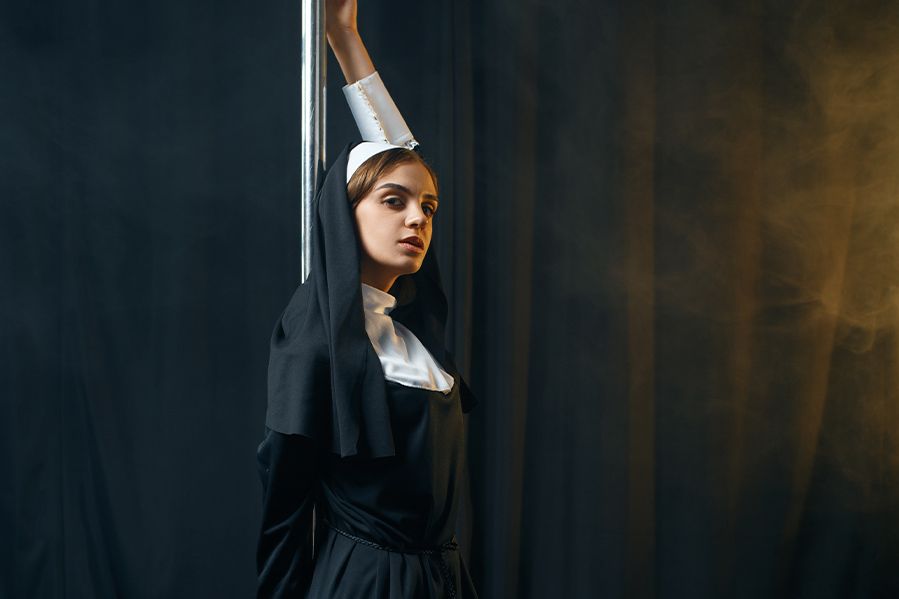 Does God love porn? A Christian teacher turned adult entertainer says yes, and she says her newfound career has brought her closer to Jesus than ever before.
Years ago, Courtney Tillia was a "good Christian girl" from a churchgoing household who taught autistic children at a Catholic school in Los Angeles.
But Tillia recalls feeling emotionally and professionally unfulfilled, "disconnected from myself and also God," as she puts it.
As she focused on building her relationship with God, Tillia reports feeling that He was pulling her in a different direction, and that He was telling her that teaching was not her true calling. 
That's when she quit her job and started an OnlyFans.
With the support of her husband, she left her teaching career and instead focused her attention on her OnlyFans, where she quickly became a popular creator, with some 18,000 subscribers paying anywhere from $20,000 to $100,000 per month to view her images and videos.
She says God is to thank for this bounty. He told her to start posting on OnlyFans, she says, and her purpose in life, handed down from on high, is to help kickstart a new movement of sexual liberation for women.
Did God guide Tillia to a career in internet exhibition?
A Holy Sexual Revolution
"God's message has been abundantly clear: I'm here to be a porn star. This is my way of serving," Tillia says.
"I'm showing others that pleasure and our sexual expression – even in porn and sex work – aren't meant to contradict God or exist separately from God. They are unified with God and holy."
Tillia says that the road to sexual liberation was not easy. "I had so much sexual shame of my own at first. I remember being at a photoshoot that had several porn stars, and I was so triggered. I could feel the judgments that society and religion had instilled in me and I was very aware of it."
Now, she wants to help other women overcome those same feelings of sexual shame and repression – with God's help.
Her story has now been featured by several news outlets, and has even garnered attention from other well known influencers, including Andrew Tate (who does not seem to approve): 
He is Risen
Tillia believes she's doing more than just posting images online. She says it is her purpose in life to help women see that they can be sexually liberated and good Christians at the same time.
"I'm living my life as an example of being fully out in the open and unapologetically expressed: not against God, but completely with God," she says. 
Since starting her new career, she is more connected to God than she has ever been, and embraces a God she says is accepting, loving, gentle, and most importantly, nonjudgmental. And she rejects any institutions that would "tell me who God is or how to go about my relationship with God."
Most of all, she says, God just wants us to be happy and feel good. He does love us, after all. "I believe God is experiencing itself intentionally through us in these unique, physical incarnations. We are not meant to suppress or deny things like our pleasure and sexual expression. Instead, we're meant to enjoy and embody them fully, as God has intended."
She just hopes other women will follow suit. 
What is your reaction? Is it indeed possible to sell one's body on the internet and be with God? Or does this behavior violate Christian teachings regardless of how you slice it?