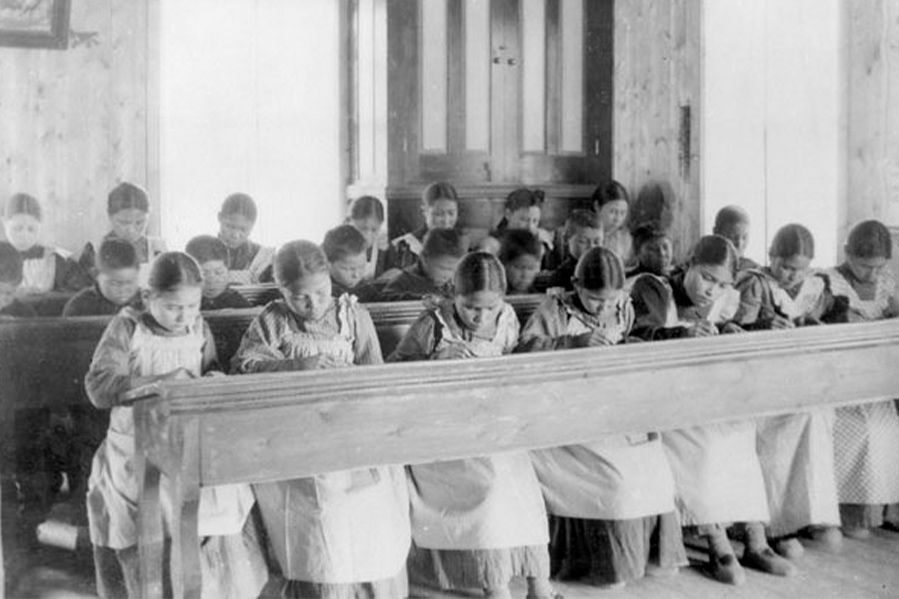 In a truly disturbing discovery, the remains of 215 indigenous children – some as young as three years old – have been found in an unmarked mass grave at the site of a former Catholic school in Canada.
The revelation was announced by representatives from the Tk'emlúps te Secwépemc First Nation, who confirmed that the bodies had been buried on the grounds of the Kamloops Indian Residential School in British Columbia. The bodies were confirmed via ground-penetrating radar in a discovery that Chief Rosanne Casimir called an "unthinkable loss that was spoken about but never documented."
Now, First Nations representatives are demanding answers, and a formal apology from the Catholic Church. Will they get one?
A Shameful History
Between the 1870s and 1990s, Canada sent some 150,000 Indigenous children to schools across the country in an effort to eliminate what the Canadian government referred to as "the Indian problem."
Forcibly separated from their parents, the children were sent away to assimilate them into Canadian culture; Assimilation that included beatings for speaking their native language, malnutrition, and sexual abuse in what the Truth and Reconciliation Commission of Canada now recognizes as "cultural genocide."
The Commission estimates that between 4,100 and 6,000 children died of abuse within the system.
This particular school in question, Kamloops Indian Residential School, was operated by the Catholic Church and was notorious for children being sent to its grounds – only to never return.
For decades, First Nations advocates tried to sound the alarm. After all, 215 children don't just go missing without people noticing.
Families reported that their children never returned from this school, but their cries fell on deaf ears. Investigations weren't opened until decades later – investigations which were then hampered by the Catholic Church's refusal to release records from that time. 
The Canadian government did finally apologize for its role in this system in 2008, paying out some $2.68 billion dollars to 26,700 claimants as part of a class-action lawsuit. And following the new revelation of the mass grave, Canadian Prime Minister Justin Trudeau called it a "shameful chapter" in Canadian history and ordered flags be flown at half-mast.
So the Canadian government apologized… anyone else who might need to say something? Any, y'know, big churches that might've been involved? 
...Is this thing on?
Catholic Church Remains Silent
So far, Catholic leaders in Canada have spoken out individually, but mum's been the word from Pope Francis and the Vatican. 
"We call upon the Pope to issue an apology to Survivors, their families, and communities for the Roman Catholic Church's role in the spiritual, cultural, emotional, physical, and sexual abuse of First Nations, Inuit, and Métis children in Catholic-run residential schools," says a statement issued by the Truth and Reconciliation Commission. 
If Pope Francis' history regarding this very issue is anything to go by, don't hold your breath. In 2018, Prime Minister Trudeau formally asked the pontiff for an apology to First Nations people, which was declined. "After carefully considering the request and extensive dialogue with the Bishops of Canada, [Pope Francis] felt that he could not personally respond," read a 2018 statement from the Catholic Church to Canada's Indigenous people.
Still, Catholic leadership in Canada is responding with sympathy. The Canadian Conference of Catholic Bishops said that "the news of the recent discovery is shocking. It rekindles trauma in numerous communities across this land. Honouring the dignity of the lost little ones demands that the truth be brought to light."
Critics have long been calling for the Church to atone for the sins of its past, insisting that Pope Francis and Vatican leaders need to make a more serious effort to reconcile the many injustices which have taken place under the institution's watch. Those calls have only become louder now.
First Nations advocates say a formal apology would go a long way in their healing. So far, however, all they've received is a resounding silence.
What is your reaction?