Cuppa Bella: an extraordinary small-town cafe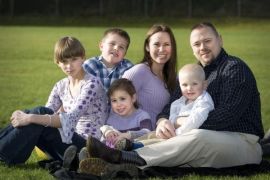 Marcus Croman is a Universal Life Church minister from Kingston, Wash., a small city of 2,000 people located about ten miles northwest of the ULC Monastery's headquarters in Seattle. Rev. Croman and his wife Tonya own and operate Cuppa Bella Bagelry & Espresso, a cafe located in downtown Kingston. Cuppa Bella serves soups, coffee, real fruit smoothies, sandwiches, bagels and scones. While its unassuming fare and location might make you think Cuppa Bella is a regular neighborhood cafe, both the cafe and its owners are truly extraordinary.
As of early 2012, Cuppa Bella donates all of its net profits to charities through the Croman Foundation, a 501(c)(3) non-profit organization set up by Rev. Croman to help out the needy in his community. The Croman Foundation makes donations to organizations in the forms of grants. Charities send grant applications to the Foundation and, after being cleared by Rev. Croman, the employees of Cuppa Bella select the final recipient. In this way, the cafe's employees are able to decide where the profits from every beverage and food item they sell goes to.
The Croman Foundation's first grant
The first, and so far only, grant that the Croman Foundation has made was a $2,500 donation to the North Kitsap Fishline, a Poulsbo, Wash. based food bank, to fund their Food for Thought program. Food for Thought provides weekend meals to school children living below the poverty line in the Poulsbo area.
"The grant that was awarded was... enough to feed the enrolled children in their program for only two weekends; annually, the entire program costs them over $50,000," Croman said about his charity's first donation. "It wasn't a large grant, but it was all that we had in the fund to give and we were happy to give it, and they were more than excited to receive it!"
North Kitsap Fishline made Cuppa Bella their community partners for October and the cafe's staff were given a tour of the food bank's facilities. They were able to see firsthand how the Croman Foundation's donation was being put to use.
"It was a very rewarding experience," Croman said. "Not just for us, but for our staff."
Cuppa Bella's people-centric, rather than profit-centric, policy
Rev. Croman and his wife used Newman's Own Foundation's policy of donating all its profits to charity as a template when they decided to buy Cuppa Bella from its previous owners. People, rather than profit, have since been their motive.
"Although you always have to make sure that you're at least self-sustaining as an organization, we feel that it is our responsibility, as a business, to care for those in our community who are less fortunate than us," Croman said.
Cuppa Bella has done well for itself despite its altruistic and munificent guiding policy. Croman claims that the cafe currently generates 90% more revenue than it did during the previous owners' best year.
The Croman family does not compensate themselves well in spite of their success. Tonya Croman earns the State of Washington's minimum wage and the cafe's by-laws mandate that Rev. Croman never earn more than $1 less than the national poverty line, about $6.50 an hour.
"We're not rich, we're not independently wealthy, we're not doing this because we have a trust fund to rely on if things go bad," Croman said. "We really do live a humble life. But the rewards of doing what we're doing [are] worth more than any amount of money we could ever have."
The Croman family: a history of caring for others
The Croman Foundation is not the first charitable organization that Rev. Croman has started and operated with his family. His previous charity, the Kingston Rescue Mission (KRM), delivered meals to the homeless throughout Kitsap County, Wash. in an old ambulance.
The KRM received a $1,000 donation from the Universal Life Church Monastery after word spread about the good works it was doing across the Puget Sound from Seattle.
"Without that validation from the ULC Monastery and Br. Martin's kind words in the letter he wrote [us], I don't think I would have been able to carry on and be where we are today with the Croman Foundation," Croman said.
Rev. Croman was forced to shut down the Kingston Rescue Mission after a house fire, motorcycle crash, and loss of his job prevented his family from continuing it. Despite shutting down operations, the Mission has had a lasting impact on both the community and Croman; he literally helped save the lives of people, most of whom are far less fortunate than most Universal Life Church ministers.
"The most rewarding moment [from running the KRM] was when, after weeks of delivering meals to a gentleman named Lynn and repeatedly talking him out of taking his own life because he had nothing left and felt he would never survive another winter, we got a phone number for his ex-wife from long ago and we were able to get a hold of his old ID which she still had in a box," Croman said.
"We were able to get [his ID] updated and current, get him accepted to receive his benefits and we got him into an alcohol rehabilitation center where he started to turn his life around. And it all started with just a ham sandwich [from the KRM]."
The power for good possessed by every ULC minister
Rev. Croman is an example of a Universal Life Church minister that became ordained online in order to do something other than perform wedding ceremonies. Instead of being a wedding officiant, Rev. Croman became ordained in order to solidify his own beliefs and help him with the charity work he has performed.
"I don't need my ordination to preach or marry or bury anyone," said Croman. "The way I see it, I didn't choose to get my ordination, it's more that it chose me. It told me that it was okay to be me and I hold my ordination as one of the most serious things I've ever done."
---
Remember: "We are all children of the same universe" is not just a catchy phrase. Regardless of whether you are a Christian, Hindu, Muslim, or adherent of another faith, your religion should ultimately be to do good.
---
If you are interested in learning about about Cuppa Bella, please visit their website or Facebook page. Rev. Croman and the rest of the Cuppa Bella staff would also greatly appreciate your support by donating to their IndieGoGo campaign that will allow them to open a second branch in nearby Poulsbo, Wash.