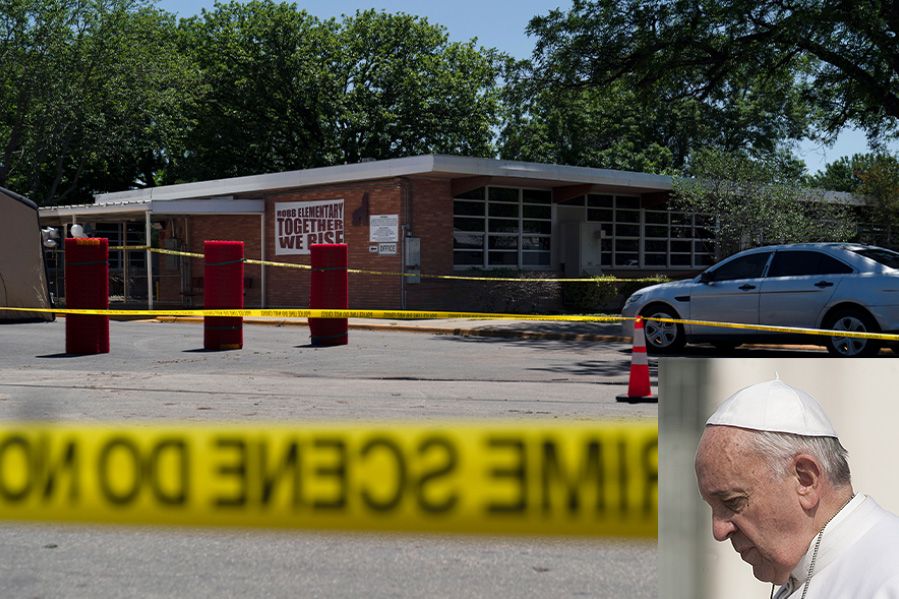 America is still reeling from the horrible tragedy at Robb Elementary in Uvalde, Texas, where a gunman murdered two teachers and 19 students.
It was the deadliest school shooting in a decade, and one of many mass shootings in recent months, including a supermarket shooting in New York that claimed the lives of 10.
As Americans debate how to stop the cycle of violence and mass shootings, powerful figures are chiming in. Pope Francis in a speech on Wednesday offered a call to action: instituting gun control measures and limiting the sale of arms.
And he's not the only faith leader urging legislative action in the wake of the Uvalde shooting. Others are joining the chorus, arguing that the right to bear arms simply cannot supersede the lives of children any longer.
But will anything change?
Tragedy in Texas
"My heart is broken over the mass shooting at the elementary school in Texas. I am praying for the children and adults who were killed, and for their families. It is time to say enough to the indiscriminate trafficking of arms," declared Pope Francis during a weekly general audience at the Vatican. "Let us all commit to ensuring such tragedies can no longer take place."
Other Catholic leaders are backing Pope Francis in his call for gun control. The archbishop of Chicago, Cardinal Blase J. Cupich, echoed the high pontiff's sentiments. Describing America as "awash in guns," he cited research showing that assault weapon bans drastically reduce mass shootings, then asked Americans to consider whether they love "instruments of death" or our nation's children more.
The U.S. Conference of Catholic Bishops also issued a forceful statement, "[imploring] our elected officials to help us take action" to end "this epidemic of evil and violence." 
Thoughts and Prayers
In the wake of the news (and as with every previous mass shooting), thoughts and prayers came pouring in. 
But political leaders in Texas were hesitant to go much further, urging caution on instituting gun control and arguing that it wouldn't have prevented the tragedy anyway. "I'd much rather have law-abiding citizens armed and trained so that they can respond when something like this happens because it's not going to be the last time," said Texas Attorney General Ken Paxton.
And Senator Ted Cruz said that "[trying] to restrict the constitutional rights of law-abiding citizens… doesn't work, it's not effective, it doesn't prevent crime." He instead said that he and his wife Heidi are "lifting up in prayer the entire Uvalde community during this devastating time."
Houston-based celebrity pastor Joel Osteen issued a statement titled "Praying for Uvalde" on his Facebook page. 
Meanwhile, many people across the country – and indeed around the world – are asking the same questions in response.
Are thoughts and prayers enough? At what point must more substantial action be taken? How many more children need to die?
Among those speaking out is the survivor of a different school shooting that occurred in Virginia nine years ago. In the mind of Taylor Schumann, a victim-turned-gun-control-activist: "prayer should be where we start, not where we finish."
What is your reaction?