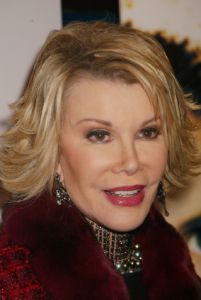 In one of the Universal Life Church Monastery's more star-studded wedding celebrations, veteran comedian Joan Rivers performed a wedding ceremony this past Valentine's Day for her two friends using her online ordination certificate. The happy couple was celebrity wedding planner Preston Bailey and Grammy Award-nominated musician and singer Theo Bleckmann. Rivers is one of many celebrities who have become ordained online in the ULC, including Conan O'Brien, Fran Drescher, Lady Gaga, and David Byrne of The Talking Heads.
No expense--monetary or otherwise--was spared, it seemed, on Bailey and Bleckmann's New York wedding. Not only did the event take place atop the Empire State Building, but it featured a King Kong theme designed by Bailey himself, who had television monitors set up just outside the elevators to the observation deck featuring video clips of the giant gorilla climbing the famous landmark. "We wanted to give Kong a happy ending," Bailey said, alluding to the film's tragic ending. For those stepping off the elevators, it was like the aftermath of a snowstorm, with 10,000 white flowers--mostly orchids--adorning the room. Delicate, lace-like strings of crystals hung down in a circle at the altar.
Rivers was on hand to preside over the gentlemen and serve as wedding officiant. As Bleckmann waited at the altar, a 15 foot-tall sculpture of a white-clad bride glided down the aisle, and, when it reached the altar, a very unusual thing happened--something that probably has never happened before in the history of weddings: Bailey emerged. "The tulle opened like a curtain and Preston walked out," said wedding guest Sandie Keidan, according to Lois Smith Brady of The New York Times. The pleasant surprise was followed by "simple and poignant" wedding vows, writes Brady. But Rivers and Bailey are by no means strangers. It was Bailey who planned and designed the wedding Rivers threw for her daughter Melissa at New York's Plaza Hotel back in 1998. That extravagant affair featured a winter garden theme with 30,000 white flowers inspired by the classic novel Dr Zhivago.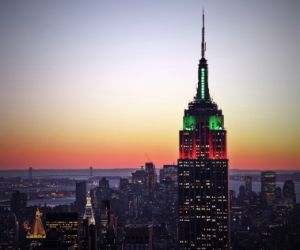 Despite the solemnity of the occasion, Rivers's notoriously irreverent wit was not to be missed, and she lightened the mood with a few of her own comical jabs. "I wouldn't want to marry anyone else, except maybe Britney Spears, so I could watch her lip-synch her vows," she joked during the ceremony. And, in her unique, signature style, she remarked on her role as minister ordained online through the medium of comedy, posting on Twitter she was "[t]hrilled to be an ordained minister, but I'm also a performer--every wedding I officiate has a cover charge and a two-drink minimum." Indeed, it is the art of the performer, and not the rote recital of a priest, that makes such weddings so special and memorable.
At the Universal Life Church Monastery, we appreciate the comical twist that ministers like Rivers add to the traditional wedding ceremony. It is a pleasure to see a once stale ritual transformed into a lively and laughter-filled event through the art of wit. And we would like to congratulate Bailey and Bleckmann on their new marriage; we wish them many more happy years together.
Sources:
The New York Times
ContactMusic