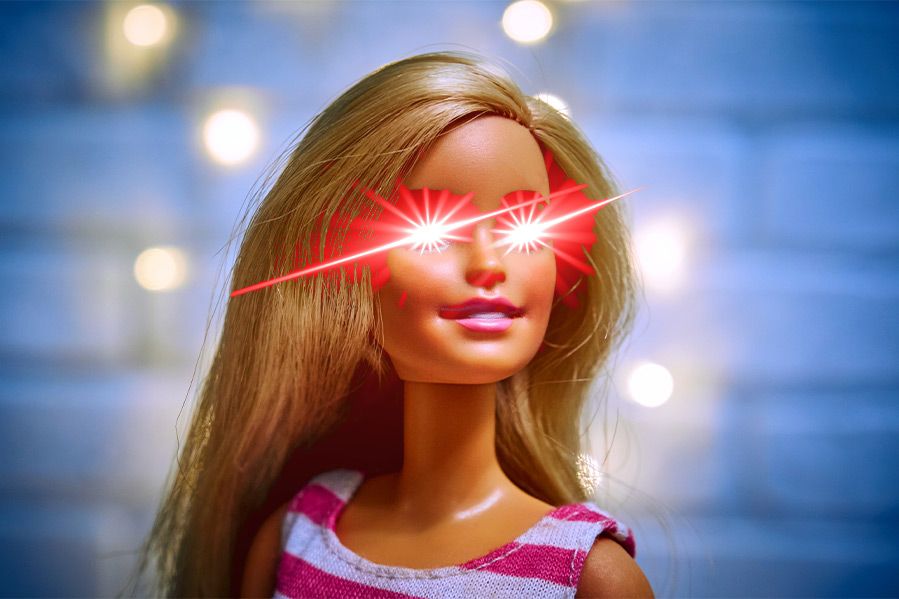 She's cute. She's independent. She's… a demon?
The new Barbie film, directed by Greta Gerwig and starring Margot Robbie in the titular role, is poised to be one of the biggest box office successes of the summer, with a projected $100 million expected on opening weekend alone.
But some say this new Barbie film, with its bubblegum pink exterior, is harboring a deep, dark secret: demonic influences. 
Bad Kenergy
"DO NOT TAKE YOUR CHILD TO THE NEW BARBIE FILM!" warned pastor Ivan Tuttle of Murfreesboro, Tennessee, earlier this month. 
"It is full of demonic influences," he warned. "Do not be surprised if your child suddenly starts to behave differently!"
Just a glimpse at Barbie on the big screen could have your child speaking on tongues or acting out, says Tuttle. And surprisingly, this isn't the first time Barbie's been called demonic. 
Last year, Christian influencer Yasmeen Suri suggested that a new yoga edition of the popular doll was in fact a portal to the demonic.
"'Yoga Barbie' is at Target on the shelf," read the now-deleted post. "Satan always comes as appearing innocent. He will never come with horns and a pitchfork. Satan is after the children. He wants to use them and indoctrinate them for his glory. Then, when he is done, he will destroy them." 
A yoga version of Barbie shouldn't have been unexpected. After all, Barbie's had just about every job and engaged in every hobby imaginable. But Suri argued that because it has roots in eastern traditions, it is unacceptable for Christians to perform. 
One could argue that it was the yoga performing 'Breathe With Me Barbie' that primed critics to loop Barbie into the culture war. And some have taken the ball and run with it.
Is Holy Judgment Coming?
Christian preacher Kent Christmas took things a step further. "I curse in the name of the Lord this new Barbie movie that has been released full of transexual and transgender and homosexuality," he said, in a fire and brimstone style sermon. He then called on God to render "holy judgment" upon the film.
Christmas is likely making reference to transgender actress Hari Nef's role. Nef plays a doctor version of Barbie in the film.
Secret Agenda Barbie?
Is the new Barbie film pushing the so-called "gay agenda"? Well… for director Greta Gerwig, making the LGBTQ community feel represented was always on her mind during production. 
"There's no way we could have told this story without bringing in the LGBTQ+ community," she stated, "and it was important for us to represent the diversity that Mattel has created with all of the different Barbies and Kens that exist today."
That begs the question: where does inclusivity end and ideology begin? Does the mere presence of a transgender actress in a film constitute some sort of agenda? 
And from a bigger picture sense, the idea that Barbie is some sort of door to the demonic is a strong claim that – at least so far – doesn't have much evidence to back it up. 
But who knows. The film will soon be in theaters, and perhaps that will be the real test.
If you take your child to the new Barbie movie and they began speaking in tongues, let us know.